Painting the outside walls
This graphical tradition exhibits another dimension and by no means an insignificant one. If mandana and paglya reveal a geometrical and stylized decorative vocabulary, thapa painted on the outside walls are free compositions, staging the animal and floral kingdom as well as village life world. Among birds, the peacock is one of the national symbols of India and by far the most represented. He is drawn almost always in couples, separated by a four petal flower or a bouquet of the Bilva tree's trifoliate leaves[1]. The peacock's tail bears colourful eyespots and inspires many graphic extravagances from grids, diamond shapes, curved parallel lines to the usual basic patterns seen in mandana.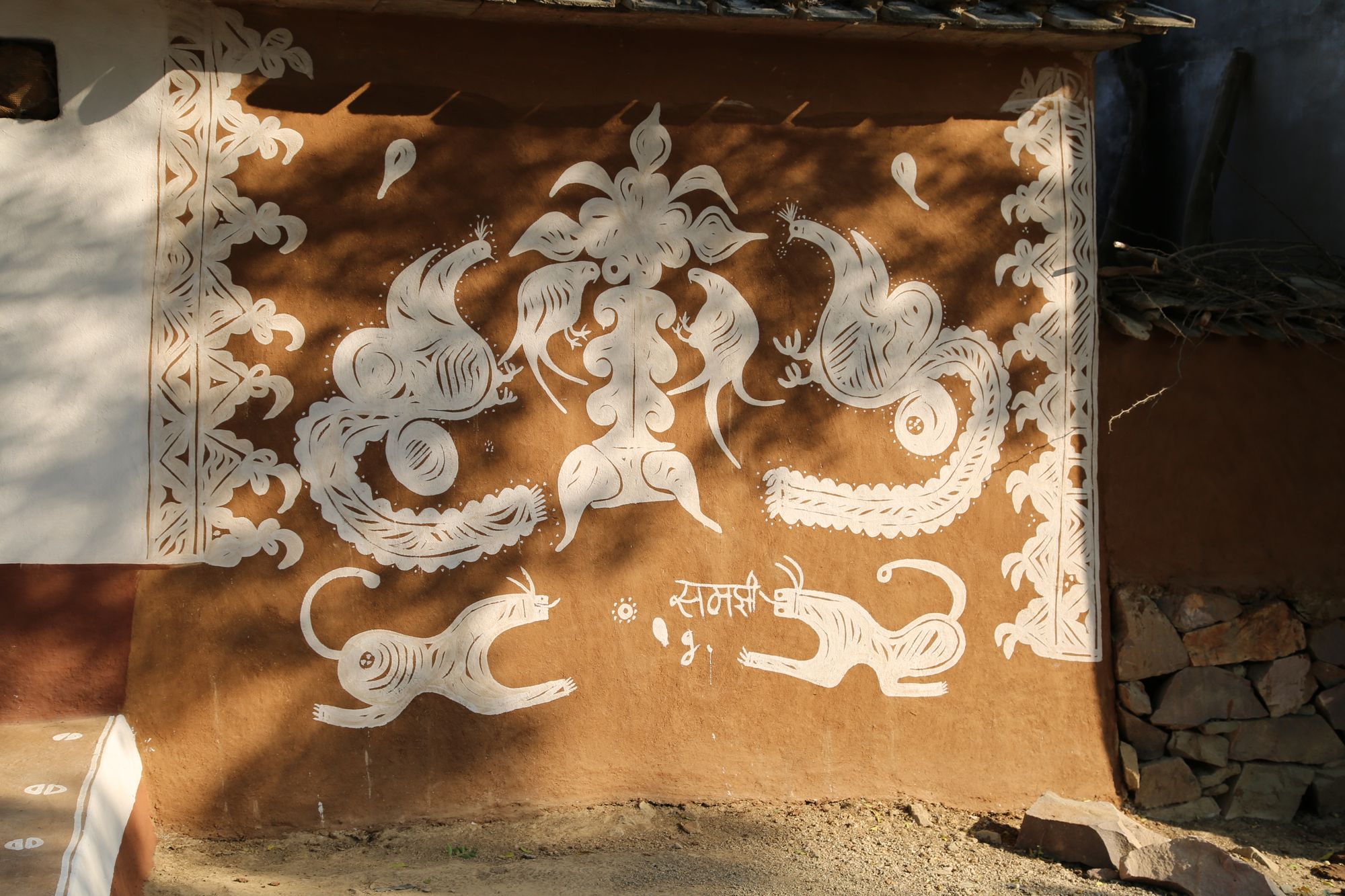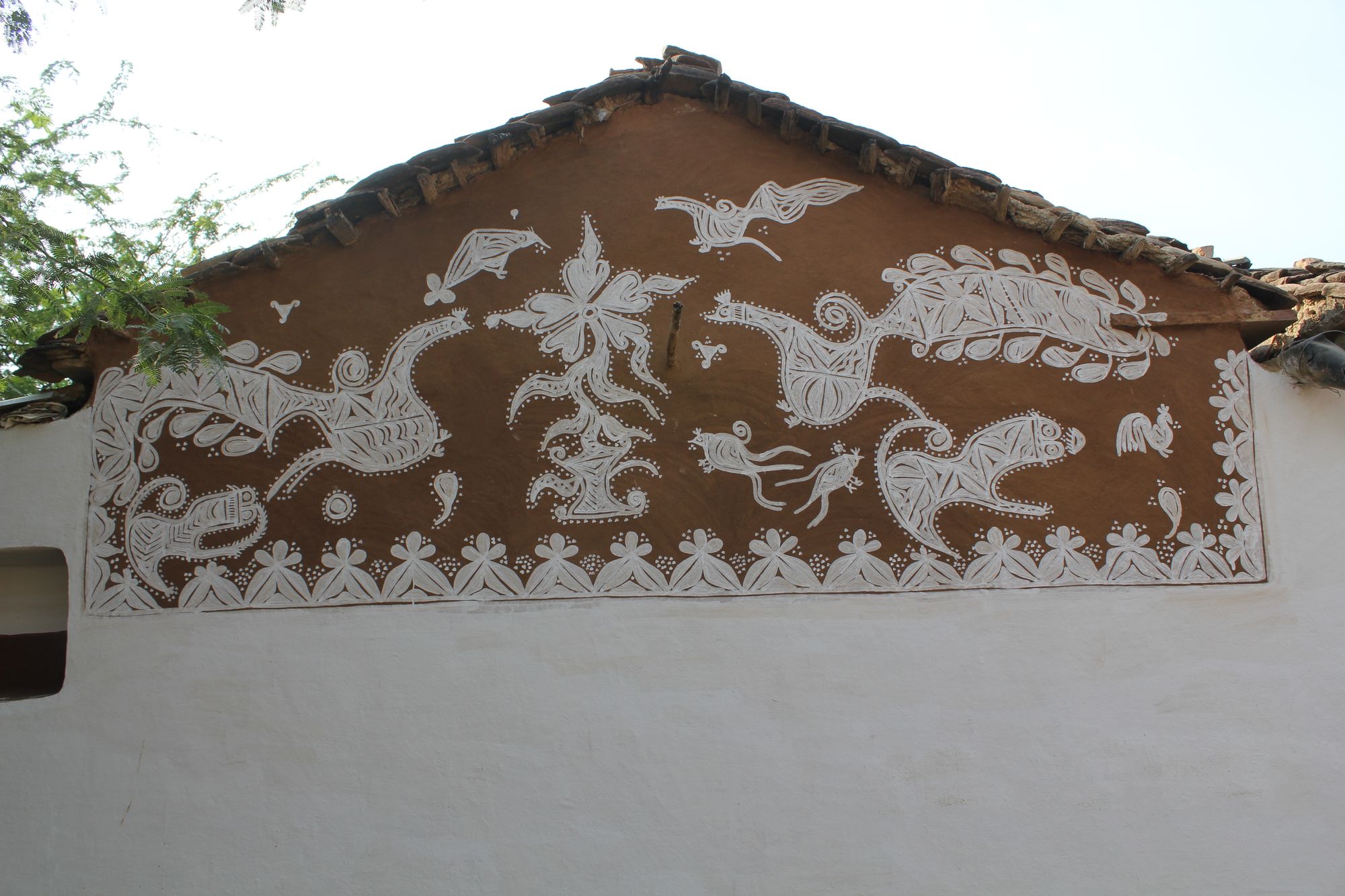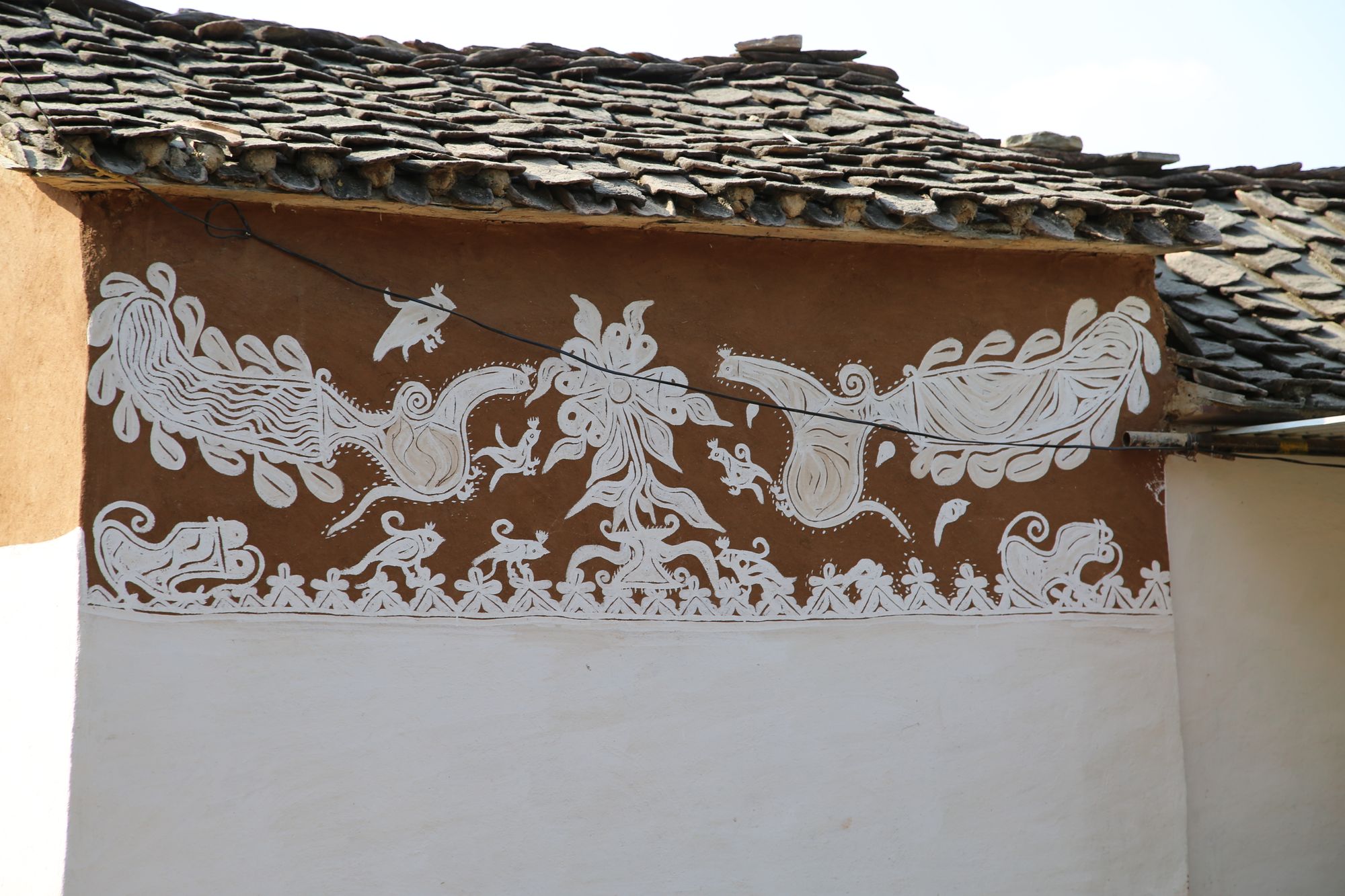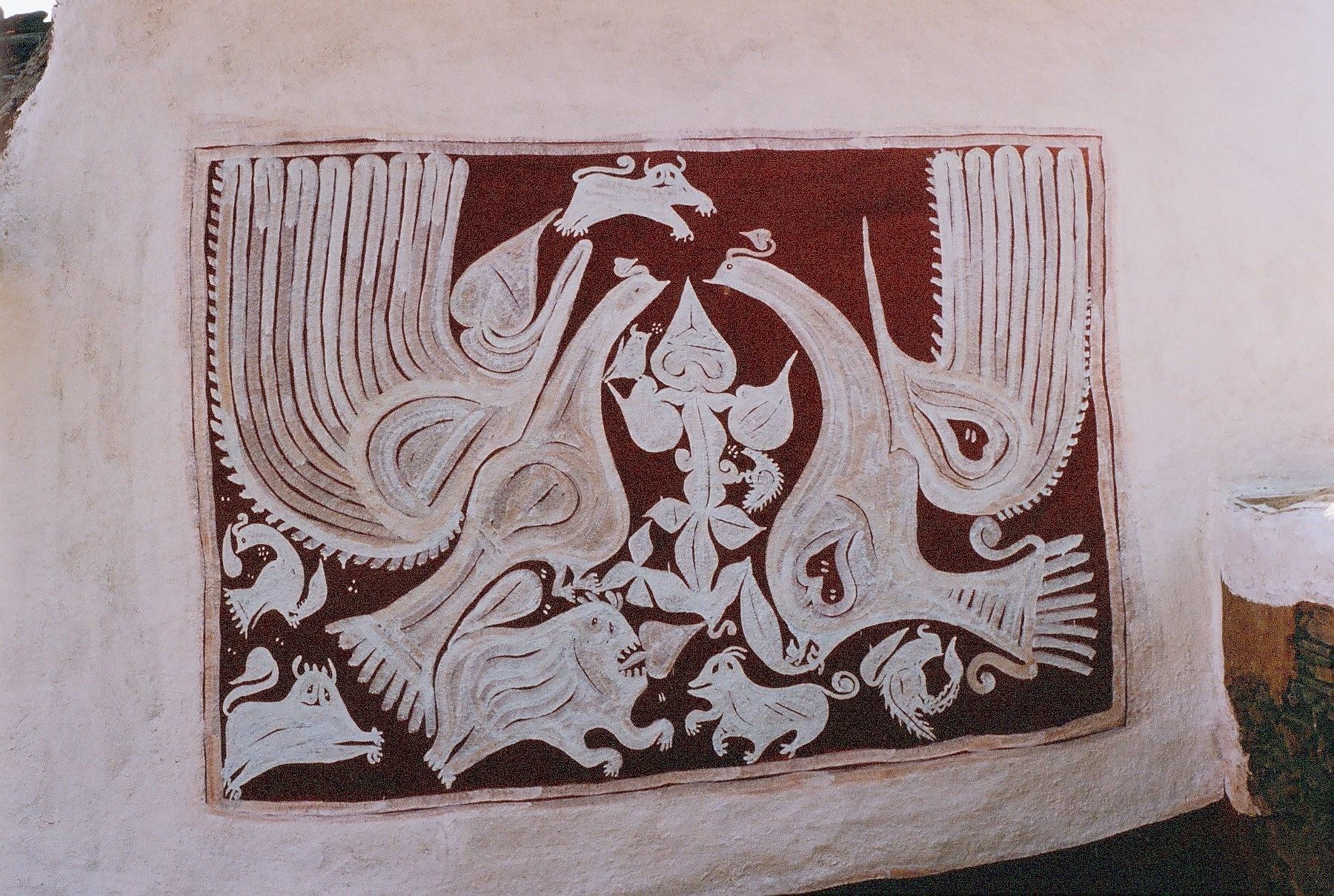 Sometimes a pensive dove decorates the corner of a facade and silently converses with an egret or a heron. Pecking the ground, perched on a tree or the eyes turned towards the sky, the birds' expressions vary according to the women's imagination.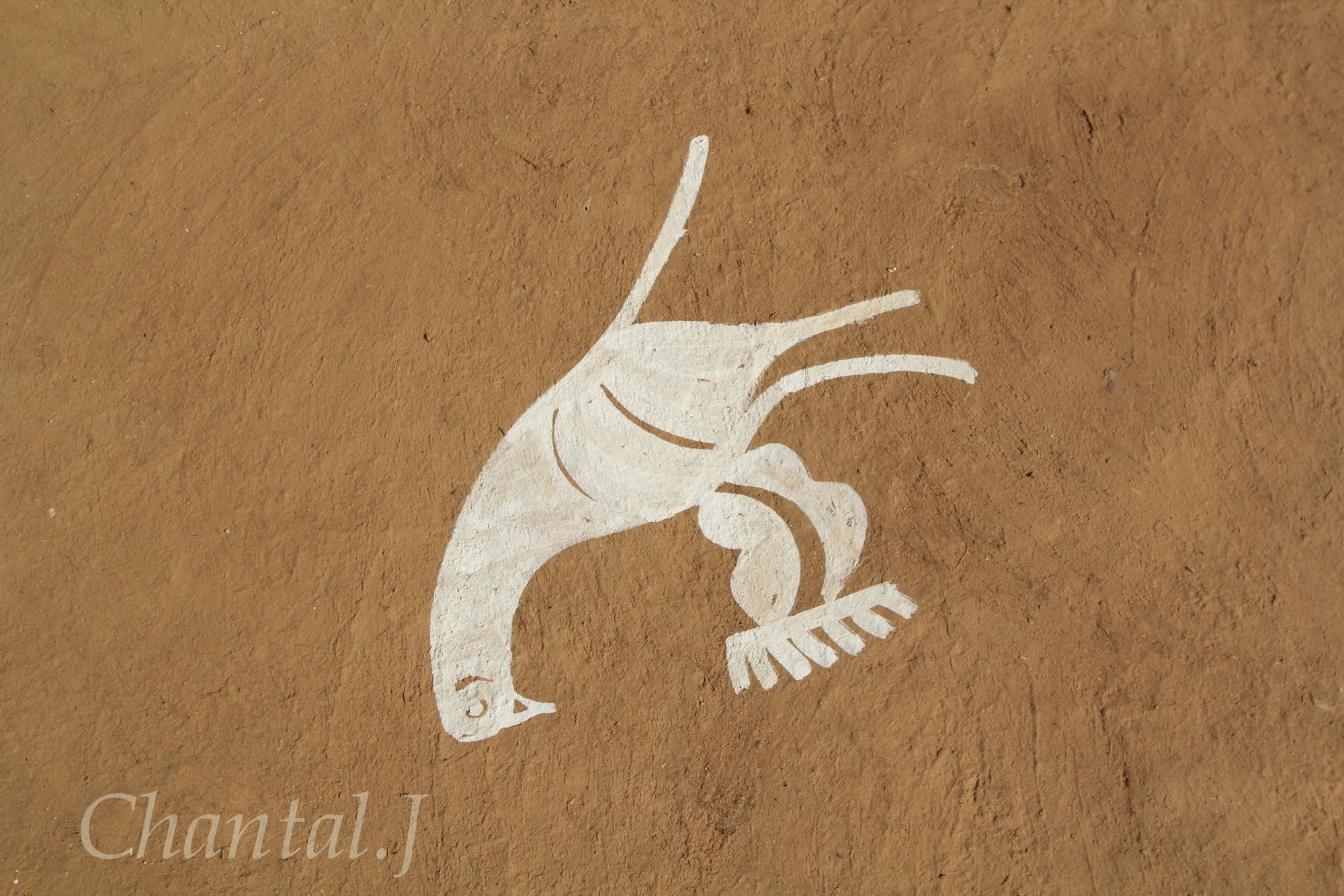 The bestiary includes elephants, tigers, leopards, monkeys, horses, cows, antelopes, cats and snakes. Because of extensive hunting in the past, some animals like the tiger or the leopard have disappeared locally. They remind us of a time where they abounded in the luxuriant forests of this region and were found on the royal coats of arms.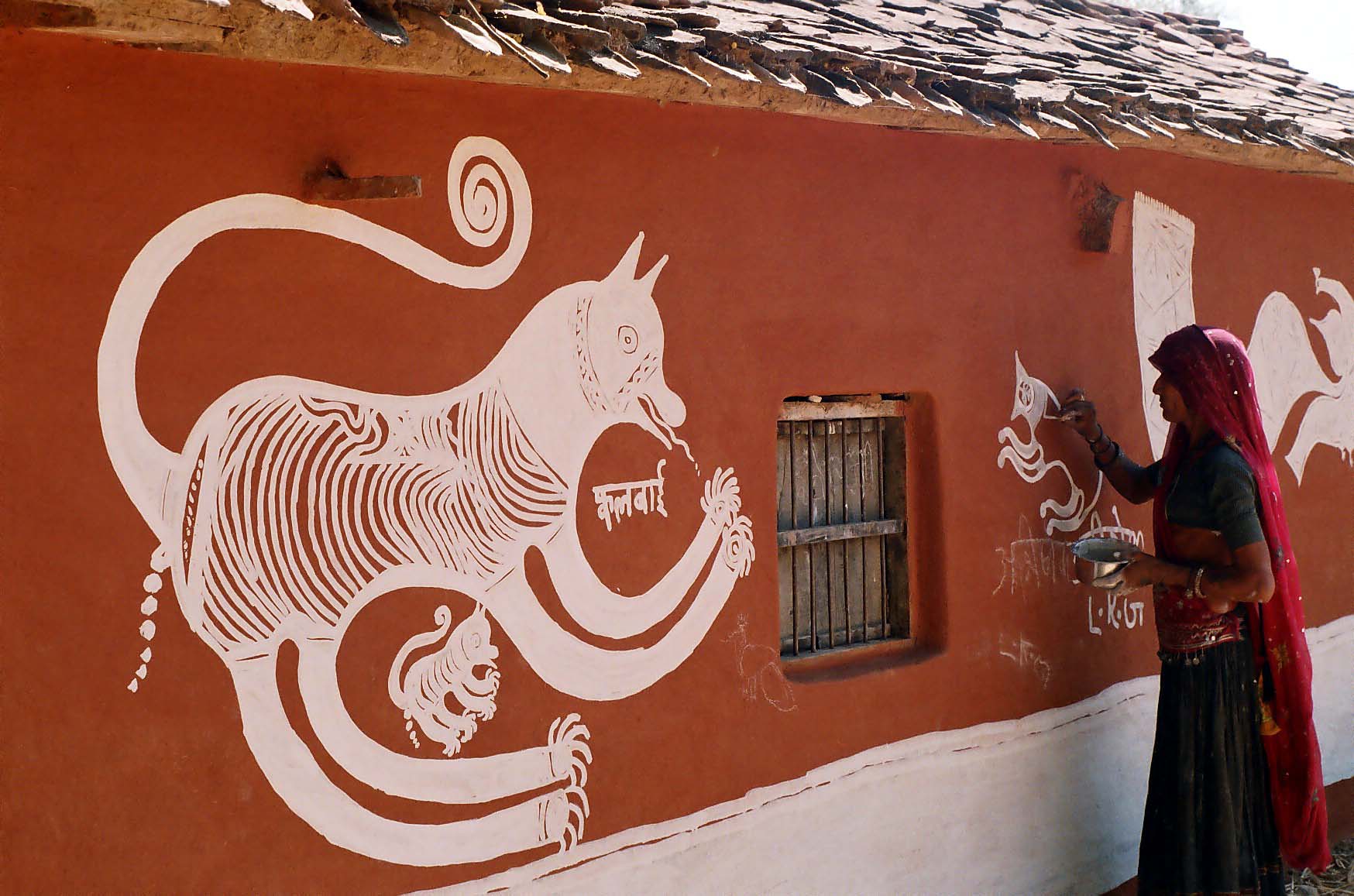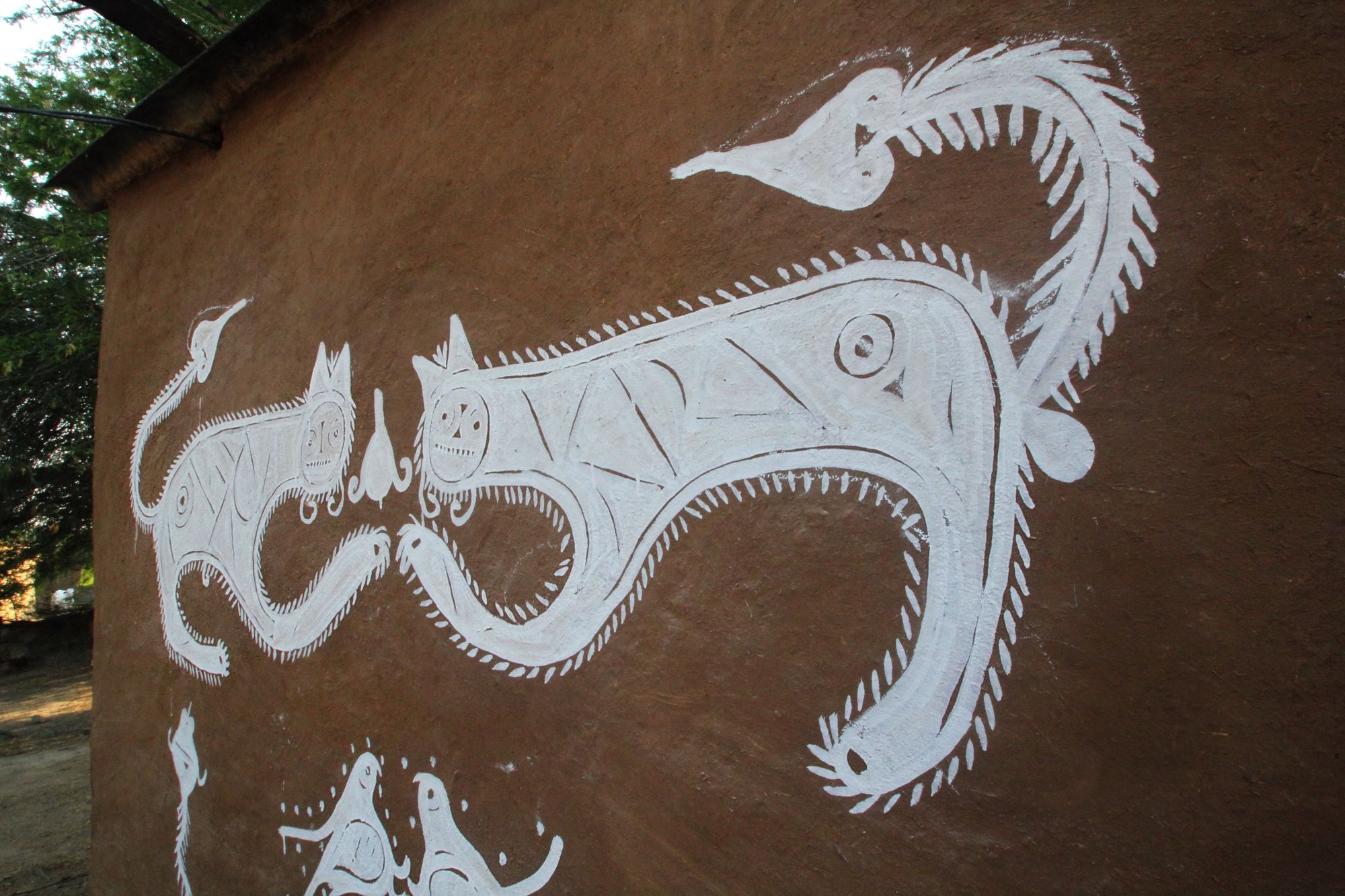 It does not matter that women never saw any of them, they are part of the repertoire and are painted in a very stylized way to the point that it is sometimes difficult to recognize to which feline the image refers to. The elephant and the horse captivate also the imagination and as the mounts of the noble Rajput, they embody power, strength and wealth. In much the same way as birds, the monkeys are a familiar sight on murals. They appear from nowhere in groups and romp free with facetious faces. Other creatures like rats and scorpions roam along the walls and close to the ground.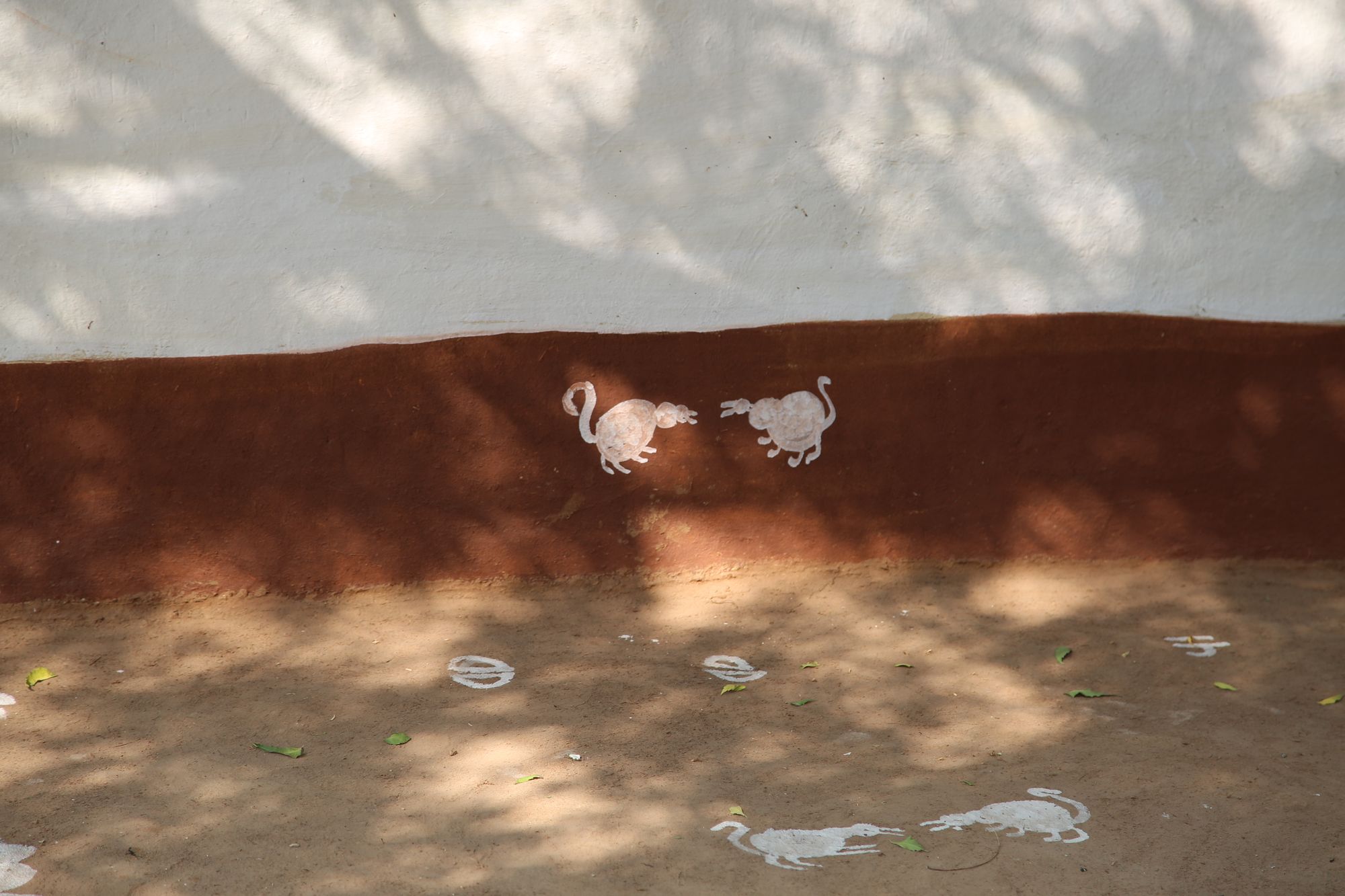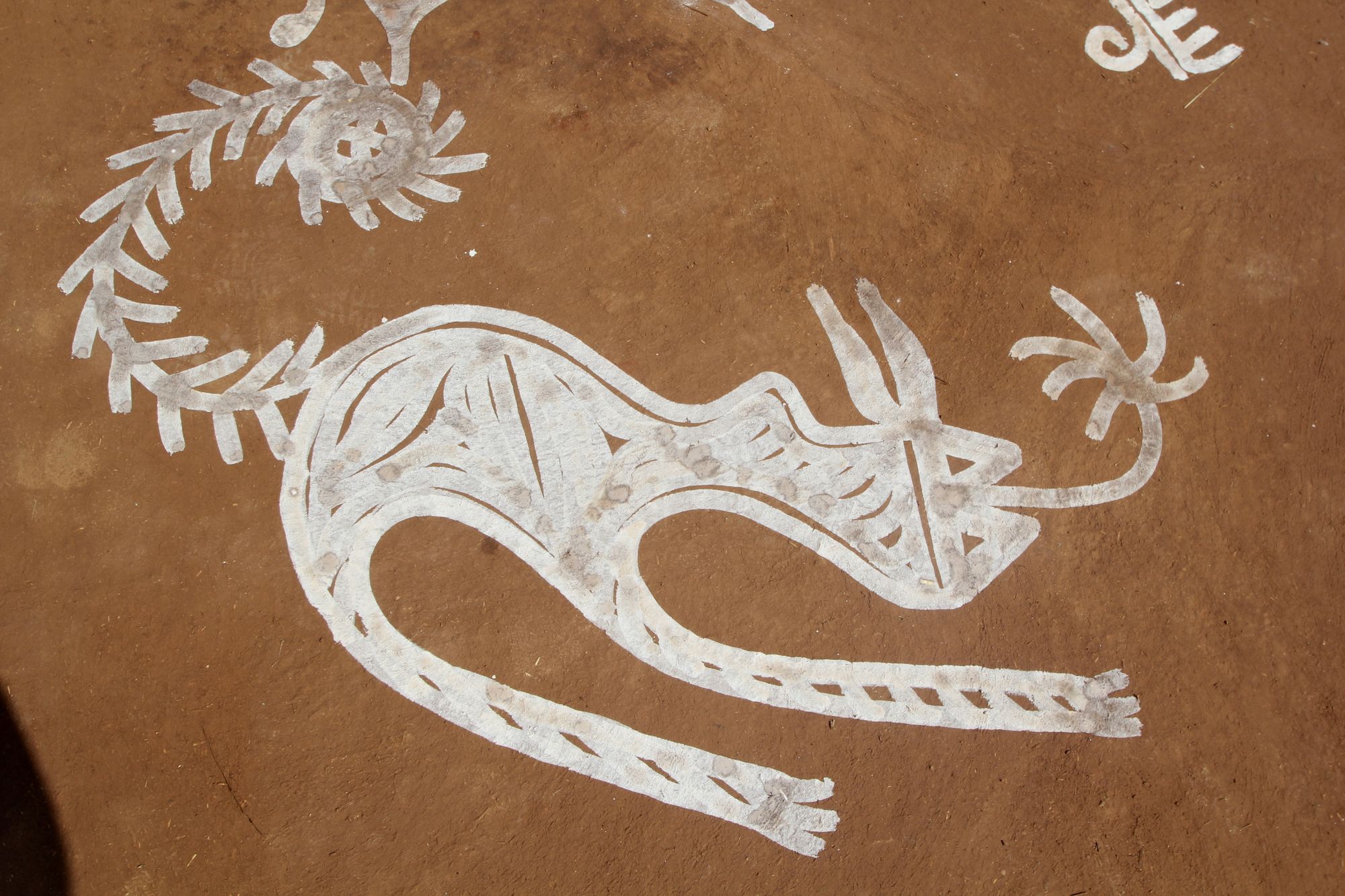 But in the midst of this bestiary, the women describe their housework and often represent themselves with several jars on the head, carrying water or collecting firewood for the cooking. Flowers and particularly the lotus, occupy a special place in thapa. They are prized for their beauty and for their vital role in the offering rituals or as a symbol of goddess Lakshmi.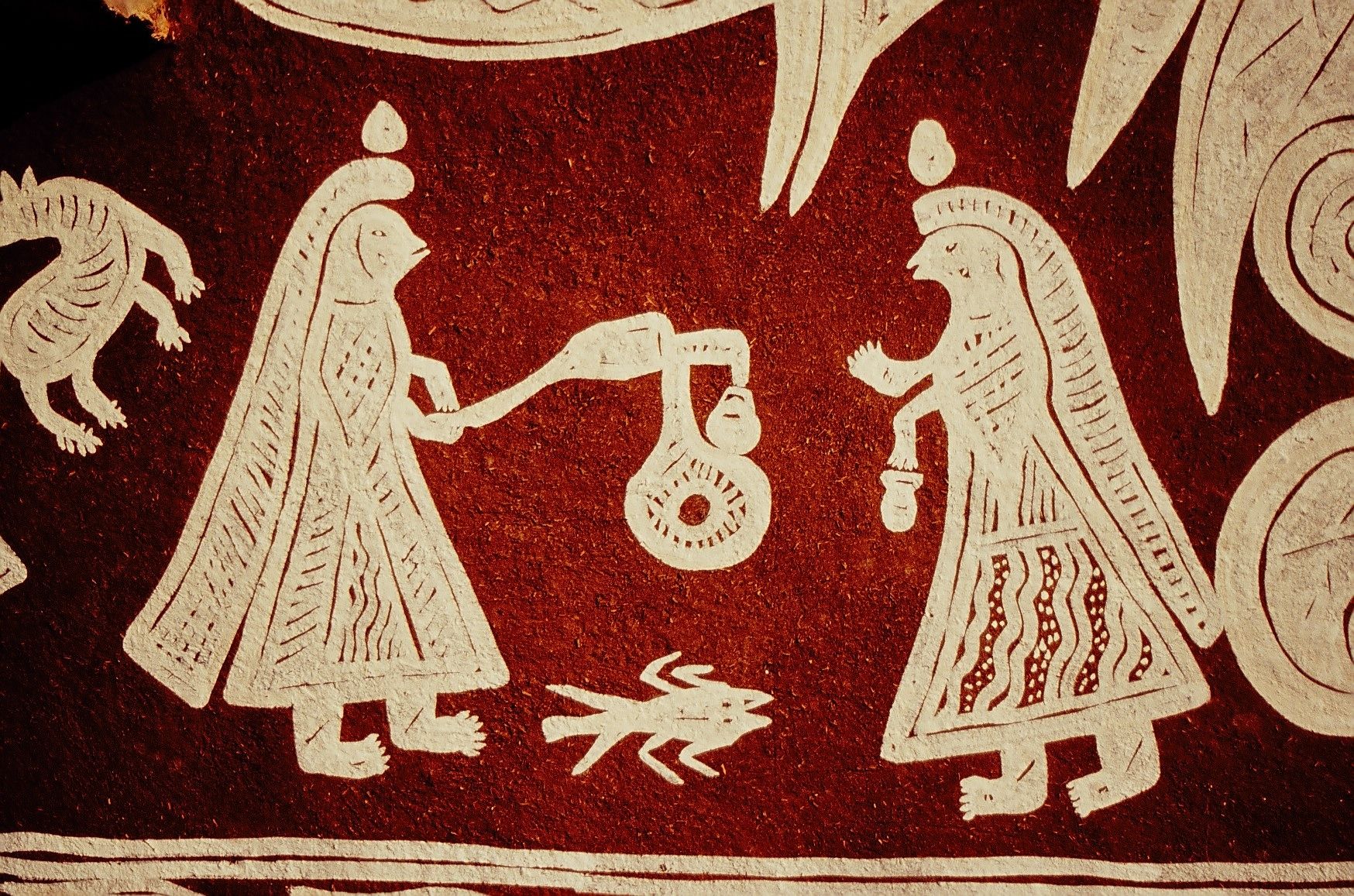 ---
[1]The combined trifoliate leaves of the Bael tree (Aegle marmelos) and braided as a garland are used as an offering in Shaivite temples. The leaves represent Shiva's three eyes and symbolize the three sources of light: the sun, the moon and the fire. A legend recalls how this forehead eye appeared: "One day, Parvati in a playful mood, hid her divine husband's eyes with her hands. The world was immediately plunged into darkness. Shiva created right away a third eye in between the eyebrows to save humanity, deprived of light".