Onam celebrations
Onam the colourful harvest festival is celebrated in the Malayalam month of Chingam (mid-August mid-September). Keralites and Malayalees communities around the world join to celebrate the yearly return from Netherworld of their king Mahabali or Maveli. Pookalam or floral carpets are an integral part of the celebrations to welcome the return of the legendary king. This year, Jaya Mohan shares with us her poetical flower carpets done at home.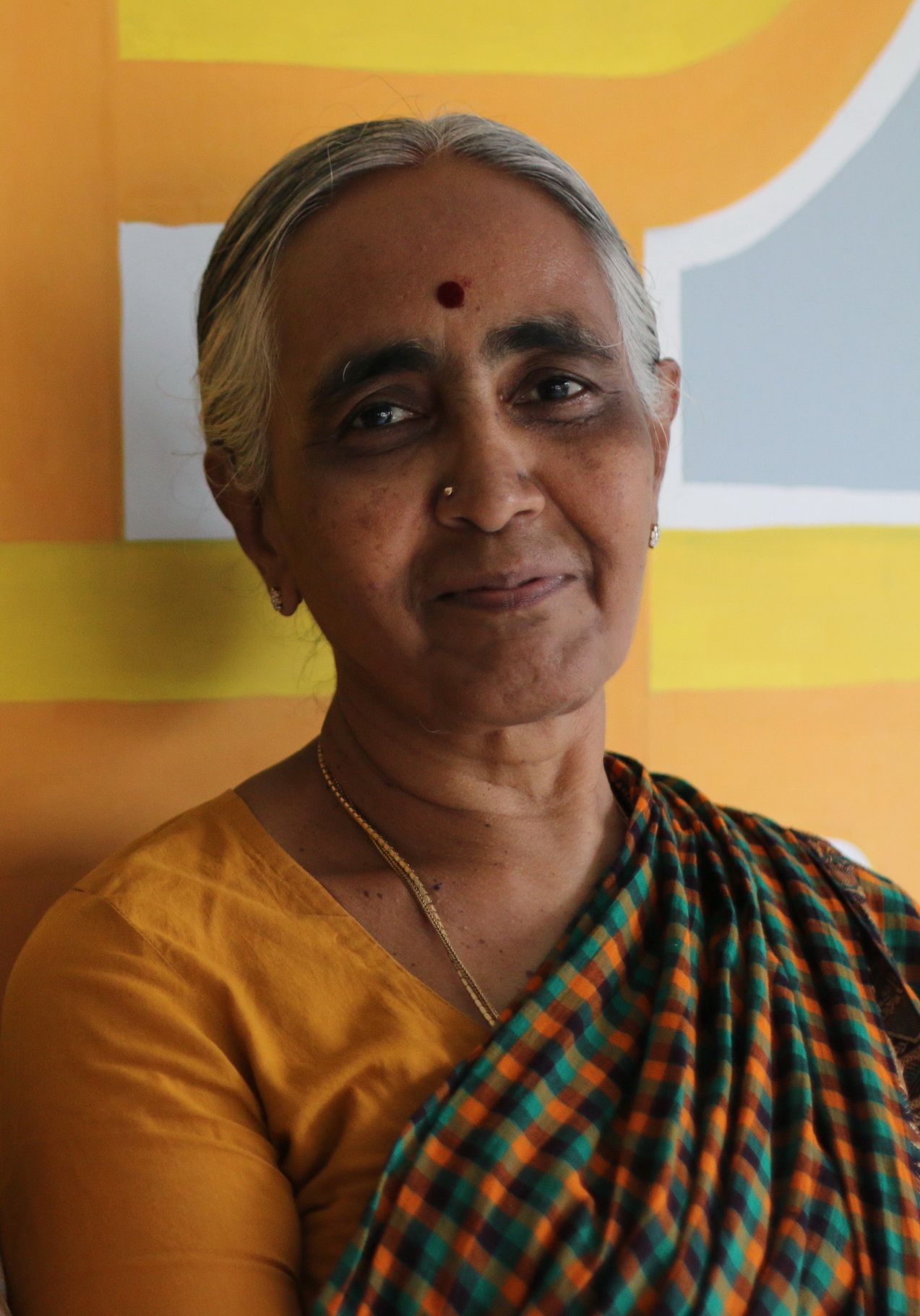 Keralites do not draw kolam at the entrance of the house. They make pookalam for Onam festival. It starts from Vinayaka Chathurthi by making a small circle with "thumbapoo" (Ceylon slitwort) on that day. Every day the circle gets expanded with other flowers. We never buy flowers but use only what is available in the garden or neighbourhood. Though I grew up in Tamilnadu, I often visit my cousins in Kerala and join them in collecting flowers and making pookalam. In our house also, we make pookalam at least on the main day of Onam. When internet entered our life, we got more exposure by sharing our pictures and my inspiration grew.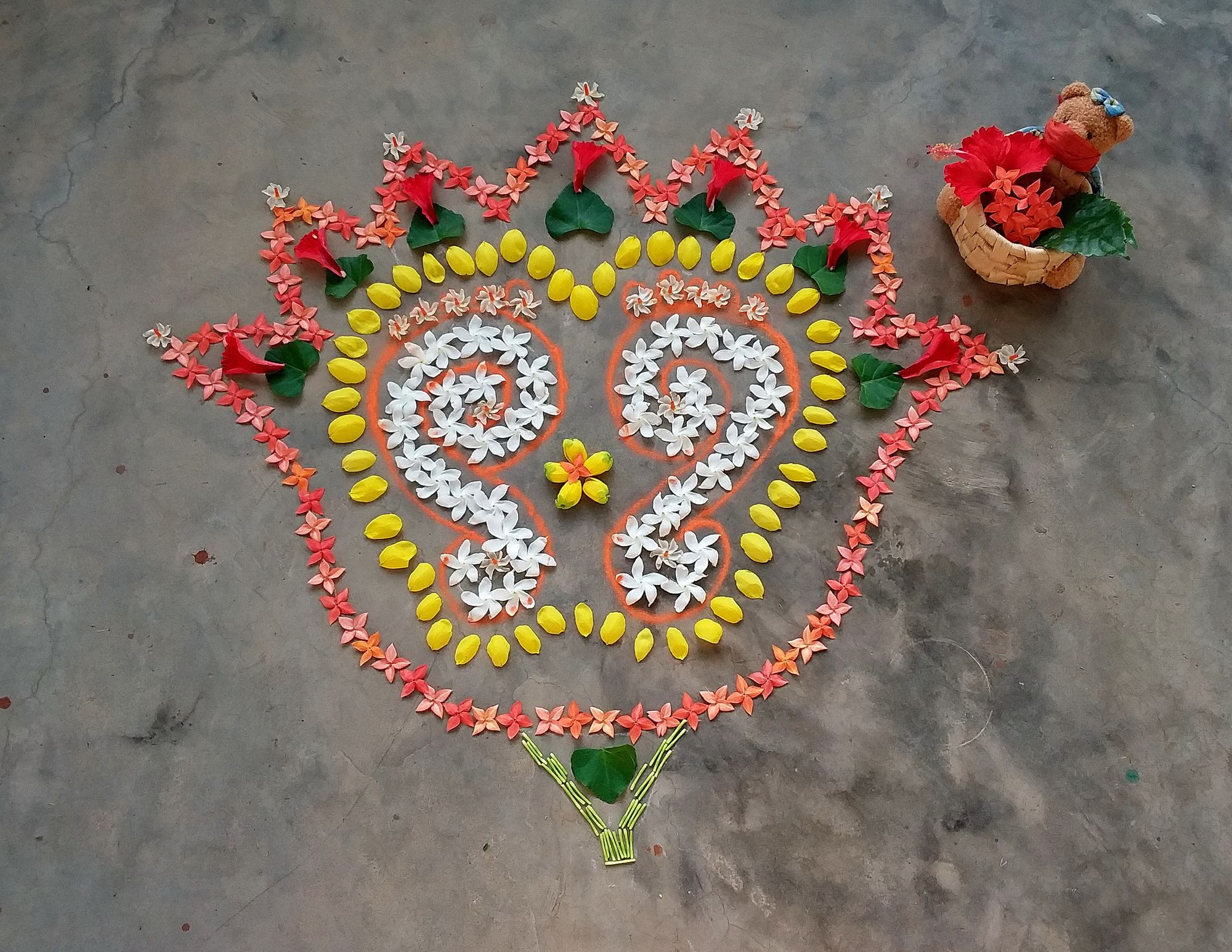 When I was in Seattle a few years back, I had a large variety of flowers in the neighbourhood. My grand-daughters were on school vacation and daily, all together, we created various patterns. We would search on internet suitable pictures for flowers designs and adapt them.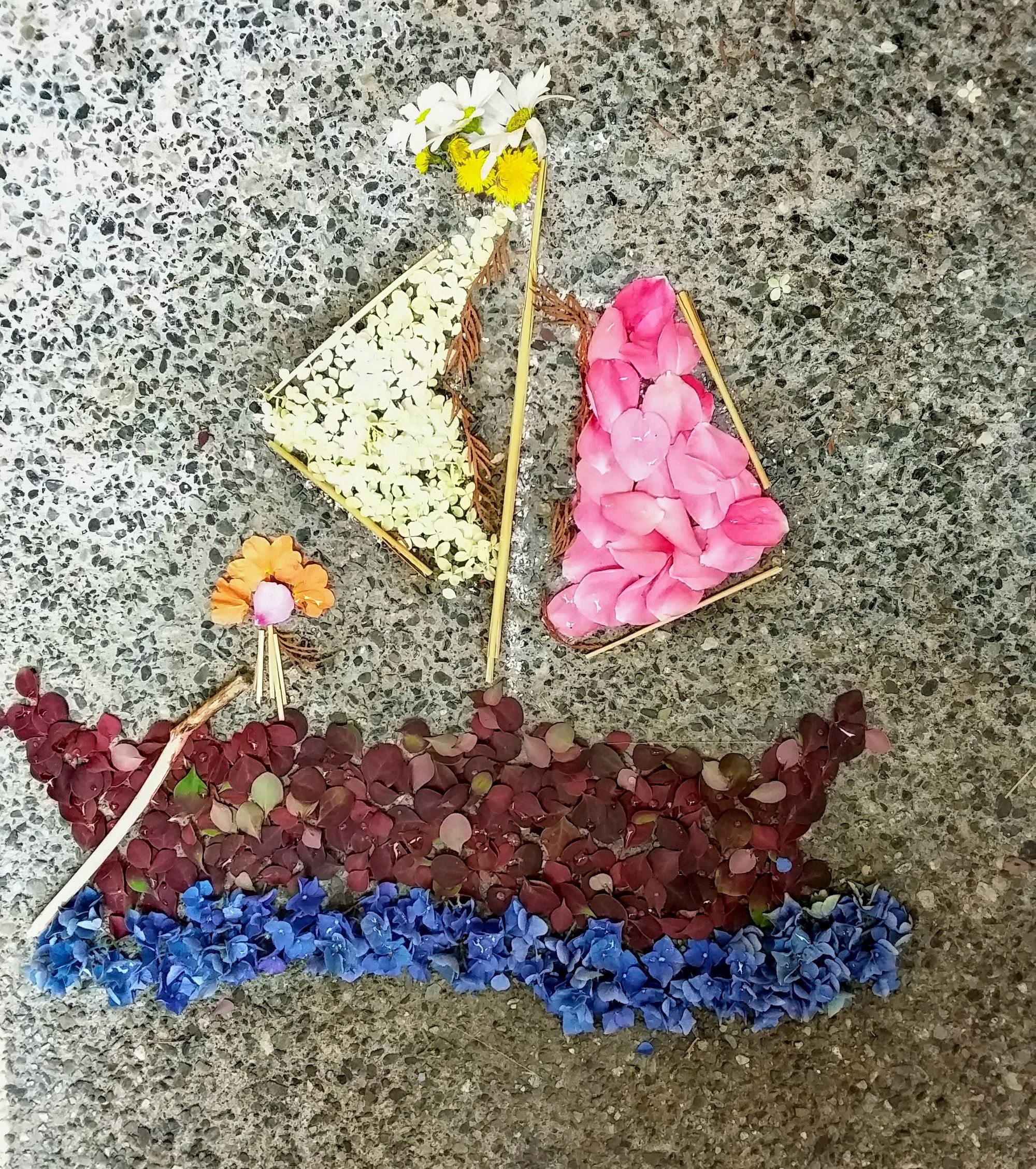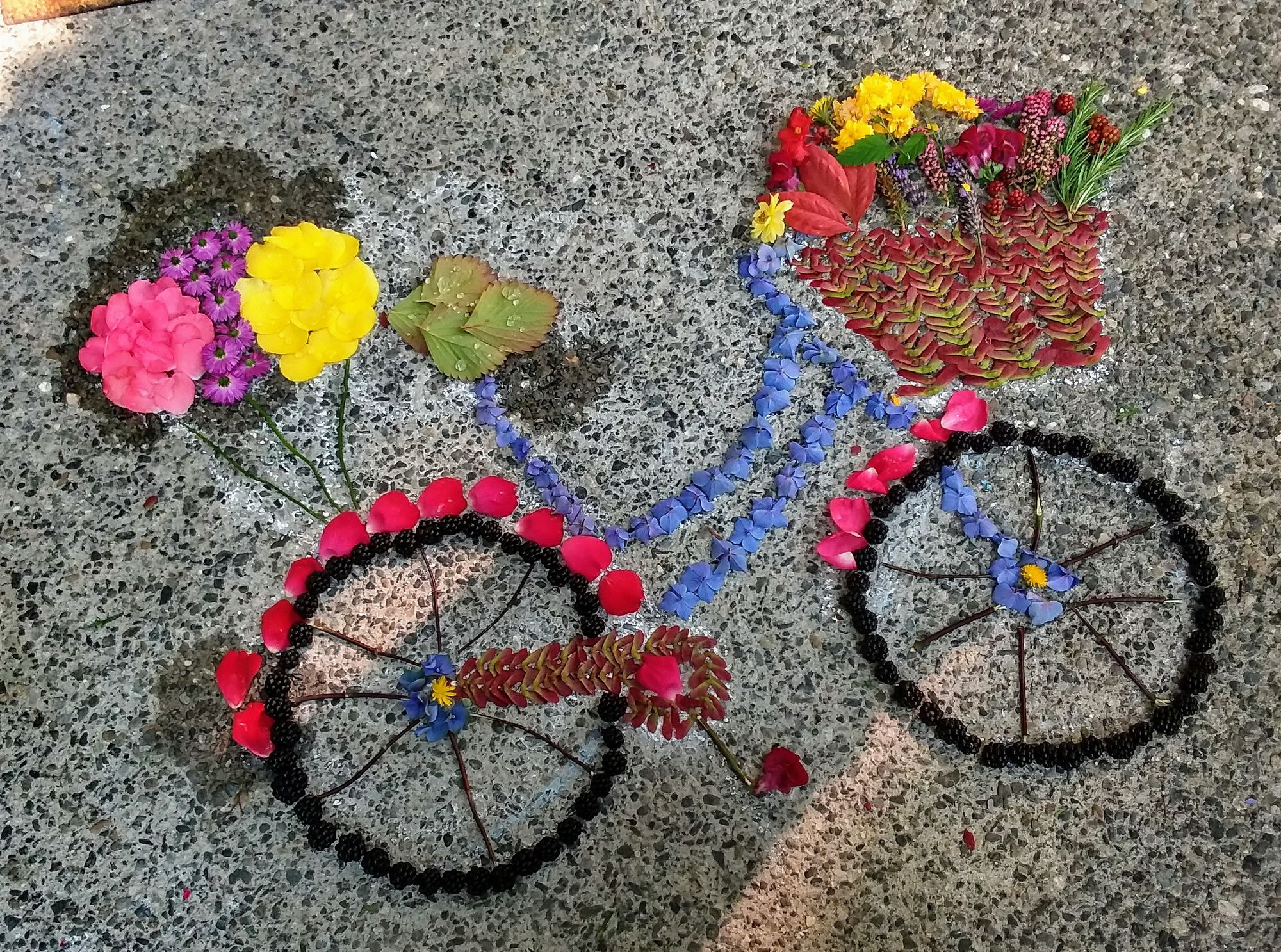 This year's lockdown due to covid-19 forced me to spend more time at home creating pookalam. Searching on the web, I came across a creation of flowers depicting Vasudeva carrying baby Krishna across the river. I immediately felt the need to create my own version. I am not very good at drawing and need a basic picture. I draw the outlines and fill the spaces with flowers. We, myself and hubby manage to create the scene although we had limited flowers around the house.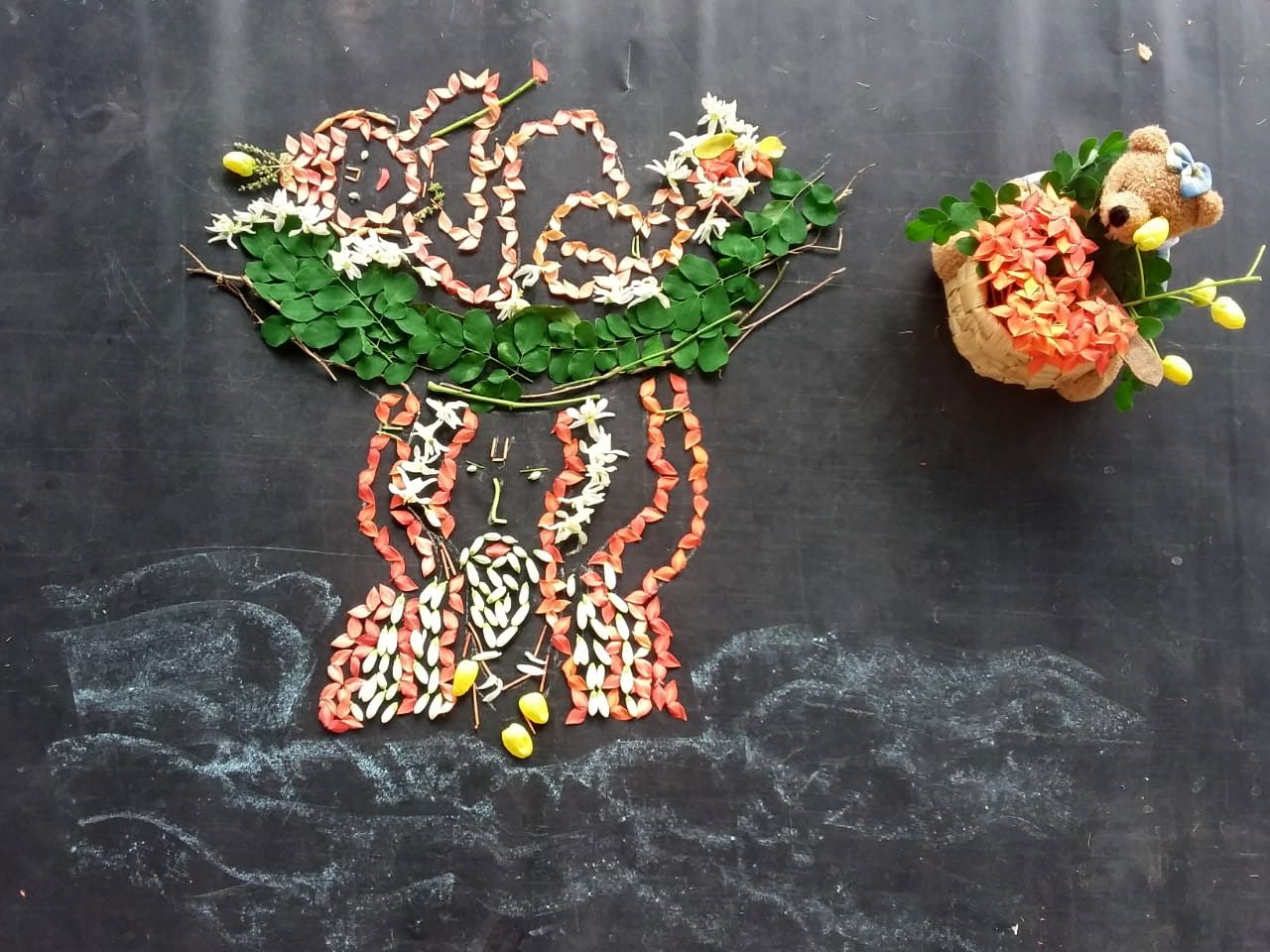 Friends and relatives, highly appreciative of my creations, wanted me to pursue. One of my friends in a kolam group had drawn a rangoli of Mahabali riding a bike with sunglasses. I asked her: "Why he is not wearing a mask to protect hismelf ?". It became my concept for the next day - A balloon-pinwheel seller providing a mask to Mahabali on the road-.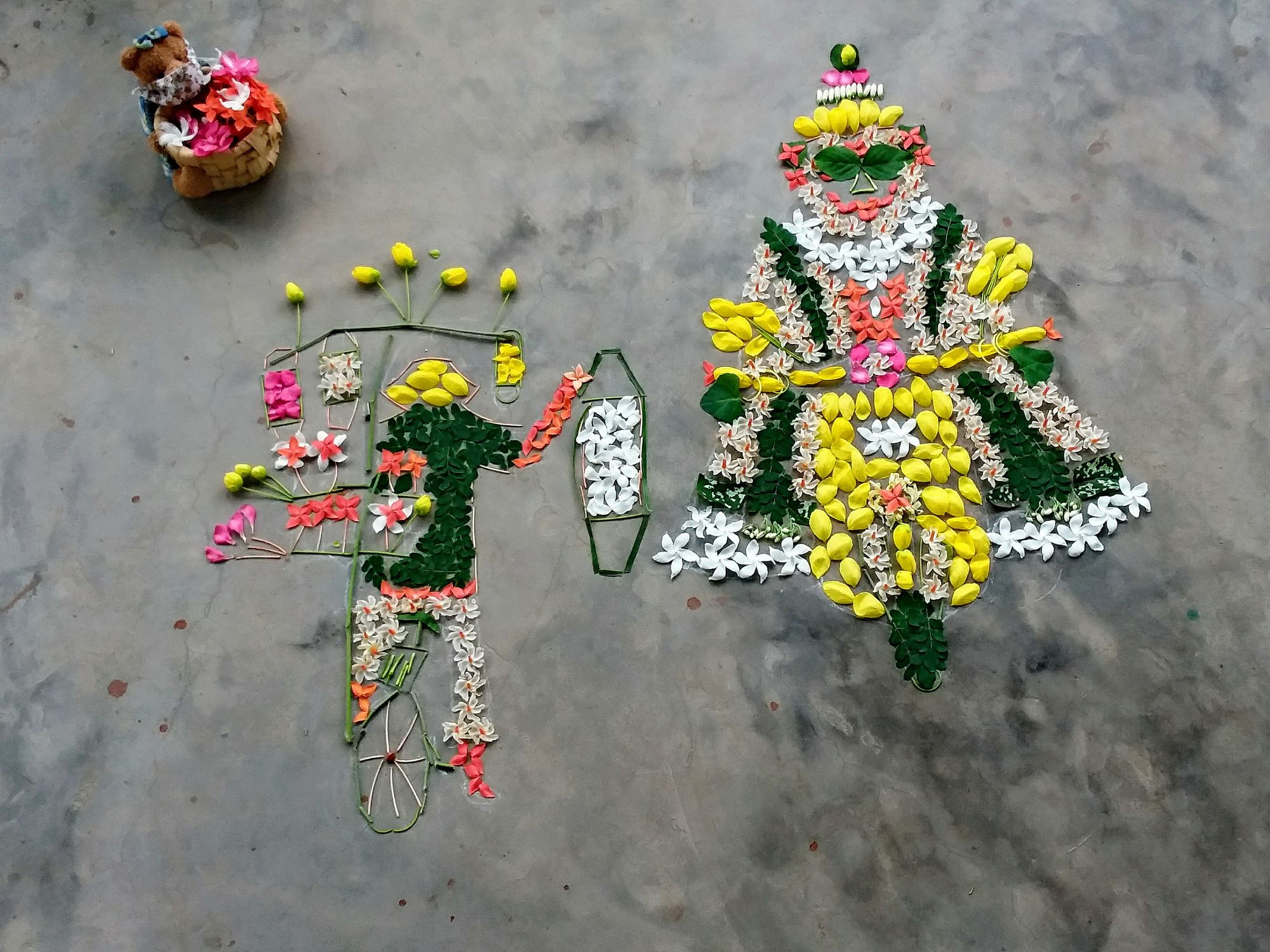 I always liked the story of Avvai paatti and Murugan as I think that no one should feel proud of their acquired knowledge. It is a popular legend in Tamil-Nadu that tells the story of the poetess Avvaiyar and the jambu tree (Syzygium cumini). Avvaiyar, believed that she had achieved all that was possible to accomplish  until she met a disguised Murugan sitting on a tree, jousting with her wittily. He later revealed himself and made her realise that there was still a lot more to learn.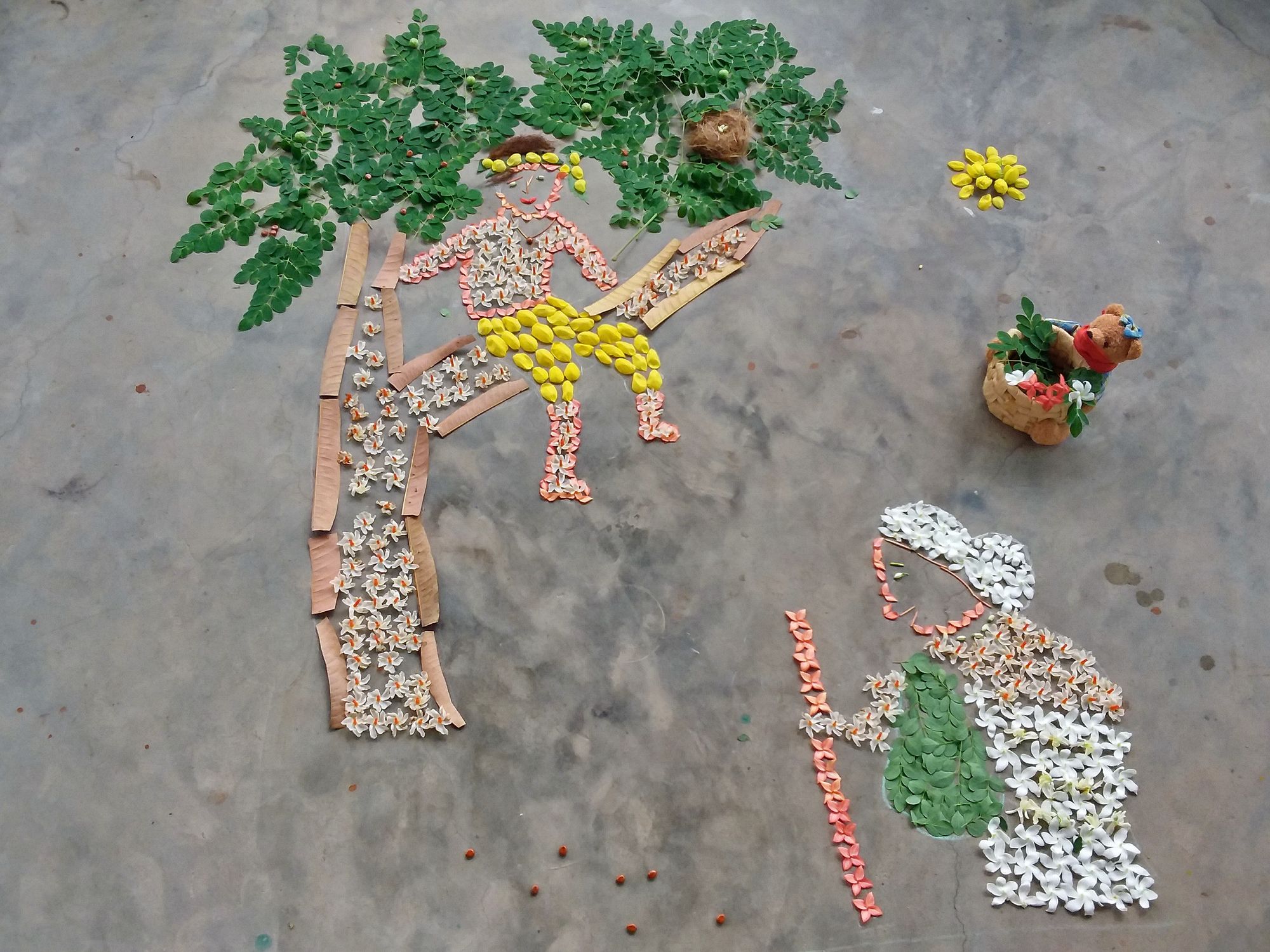 Apart from philosophical themes, I get also inspired by Kerala's traditions. The story-play Kathakali is a major art form and the reason why I created a Kathakali face known as Pacha. The popular imagination of Onam would not be complete without the famous boat races.