Bengal alpona, Santiniketan photographic memories
A collection of photographs on the graphic art of alpona from former students and teachers of Santiniketan in Bengal.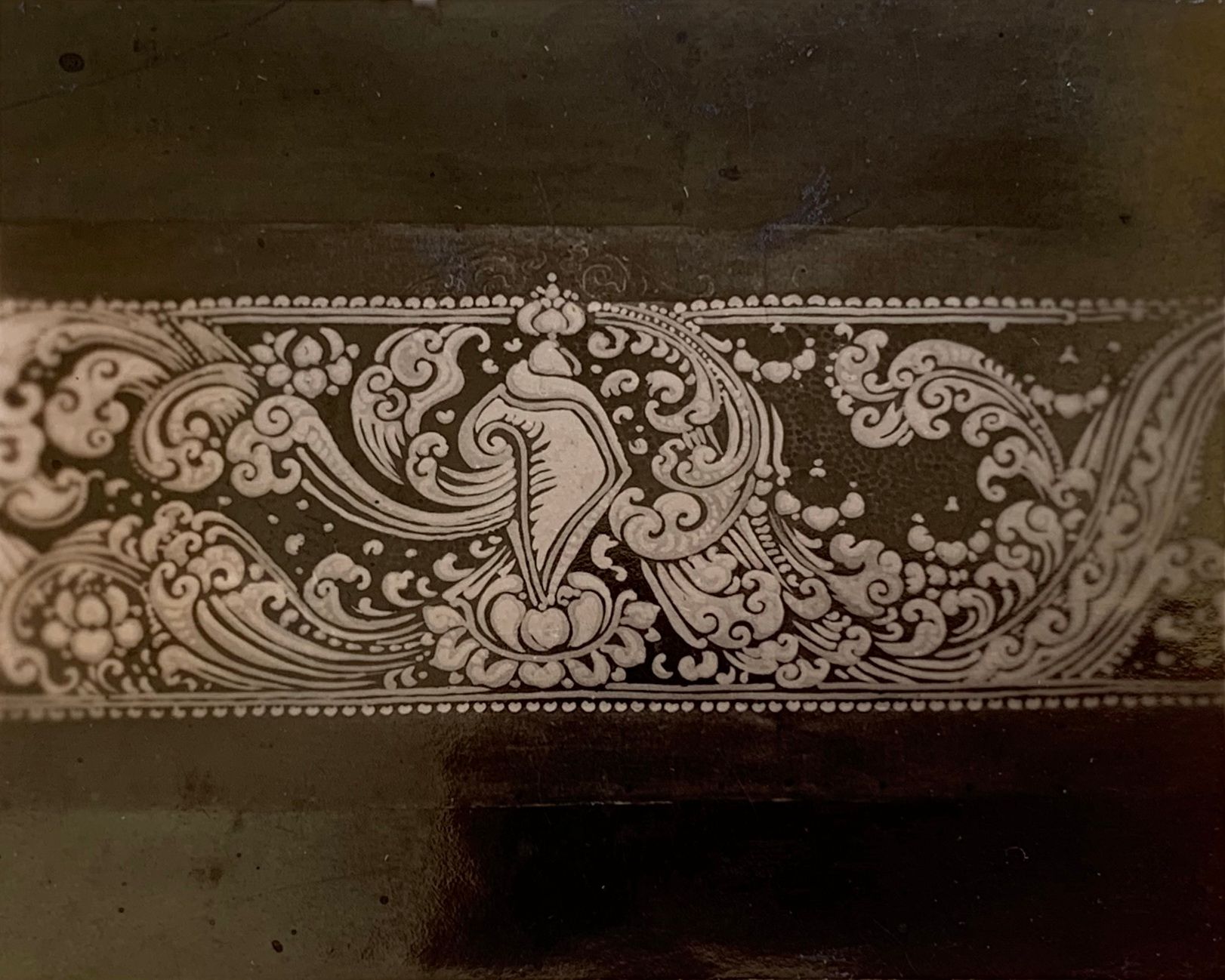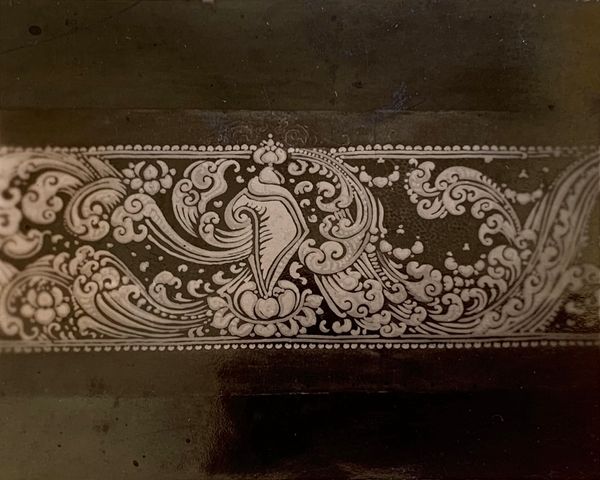 Nandalal (Bose) wished to incorporate all his plans that had come up as part of requirement in aesthetizing the environment and activities of Santiniketan, into the curriculum of Kala Bhavana. "Alpana" was one of these. From Visva-Bharati Bulletin, No. 4 of 1924, we come to know that Sukumari Devi joined as the teacher of alpana and embroidery in Kala Bhavana in the same year.... When Rabindranath Tagore heard of her, he immediately called her over to Santiniketan with much eagerness. Her talent fully bloomed under the guidance and support of Nandalal. She was the main driving force beyond the famed reputation that Santiniketan alpana has today across the globe.
Excerpt from Swati Ghosh, Design movement in Tagore's Santiniketan, Niyogi Books, 2019.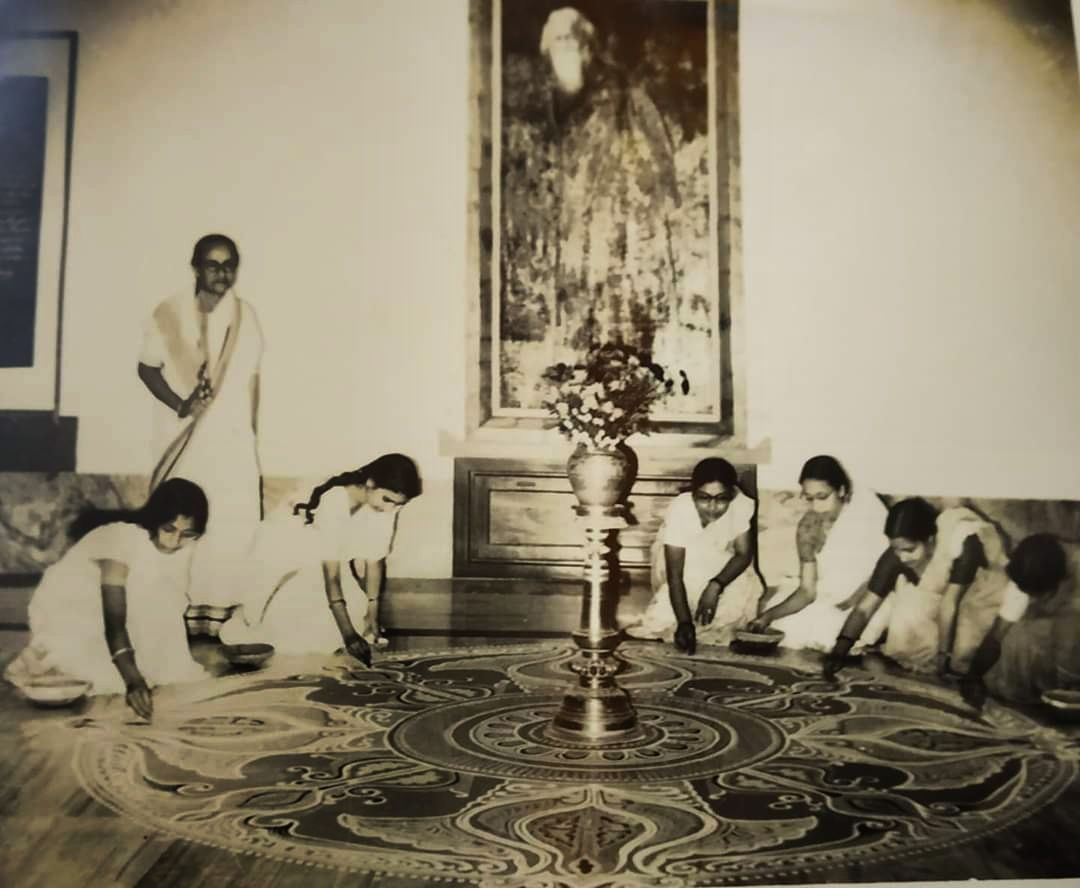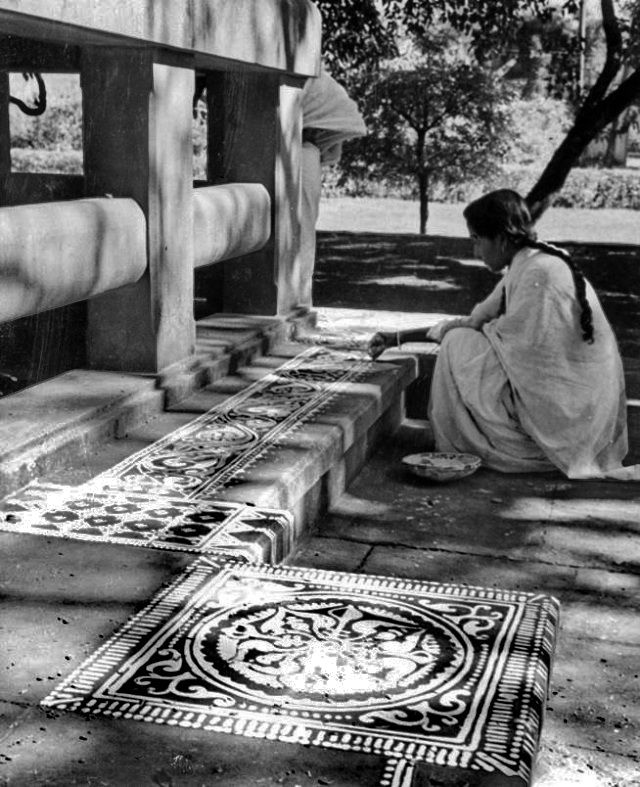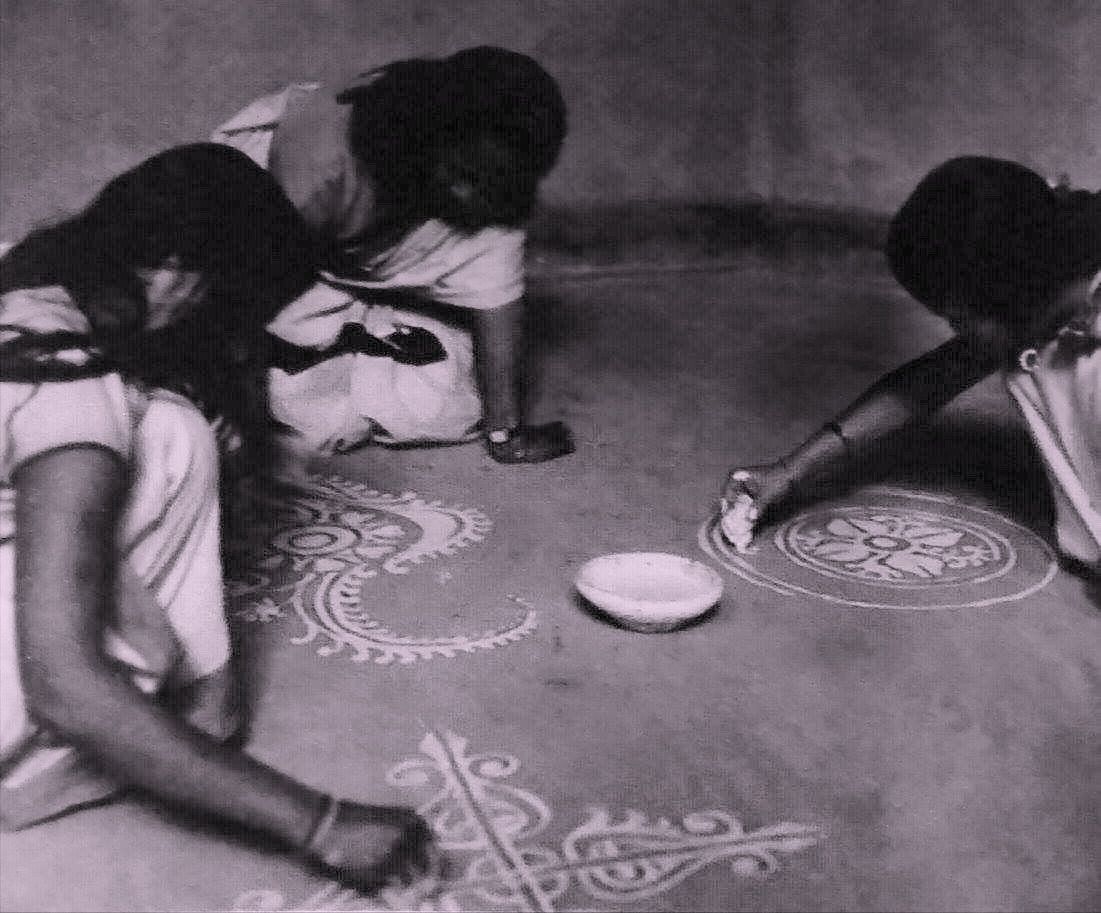 ---
Satyasri Ukil memories of Mukul Dey and Bina Devi
Mukul Dey was originally trained in Santiniketan at Rabindranath Tagore's school established in 1901. He was a student of the poet and the first Indian artist to travel abroad to study printmaking as an art. He also studied Chinese and Japanese paintings of the Nihonga style in Tokyo and Yokohama. Satyasri Ukil, Mukul Dey's grandson, remembers his grand-mother Bina Devi who is seen drawing an alpona at Boise Town Hall Art Gallery when her husband Mukul Dey was a Fulbright Scholar in the USA (1950-54).
"During my childhood, I had seen Bina making alpona during every Lakshmi and Sarasvati puja in our Santiniketan home. "Chitralekha" was primarily Bina's house; she was its guiding spirit and backbone. She used rice paste to draw her alpona and always painted with her right ring-finger."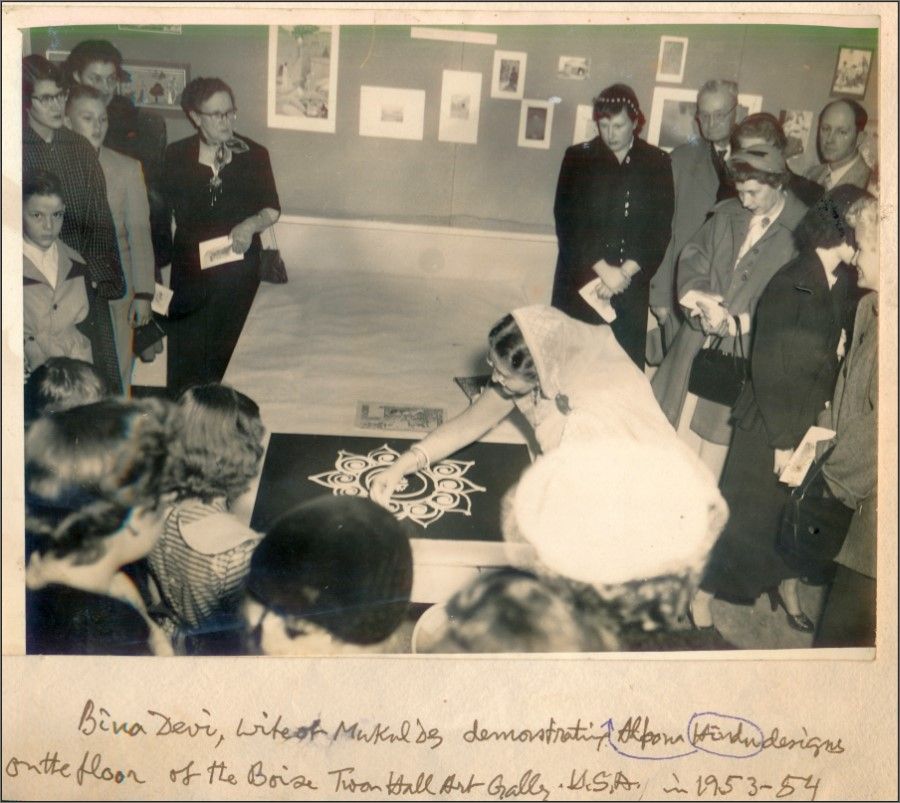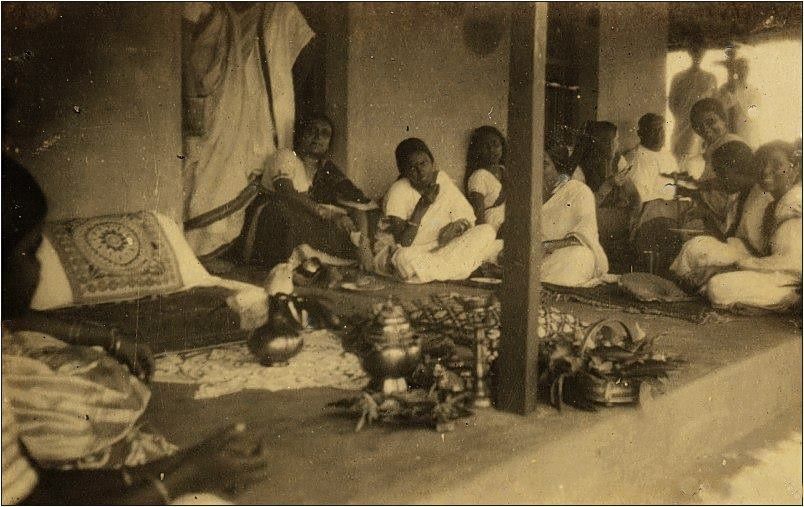 ---
Shevanti Narayan memories, a tribute to her mother
Sumitra Narayan (née Benegal) was born in 1929 in Secunderabad, then Hyderabad state. After independence, Hyderabad State was slow to join the Indian Union. She was already twenty when she came to Kolkata. She was to join the Government Art College and stay with her uncle and brother, both artists. However, a chance visit to Santiniketan with her elder brother Sudarshan, along with two of their guests from another state, introduced her to a different world. They met Nandalal Bose and other teachers. My mother fell in love with the place and Tagore's Visva Bharati and agreed to study there. The prospect of living in such an artistic environment and making new friends were the main attractions. Although she did not speak a word of Bangla, she enrolled without hesitation. Sumitra Narayan studied in Kala Bhavan from 1949 to 1953, mainly under Gouri Bhanja, daughter of Shri Nandalal Bose. She learned Bengali slowly but surely. During her studies, she created alpona on various occasions with her classmates as well as solo. Among the seasonal festivals introduced by the poet Rabindranath Tagore, there was a ceremony called Halakarshana dedicated to ploughing considered as a virtuous and sacred act. It is always held in the month of Shravan (mid-July-mid-August).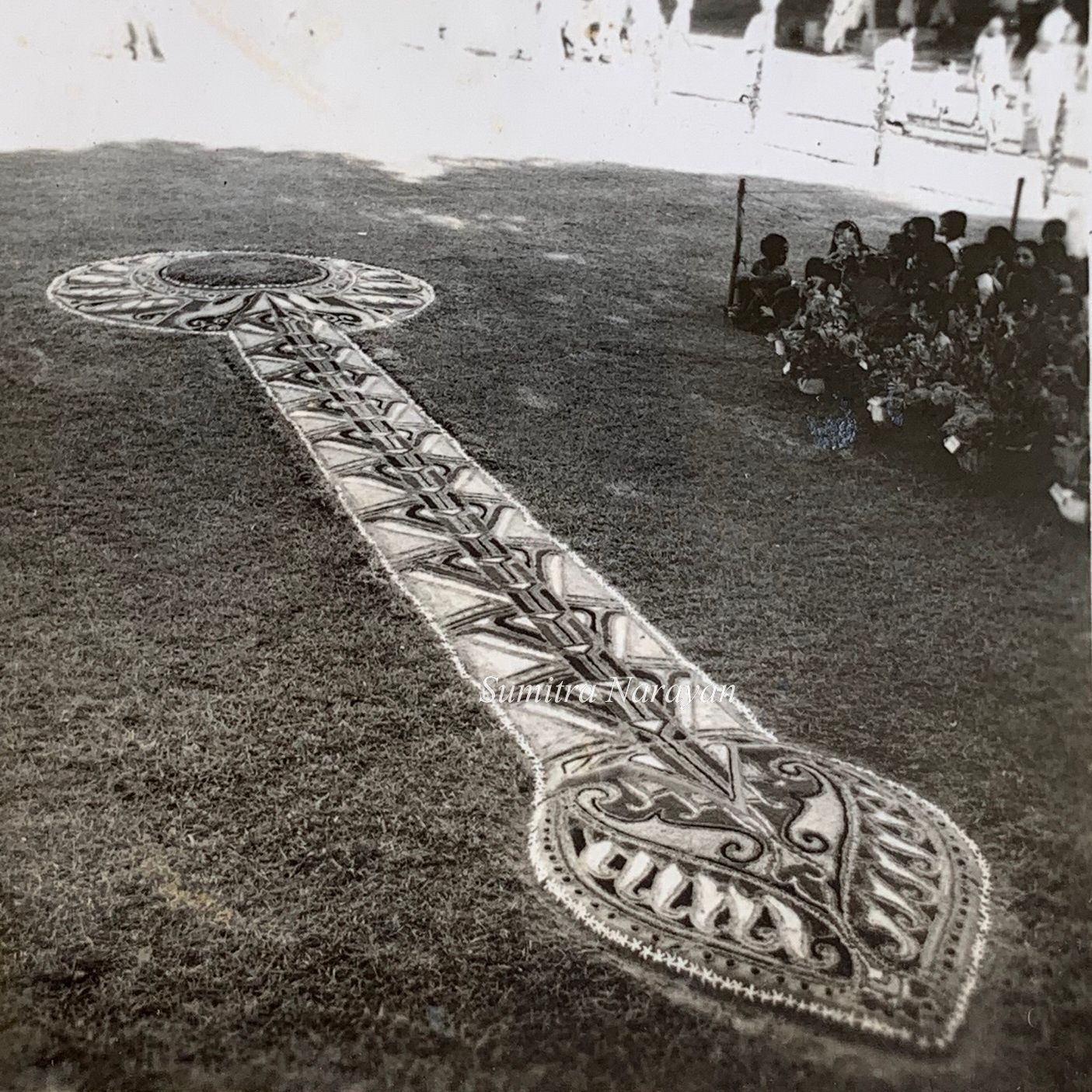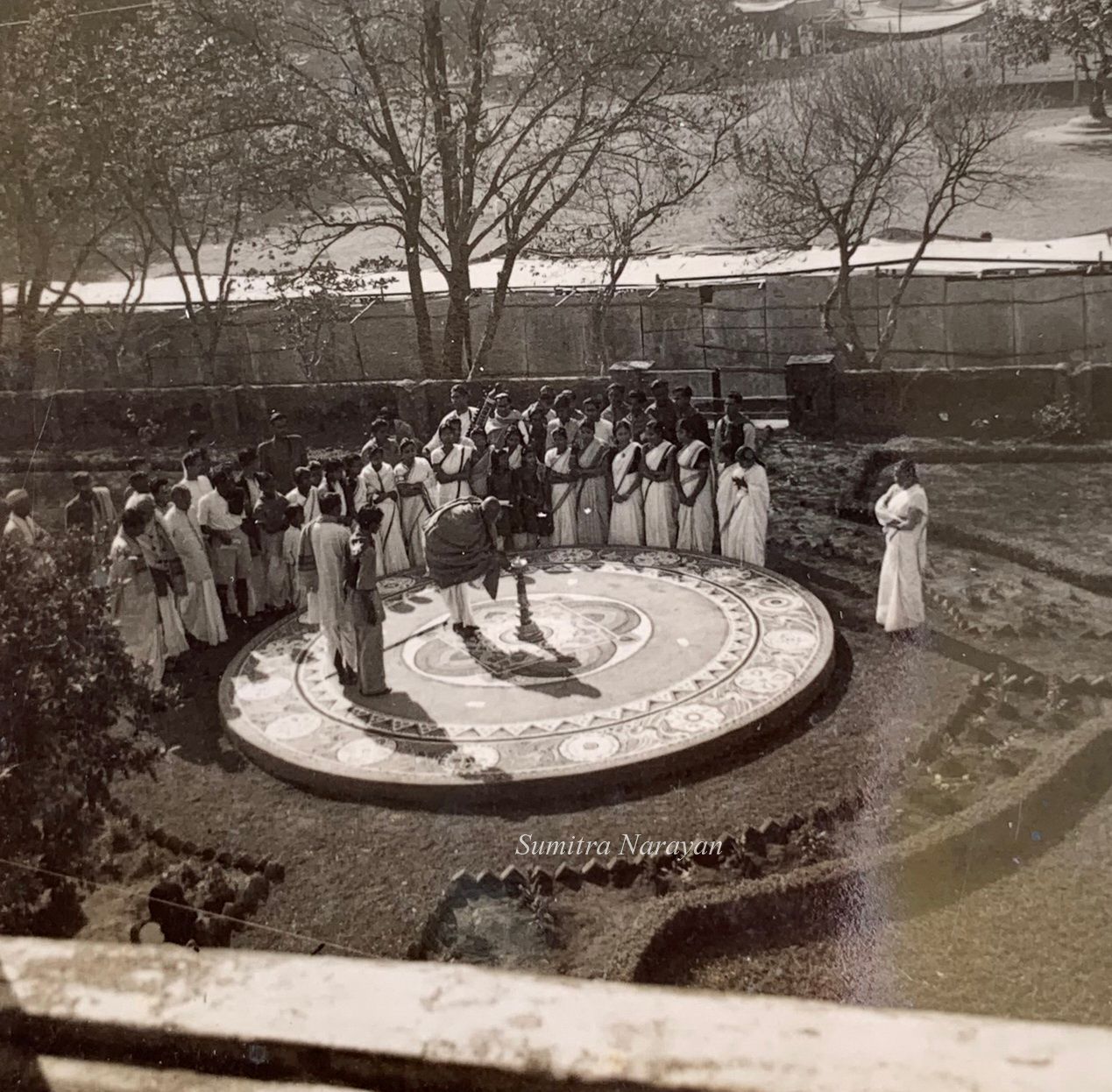 After a brief stint in teaching at Maharani Gayatri Devi School for Girls at Jaipur, after graduating from Kala Bhavan, she returned to Kolkata to marry and settle there. She was one of the founding teachers of the Patha Bhavan school  in Kolkata, which was established in 1965. The school was modelled after Patha Bhavan of Santiniketan. She taught Art and Craft there until 1992 and alpona was one of her favourite art forms.  The beauty of her alpona was expressed in free-flowing designs created by pressing the thumb on a piece of cotton fabric soaked in liquid rice and placed in the palm of the hand. The rice milk that flowed through her fingers turned into a pattern.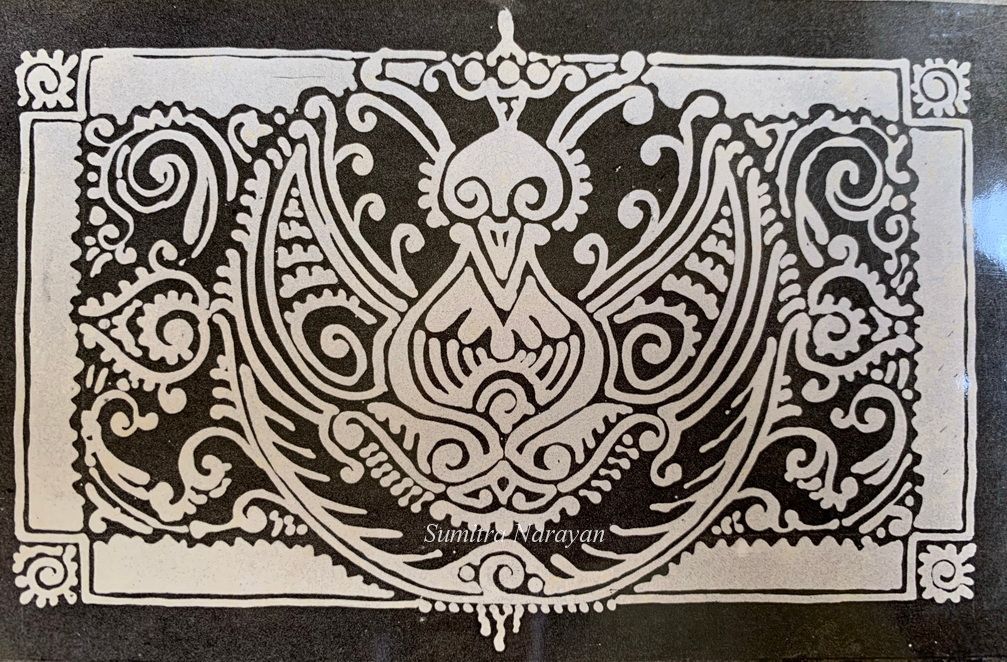 She never drew anything in advance, except that she would use chalk to draw a circle and sections within the circle. Her alpona designs were most often circular in shape.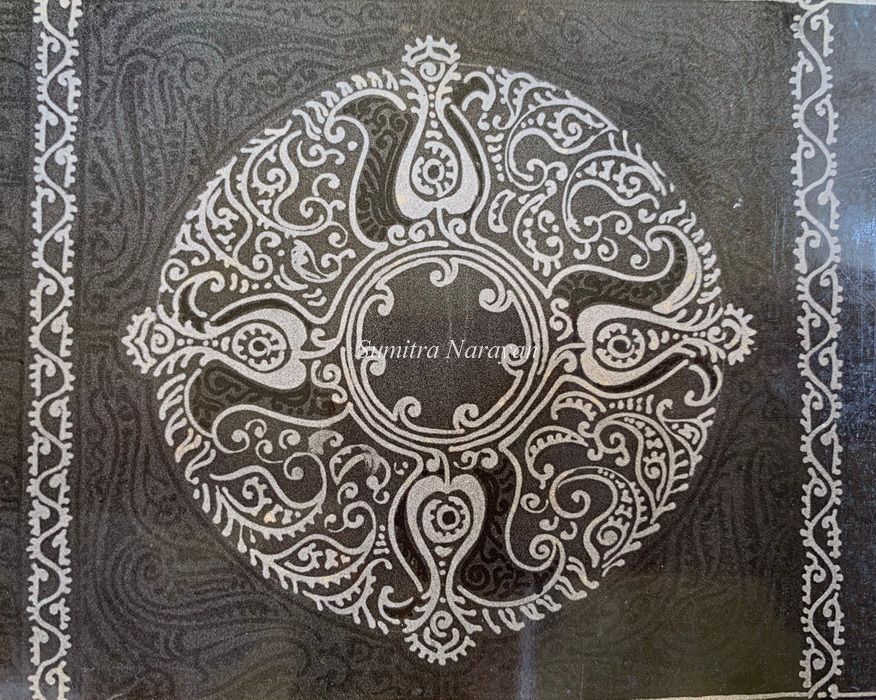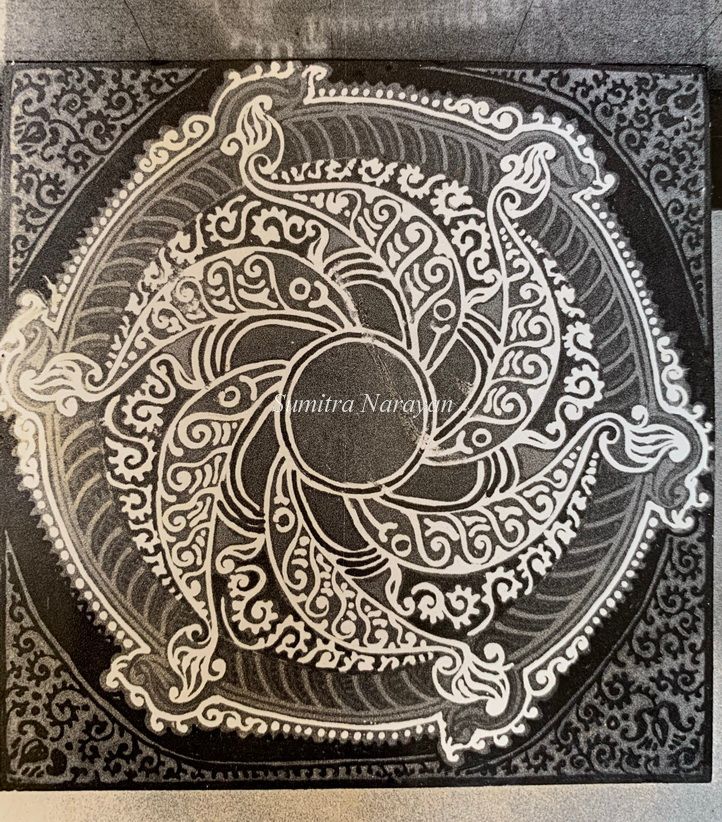 In addition to participating in alpona drawing at important school events such as Foundation Day and Vriksharopana festivals,  friends often asked my mother to create alpona during Saraswati Puja and Lakshmi Puja in their homes. She did this happily, and never ever considered her creations as commercial ventures.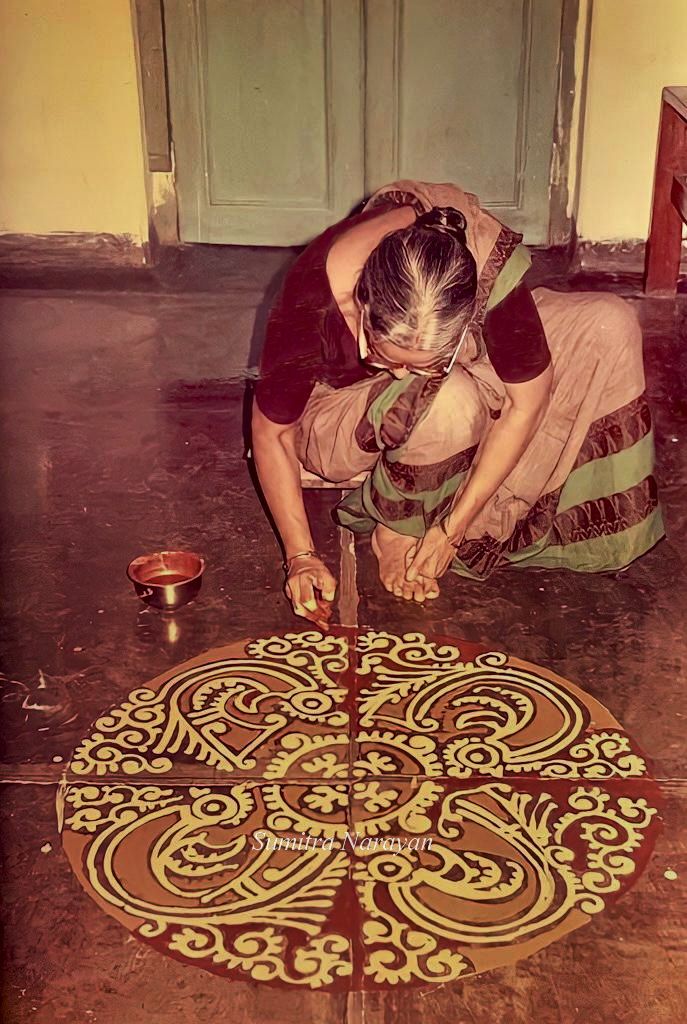 She also created coloured alpona with brushes on a "pidi"  a low wooden plank used for Bengali weddings.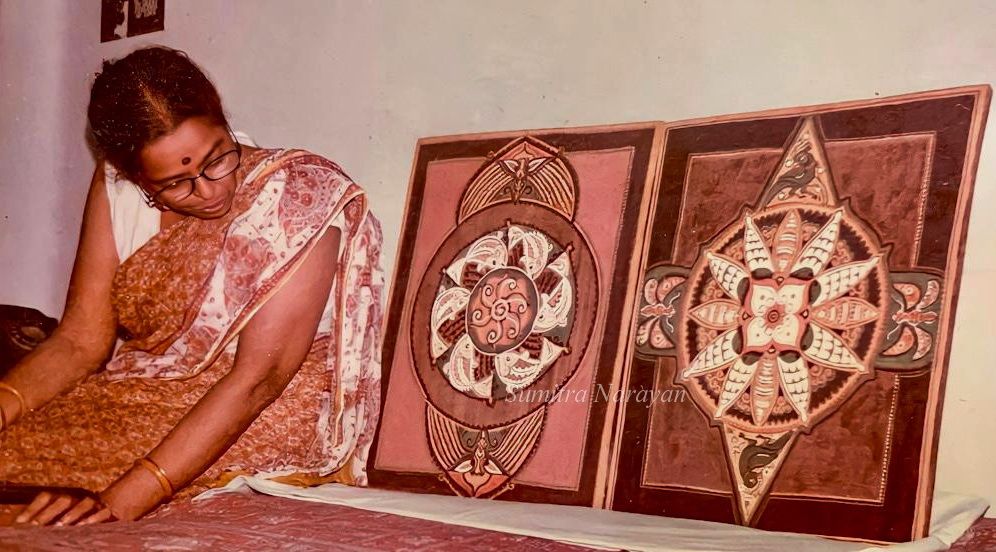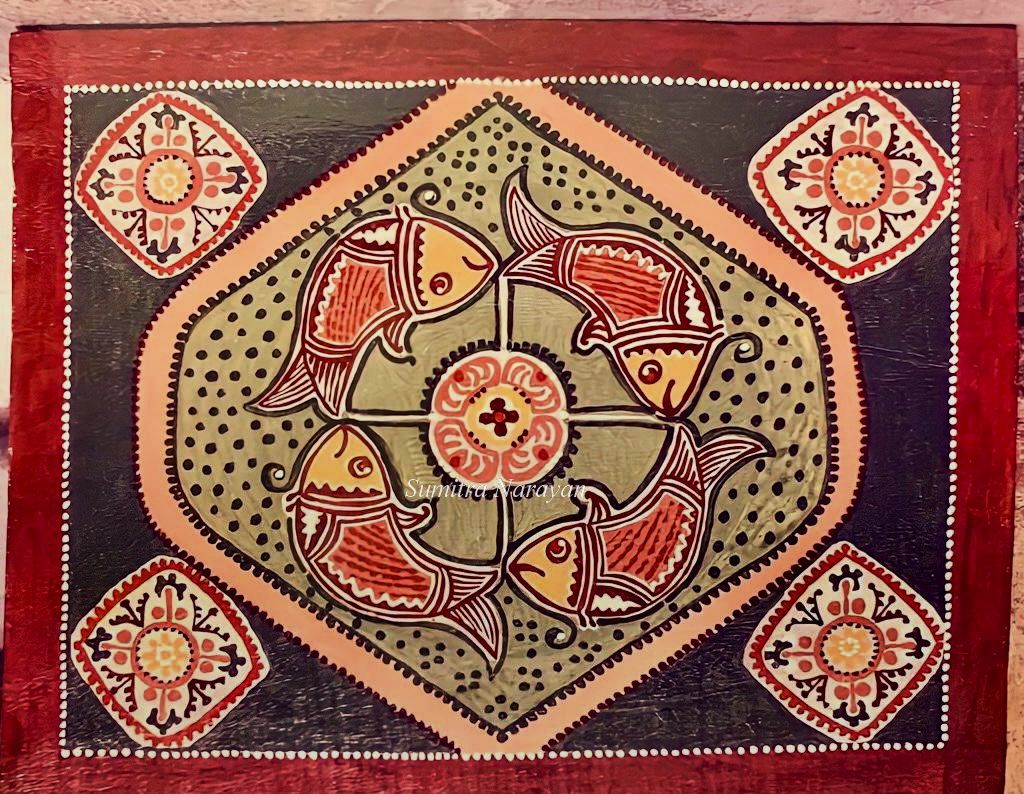 A spontaneous sketch drawn by Nandalal Bose in the form of a birthday greetings to Sumitra Narayan received during her days in Santiniketan (1949-53).  The painter Nandalal Bose became the principal of the art school Kala Bhavan at Visva Bharati University in 1922. He was fascinated by the creativity of folk art and translated it into his work in a unique way.  Together with his disciples Beohar Rammanohar Sinhan and five women artists: Gauri Bhanja, Jamuna Sen, Amala Sarkar, Nibedita Bose and Bani Patel, he took on the task of illustrating the original manuscript of the Constitution of India.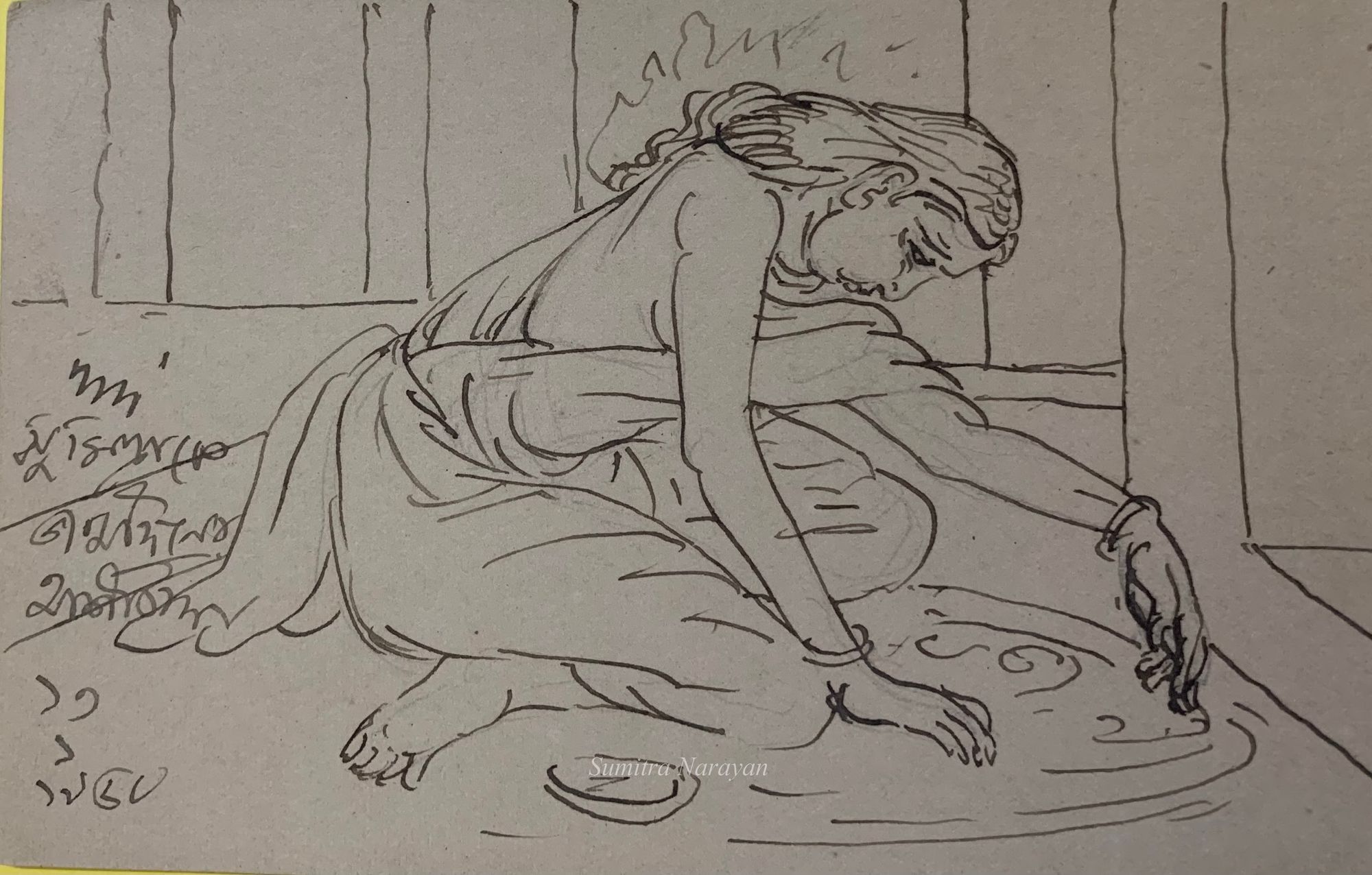 ---
Boisali Biswas memories
Boisali Biswas is a studio artist working in mixed-media fibers, born and brought up in India. Her formative years were spent at Visva-Bharati University where she took part, with her schoolmates in the creation of alpona during important ceremonies. Chhatimtala as it is called is the spot that symbolizes the starting point of Santiniketan, which was to become Rabindranath's home and base for various activities. It was in this area that the poet's father had a spiritual experience while meditating under a glade of Chhatim trees (Alstonia scholaris), which were the only vegetation in this arid land of Birbhum. Today it is considered a hallowed spot, and prayer services are held here on special days.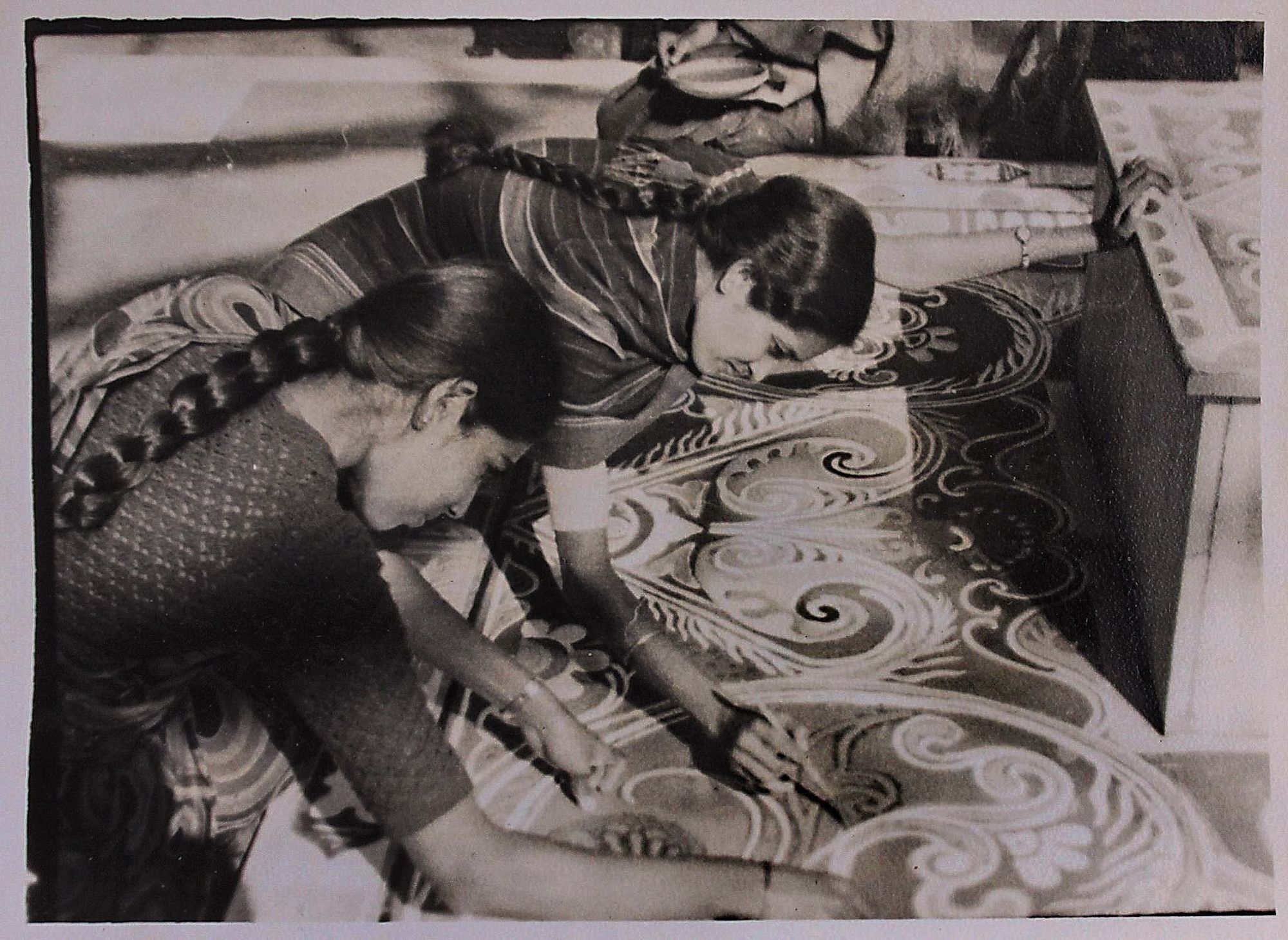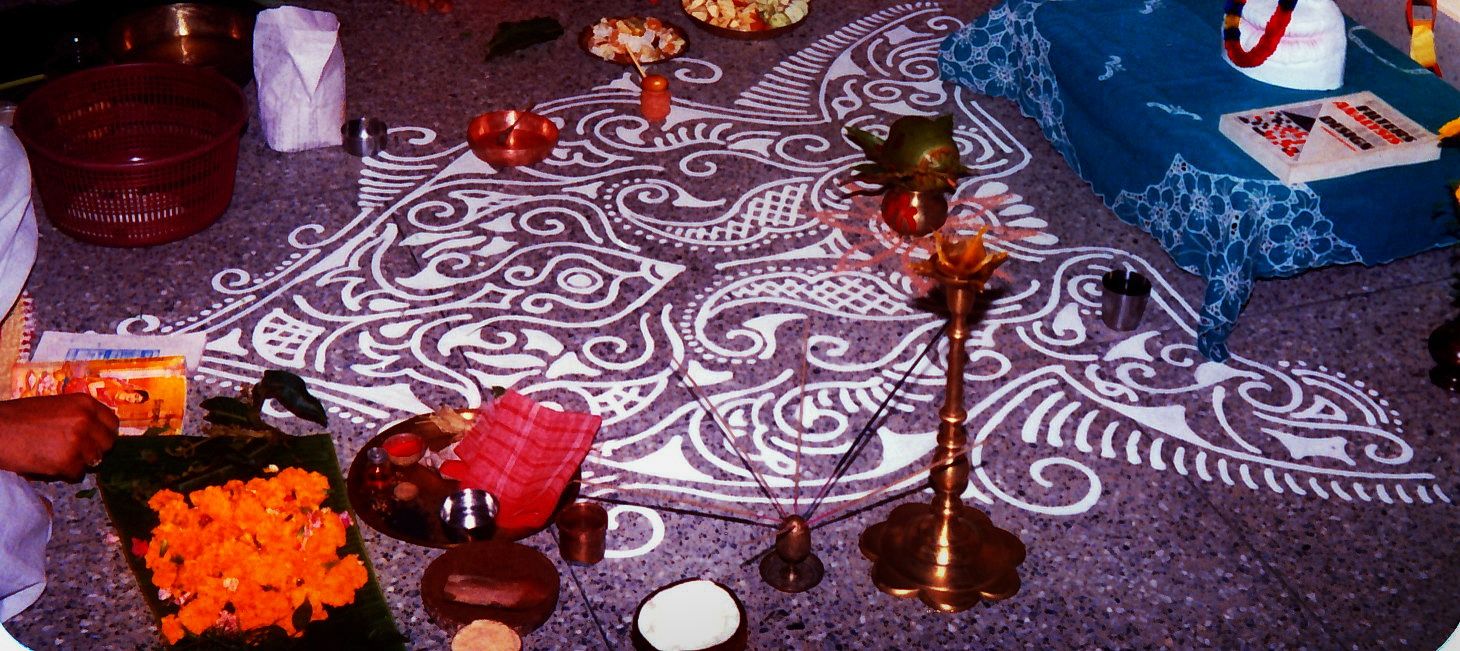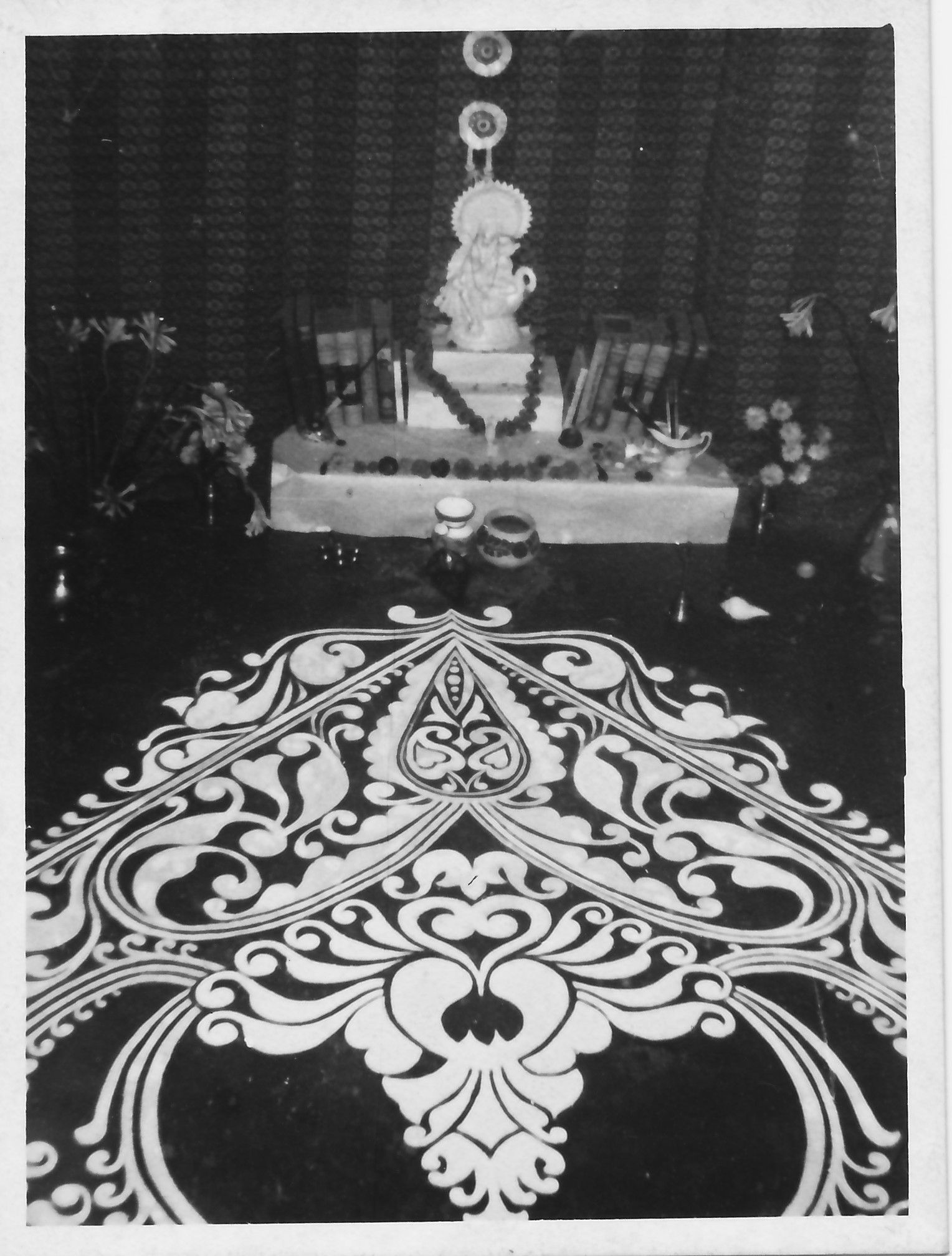 ---
To read more on alpona/alpana tradition and revival in Santiniketan, please refer to the book of Swati Ghosh.