Meeting with Andal: Hema
Hema shares some of her thoughts and feelings on how she came to draw each single day, a kolam inspired by Tiruppavai verses: " In 2016, a few days before Margazhi, my guru Rangam aunty advised me to take the Tiruppavai verses and represent them in some unique way. I was intrigued and did not know what she meant by theme so she sent a few links for me to read and I immediately was hooked. Margazhi had arrived and aunty would text me the day's hymn. Creating the kolam would take 2 to 3 hours. In 2018, I drew a kolam of Andal as a girl and she remains my favourite image;  she walks confident just before she performs the month long pavai nombu (a short-term penance). Thus, I began this 30-day journey with Andal. I would live through her eyes and it was a wholesome spiritual experience."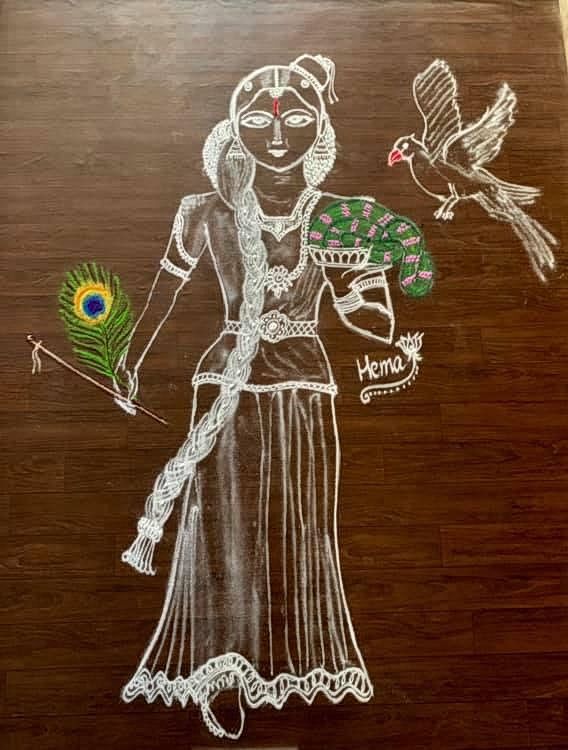 Hymn 27 of  Tiruppavai
கூடாரை வெல்லும் சீர் கோவிந்தா உந்தன்னை(ப்)
பாடி(ப்) பறை கொண்டு யாம் பெரும் சம்மானம்
நாடு புகழும் பரிசினால் நன்றாக(ச்)
சூடகமே தோல் வளையே தோடு செவிப் பூவே
பாடகமே என்றனைய பலகலனும் யாம் அணிவோம்
ஆடை உடுப்போம் அதன் பின்னே பாற் சோறு
மூட நெய் பெய்து முழங்கை வழி வார(க்)
கூடி இருந்து குளிர்ந்தேலோர் எம்பாவாய்
"O Govinda of renown victorious over ennemies, we sing your virtues, you fulfill our desires. All the world shall marvel at the gifts we receive - bracelets, armlets, ear pendants, anklets, numerous jewels. We shall drape ourselves in silk. We shall eat milk rice so covered with ghee it drips down our elbows. In joy together we shall be."
Hema explains her paintings: "Here Andal's penance has taken her to her Lord. She has attained what she set out to accomplish. She breaks her fast and adorns herself with garlands, ornaments and clothes worn by the Lord Himself. It is such a beautiful verse. She has lost all vanity, ego and sees Him only. That's where we have to be and that is: see the divinity within."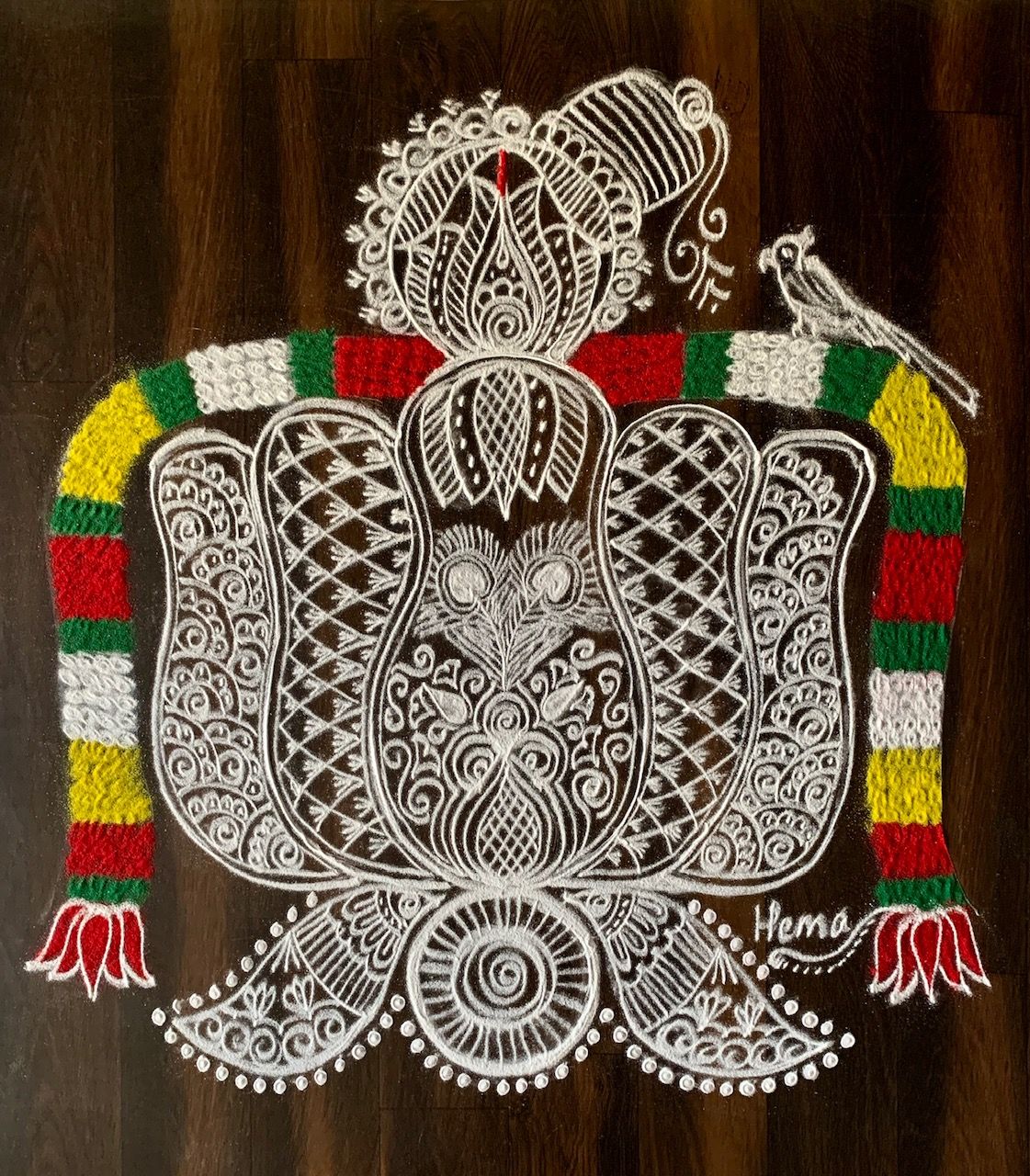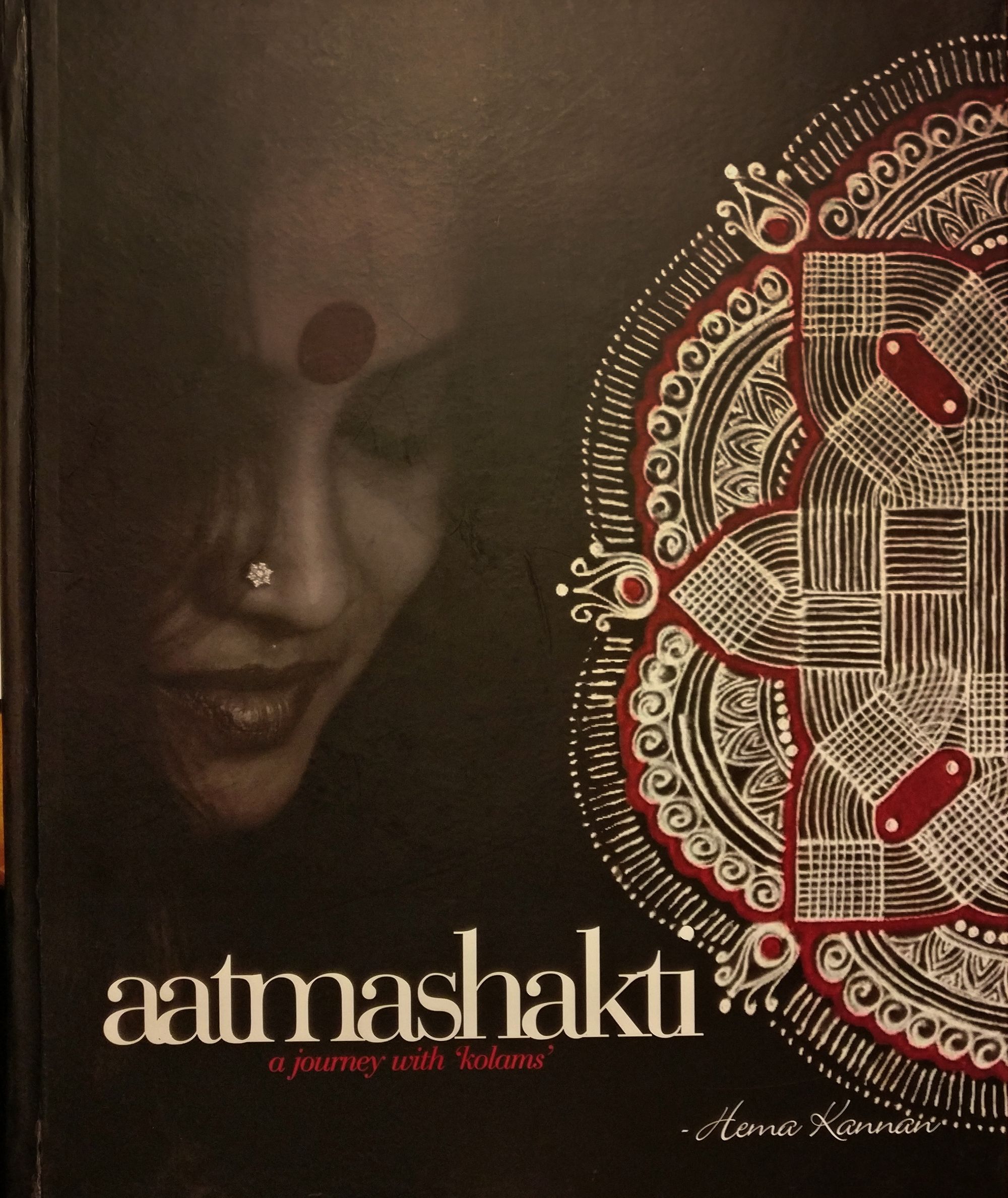 ---
Meeting with Andal: Meena
Meena narrates how a US based religious group approached her to give a live kolam presentation as part of their 30 day Margazhi festival. " I was given carte blanche to display kolam my own way. For me, conceptualising a kolam begins with a spiritual theme or a thought. Since it was Margazhi, I chose Tiruppavai; but which pasuram (hymn) should I illustrate? I kept thinking about it until I felt that I should bring in all the 30 hymns in one design.  Concentric circles patterns divided into 30 parts came up in mind. I drew a kolam in each unit to reflect the very substance of the hymn.  It took 2 and half hours to draw and at the end, I was happy with the offering made to Andal and Krishna. I felt at the time of live broadcast, to present it like a puzzle would be fun; the idea was to match each kolam design to the right word of the hymn. It is only later when I shared it on social media that viewers unravelled the puzzle and posted the right answers."
You too readers, can decipher the keywords hiding in each of the 30 kolam. Sri Andal is in the center.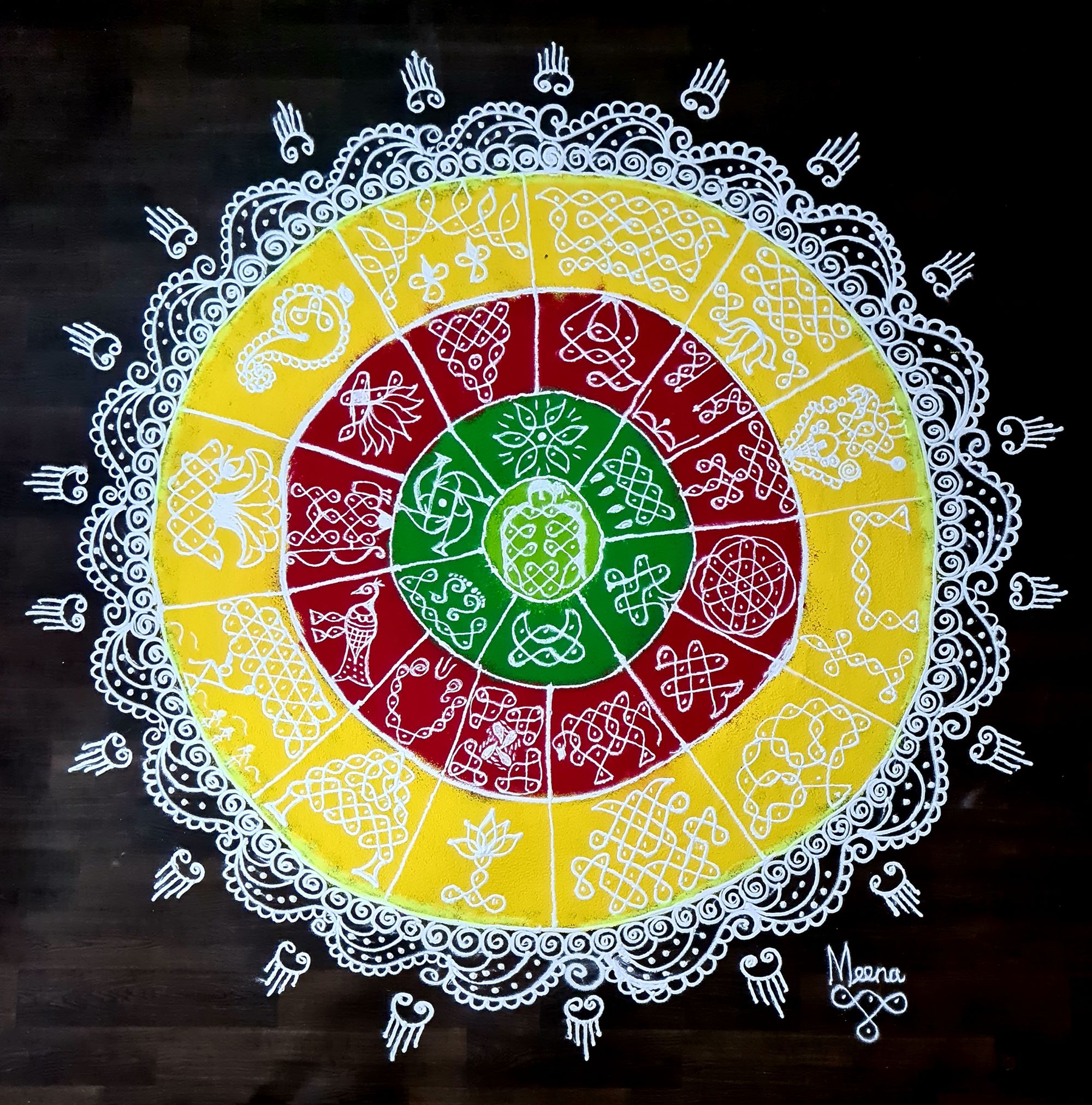 ---
Meeting with Andal: Meenakshi
"My interest towards kolam began after listening to Prof. Swaminathan's presentation on the mathematical aspects of them. Throughout his speech, I was wondering how the tradition of floor painting had started in Tamil Nadu. As my interest towards this art grew, I realized the uniqueness of sikku kolam. I had noticed over the years, that fewer women were drawing these knotted patterns and that rangoli prevail today. Therefore, I started drawing sikku kolam regularly with the aim of spreading the awareness of their value. Gradually, came the idea of using this technic to represent images of various gods. This Margazhi and because Andal's Tiruppavai is very close to my heart, I wanted to illustrate the symbolic content of each pasuram (hymn) using entwined lines running around dots. I would be happy if my attempt kindles the interest in the minds of the younger generation to draw sikku kolam again."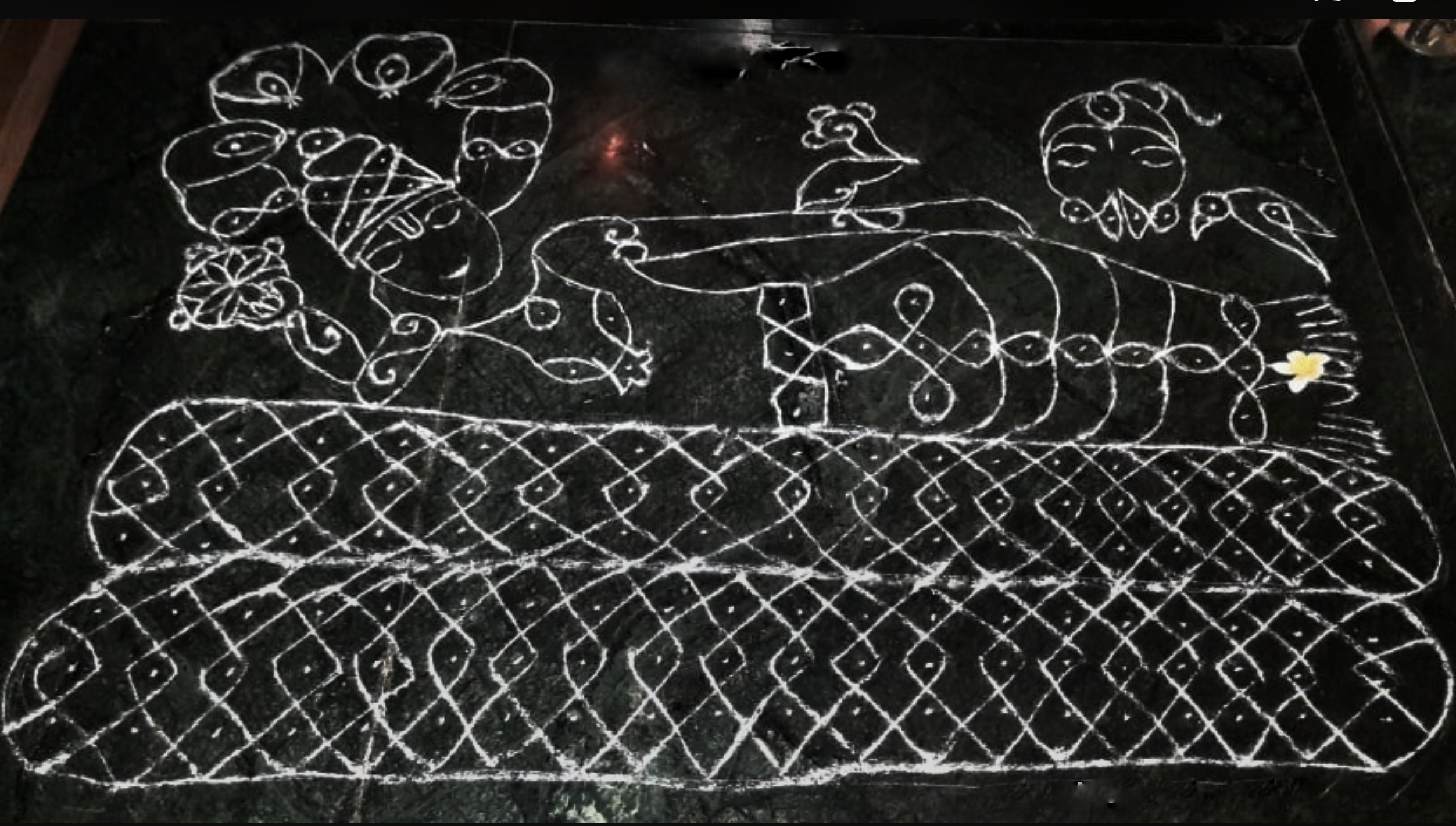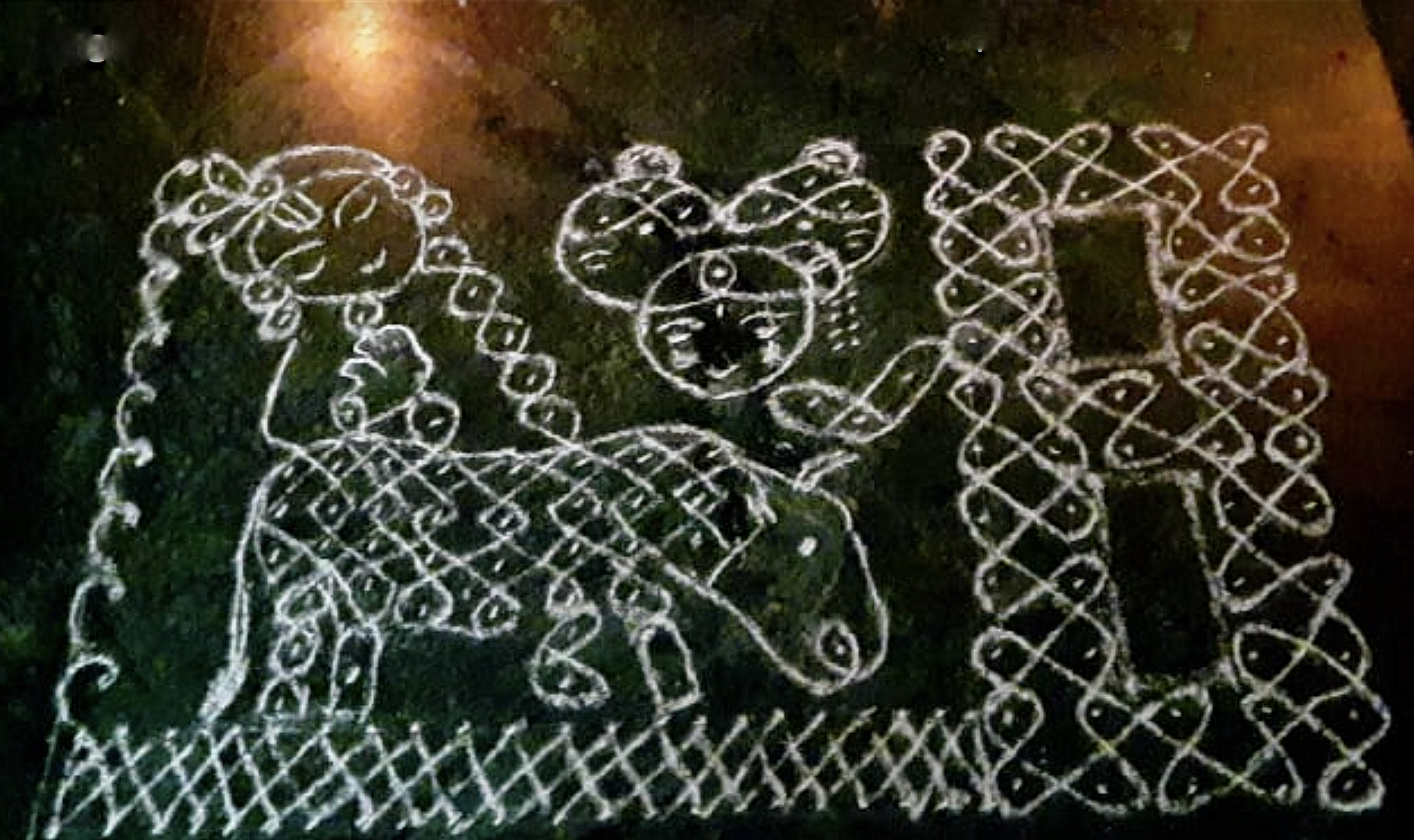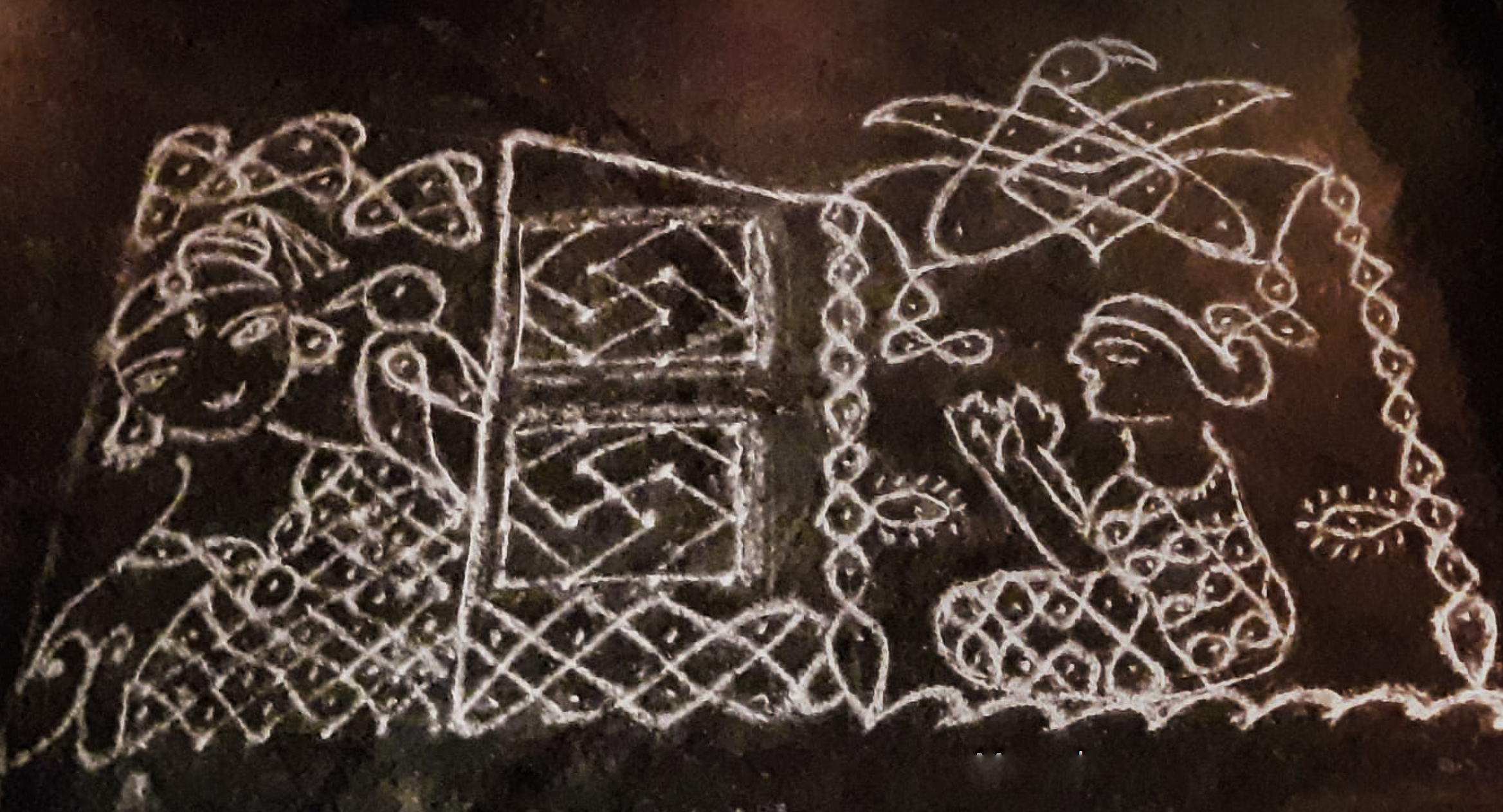 All Tiruppavai verses are translated by Vidya Dehejia, Antal and Her Path of Love.
The header image of Andal has been drawn by Jayashree G.