The divine month of Margazhi — part 4
The lesser known Nacciyar Tirumoli is made up of 14 hymns divided into 143 verses. Here, a tearful and anxious Andal addresses her prayers through a fine sand mandala to Manmathan or Kamadeva the god of love, asking him to fulfil her deepest wish: to unite her with Kannan (Krishna).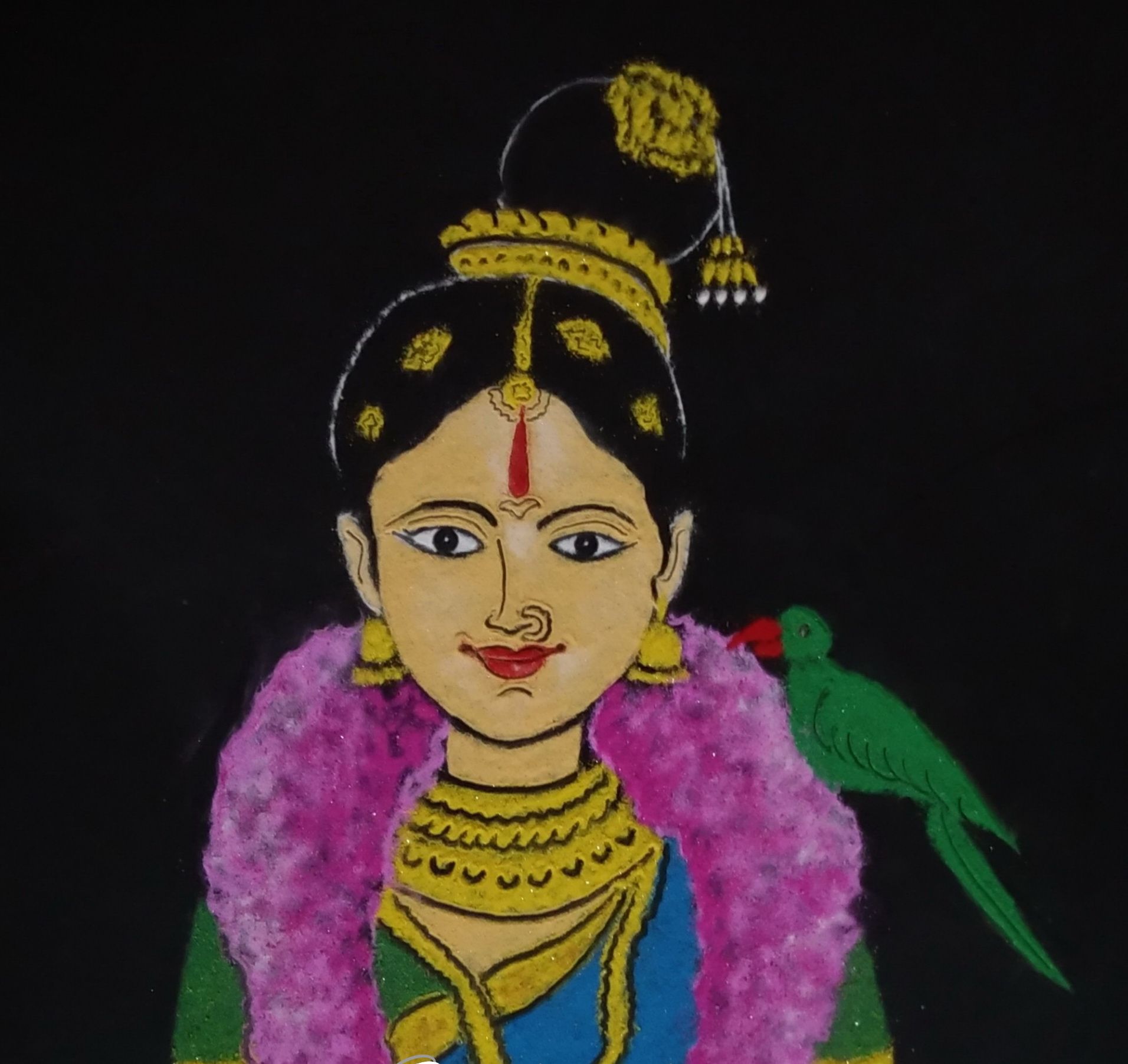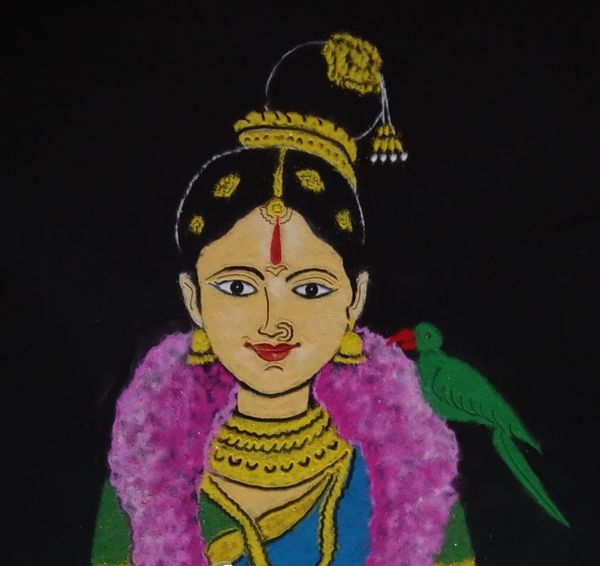 The lesser known Nacciyar Tirumoli is made up of 14 hymns divided into 143 verses. Here, a tearful and anxious Andal addresses her prayers to Manmathan or Kamadeva the god of love by means of a fine sand mandala. She asks him to fulfil her deepest wish: to unite her with Kannan (Krishna), one of Vishnu's reincarnation. I have been told that she would accurately draw a kolam while keeping her eyes closed; so deep was her concentration on the object of her heart. Several verses mention what looks like the making of floor designs. The word kolam is not used but mandala and alankaram.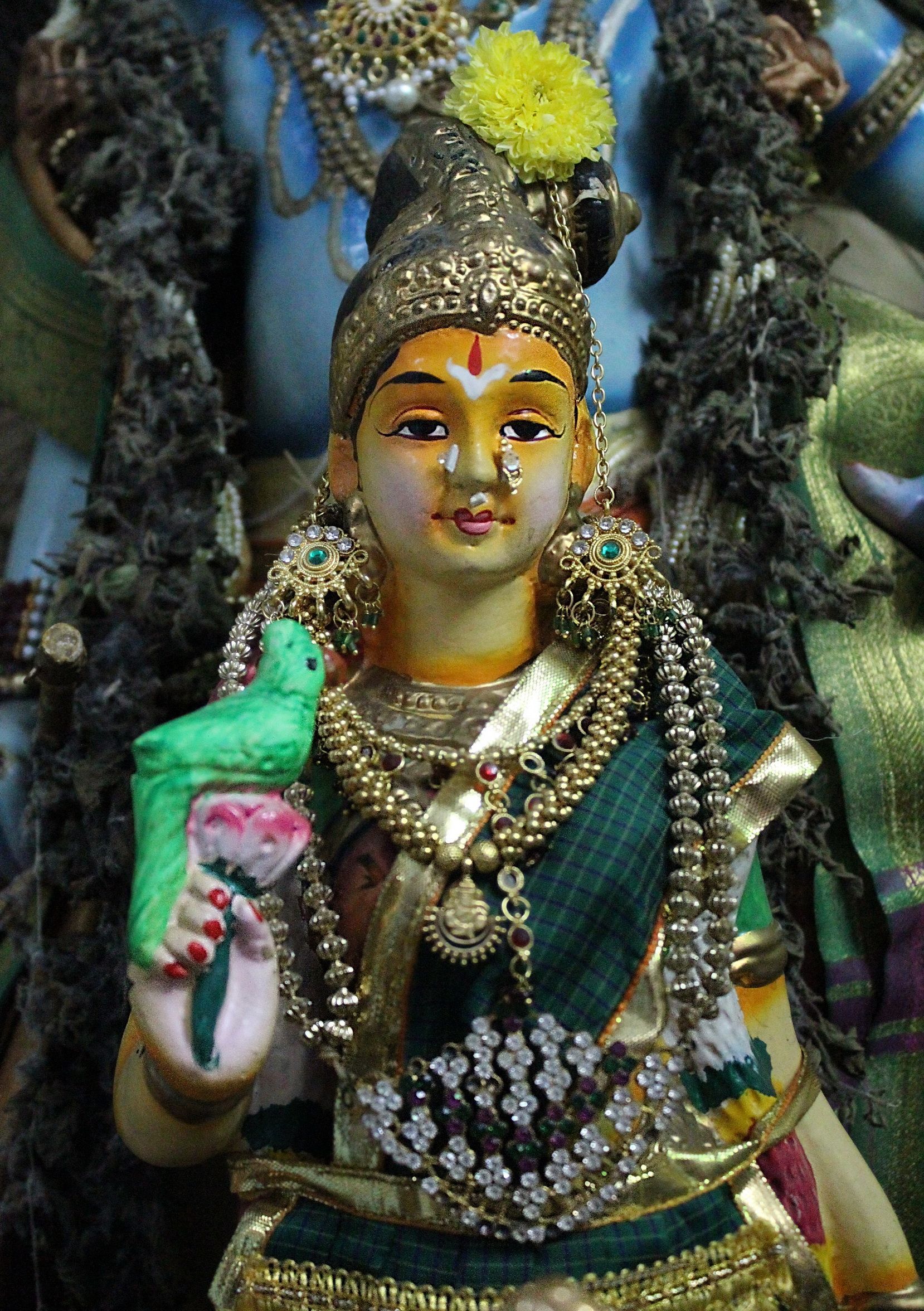 Hymn 1, verses 1-2 of Nacciyar Tirumoli, (Tai oru tinkal)
தையொரு திங்களும் தரைவிளக்கித்
தண்மண் டலமிட்டு மாசிமுன்னாள்,
ஐயநுண் மணற்கொண்டு தெருவணிந்து
அழகினுக் கலங்கரித் தனங்கதேவா,
உய்யவு மாங்கொலோ வென்றுசொல்லி
உன்னையு மும்பியை யும்தொழுதேன்,
வெய்யதோர் தழலுமிழ் சக்கரக்கை
வேங்கட வற்கென்னை விதிக்கிற்றியே.
வெள்ளை நுண் மணற்கொண்டு தெருவணிந்து
வெள்வரைப் பதன்முன்னம் துறைபடிந்து
முள்ளுமில் லாச்சுள்ளி யெரிமடுத்து
முயன்றுன்னை நோற்கின்றேன் காமதேவா,
கள்ளவிழ் பூங்கணை தொடுத்துக்கொண்டு
கடல்வண்ண னென்பதோர் பேரெழுதி,
புள்ளினை வாய்பிளந் தானென்பதோர்
இலக்கினிற் புகவென்னை யெய்கிற்றியே.
"Unite me with my Lord, O Kāmadeva Through the month of tai I swept the ground before my house, made sacred mandalas of fine sand. The month of Māci has begun, I have adorned the street, Offered worship to your brother and you. How can I live without the lord of Vēnkaṭa? O formless god, Unite me with the one who holds the fire-tipped discus." At the silvery break of dawn, I bathed in the stream, Lit a sacred fire of tender twigs. With fine white sand I decked the street and kept my vow to you."
Vidya Dehejia, Antal and her path of Love, Sri Satguru Publications, New-Delhi 1992, page 75
I have always wondered why Nacciyar Tirumoli verses were seldom represented in kolam and Mrs Rangam Balaji gave me an insightful explanation: "Tiruppavai is a set of 30 hymns with many depictions of pastoral sceneries suitable for drawing kolam during the entire month. Verses alluding to the Lord in his many forms abound of his exploits. Sri Andal sings Tiruppavai for her friends accompanying them as a confident and guide. She literally wakes them up, inviting them to join her to perform pavai nombu for the prosperity of the country, the welfare of the world and to attain eternal bliss. This vrat (vow) is believed to brings maidens a happy marriage. Tiruppavai is the Suprabatham (auspicious hymns sung early morning to awake the deity) in all the temples during Margazhi month."
"Nacciyar Tirumoli is of a different style. As a lovelorn girl longing for her beloved, verses are more of feelings and philosophy which are not easy to express in kolam. Definitely not impossible as we have drawn kolam on "Varanam ayiram" (6th hymn) as part of kolam competitions.  Tiruppavai is more convenient, easy and well-known. It gives wider options like depictions of Sri Rama, Narasimha, Vikrama, Vamana and Krishna as well as landscapes with flora and fauna."
Meeting with Andal: Prathima and Meena
"When I do kolam for Margazhi, I keep wondering what to do but somehow something strikes me and ideas keep pouring. That's when I think that it's her (Andal) doings. She just comes and guides me I feel. I too, am an ardent devotee of Krishna." This is how my friend Prathima chose the first verse (Varanam Ayiram) of the 6th hymn (pasuram) of Nacciyar Tirumoli. She drew elements of Andal's dream; as the whole hymn re-enacts the mariage rites and is said to be recited in all Vaishnava weddings.
வாரணம் ஆயிரம் சூழ வலம் செய்து, நாரண நம்பி நடக்கின்றான் என்றெதிர்,பூரண பொற்குடம் வைத்துப் புறம் எங்கும், தோரணம் நாட்டக் கனாக் கண்டேன் தோழி நான்!
"A thousand elephants followed as Narayana Nambi walked in state. The town was adorned with flags and banners, at every threshold stood a blessed golden urn. I dream this dream my friend. "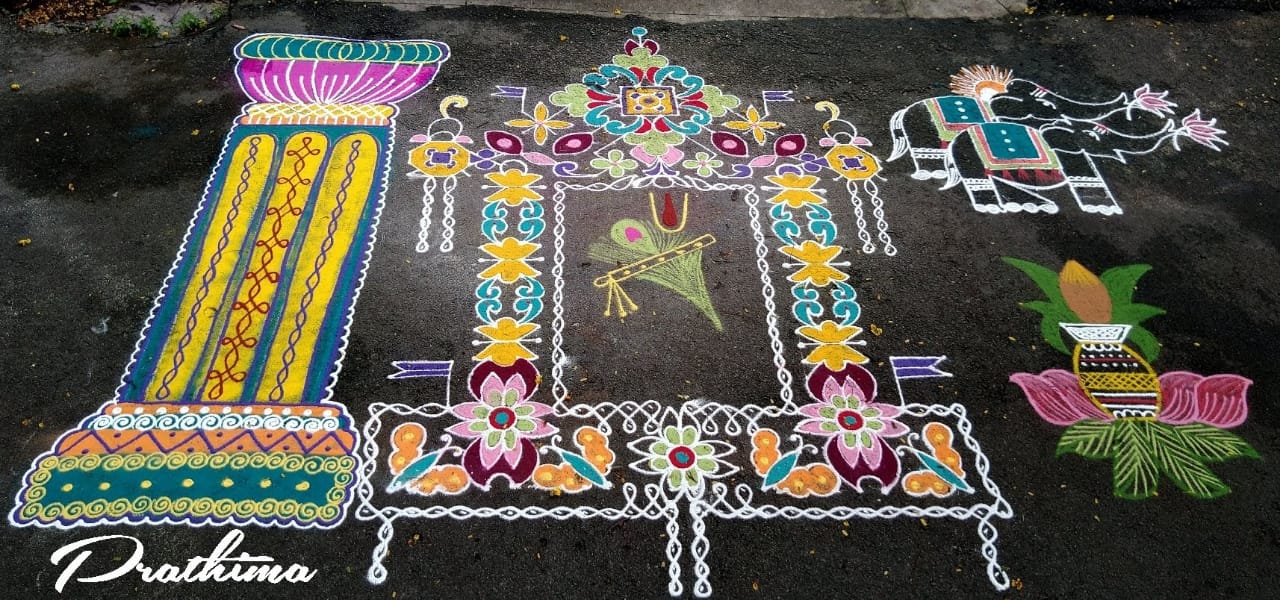 ---
Meena chose the same lines for a kolam competition at a friend's request. " There was more scope for imagination and conceptualisation. The verses detail a complete traditional marriage ceremony. I wanted to highlight each element through a sikku kolam. The garland on the wedding pedestal, the yagna kundam (ritual pit for a fire sacrifice), the priest, Brahmanas, Vishnuchittar (an Alvar and  foster father of Andal), decorations all around the house and streets. The elephant border kept haunting me, I was pretty sure about creating not just one elephant but many, as many as possible because Andal talks about thousand elephants in the opening line itself. I wanted their legs to be part of the sikku border. Am not a great artist but somehow I succeeded to draw them. How? Only by His grace! The first thing I did was the bride and groom Andal and Vishnu, once they sat everything else fell in place as they wished."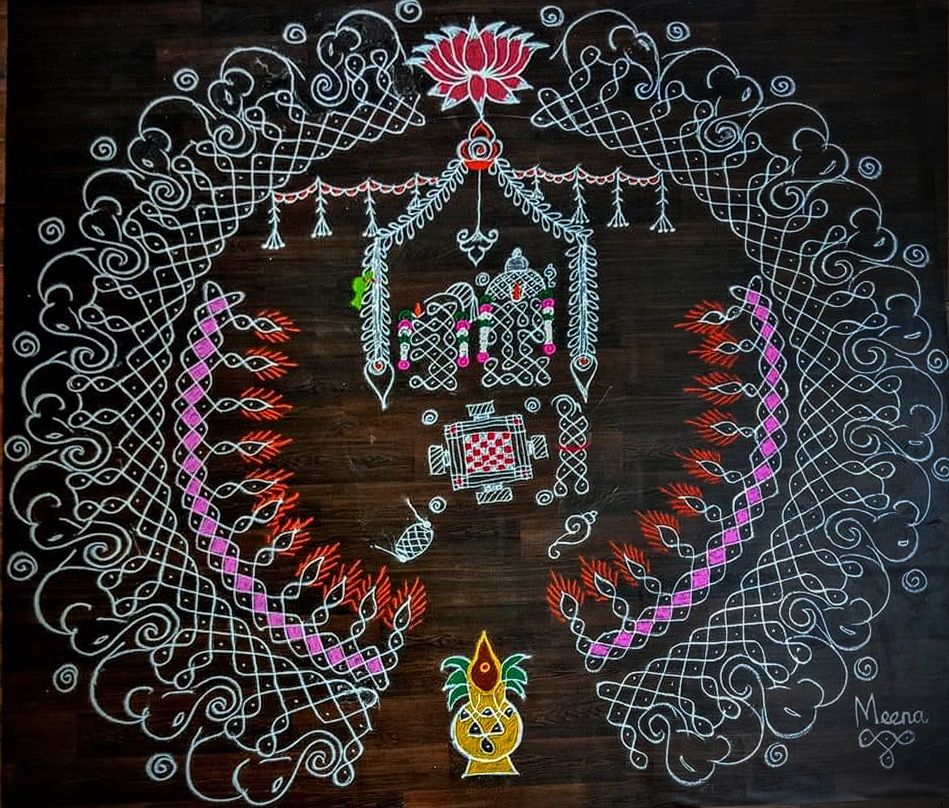 ---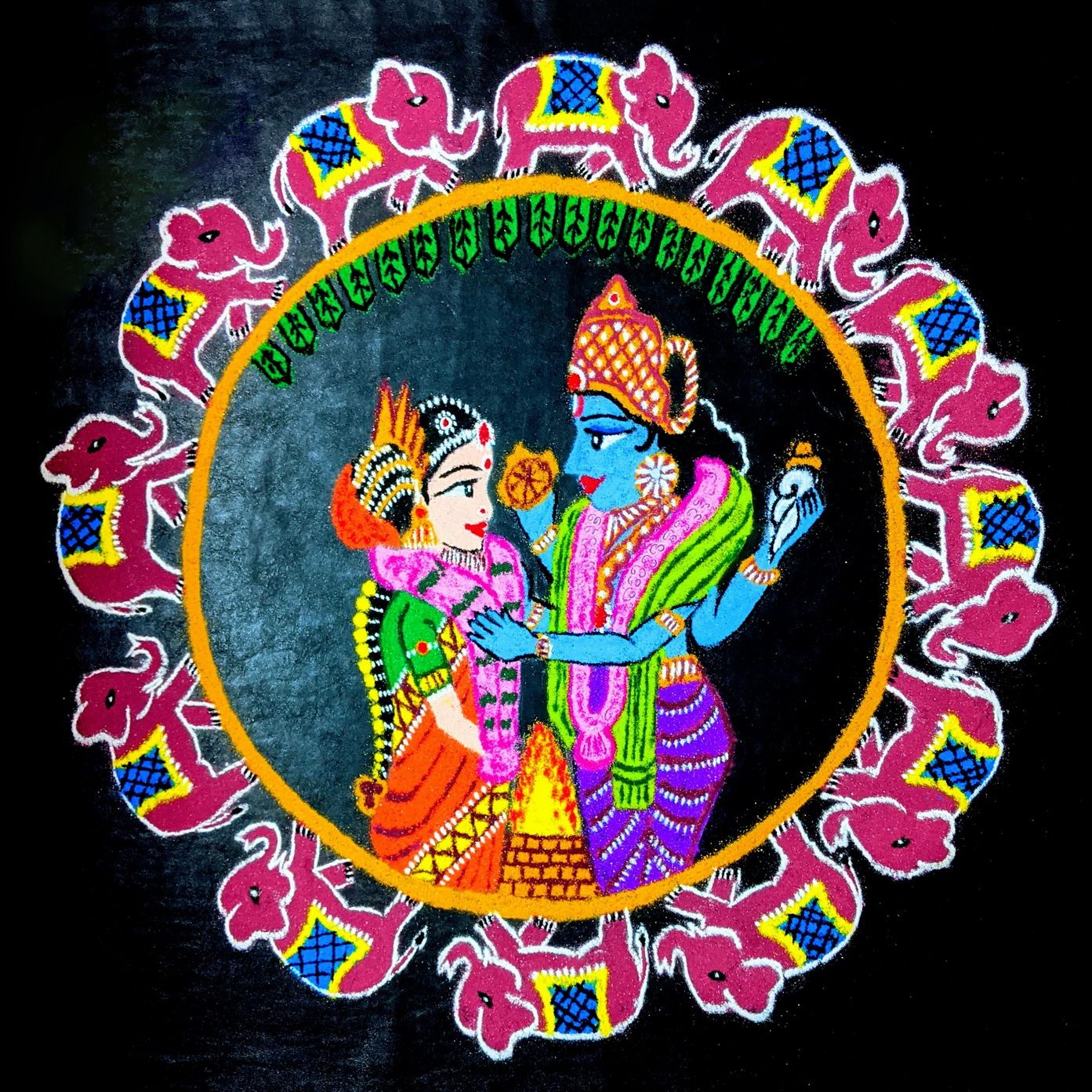 ---
Previous articles : Margazhi Part 1 _ Margazhi Part 2 _ Margazhi Part 3
---