Rice and kolam
In a predominantly agricultural Tamil society, prosperity is still measured in terms of "rice fields" or "rice measure". The cultural extent of this seed of life is reflected in many Indian languages : the verb "eat" is different when it is used for eating rice. Kolam in the imaginary of South Indians convey the idea of homage to the goddesses Lakshmi and Bhudevi (Earth). The concept of giving is also present in this graphic gesture; a sharing that includes insects, birds and humans. Some witty and down to earth women like to think instead, that the well-fed winged or crawling creatures will leave the house food supply safe.
According to Jain scriptures, every man or woman has to draw auspicious symbols with unbroken rice before starting the daily prayers. As ephemeral as a kolam, the rice design helps one to concentrate on the virtues of the Tirthankara or enlightened souls who became role-models for those seeking spiritual guidance.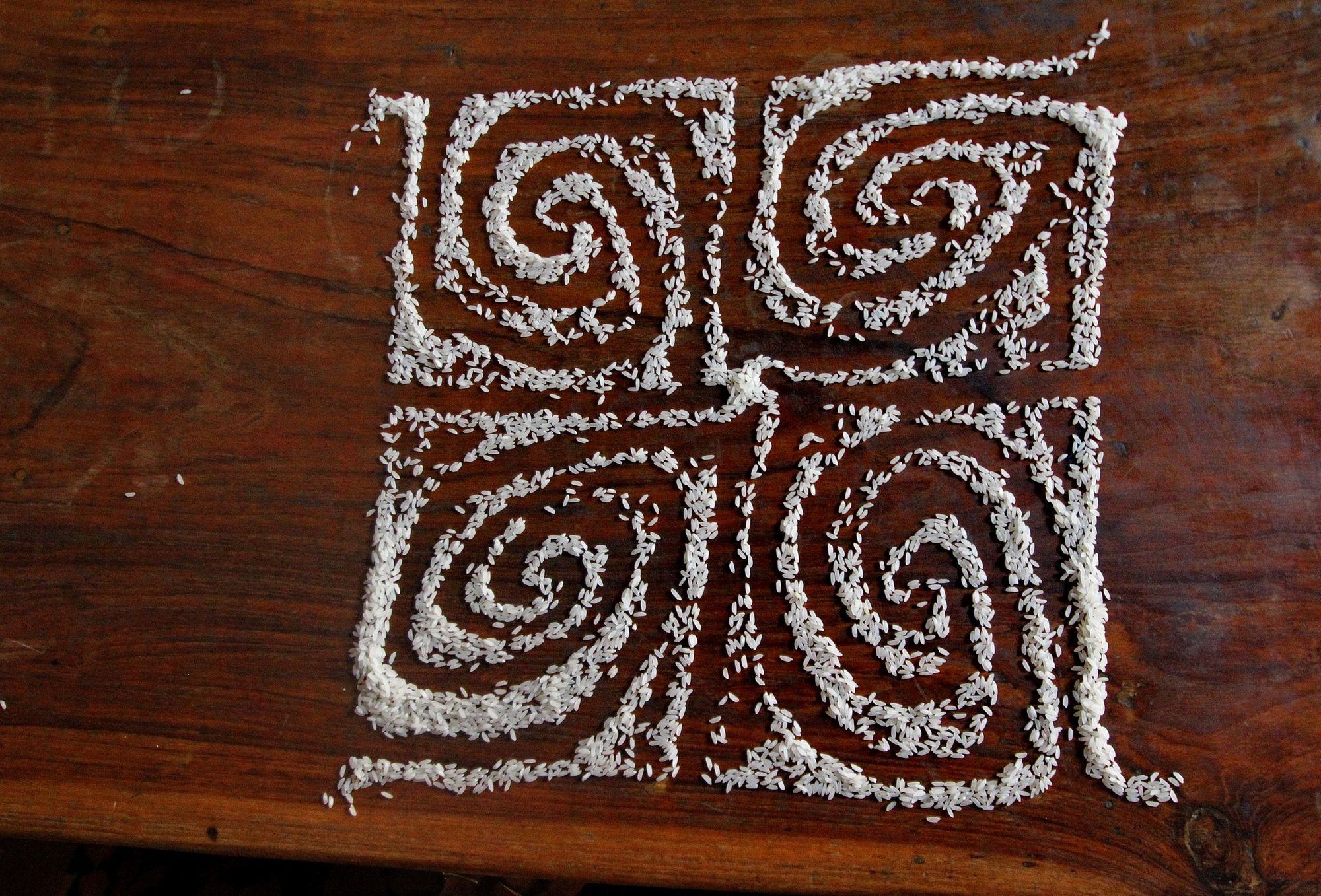 The aesthetic of kolam is traditionally associated with dry rice flour laid in fine lines, or wet rice flour spread out in thicker, wavy strips. During festive seasons and auspicious days in a home, women favour the latter as it lasts longer. The same technic is used to draw the Bengal alpona.
Maavu kolam recipe
In order to obtain a kolam that resists several days, rice in soaked in water and grinded smoothly until a liquid of milky consistency is obtained.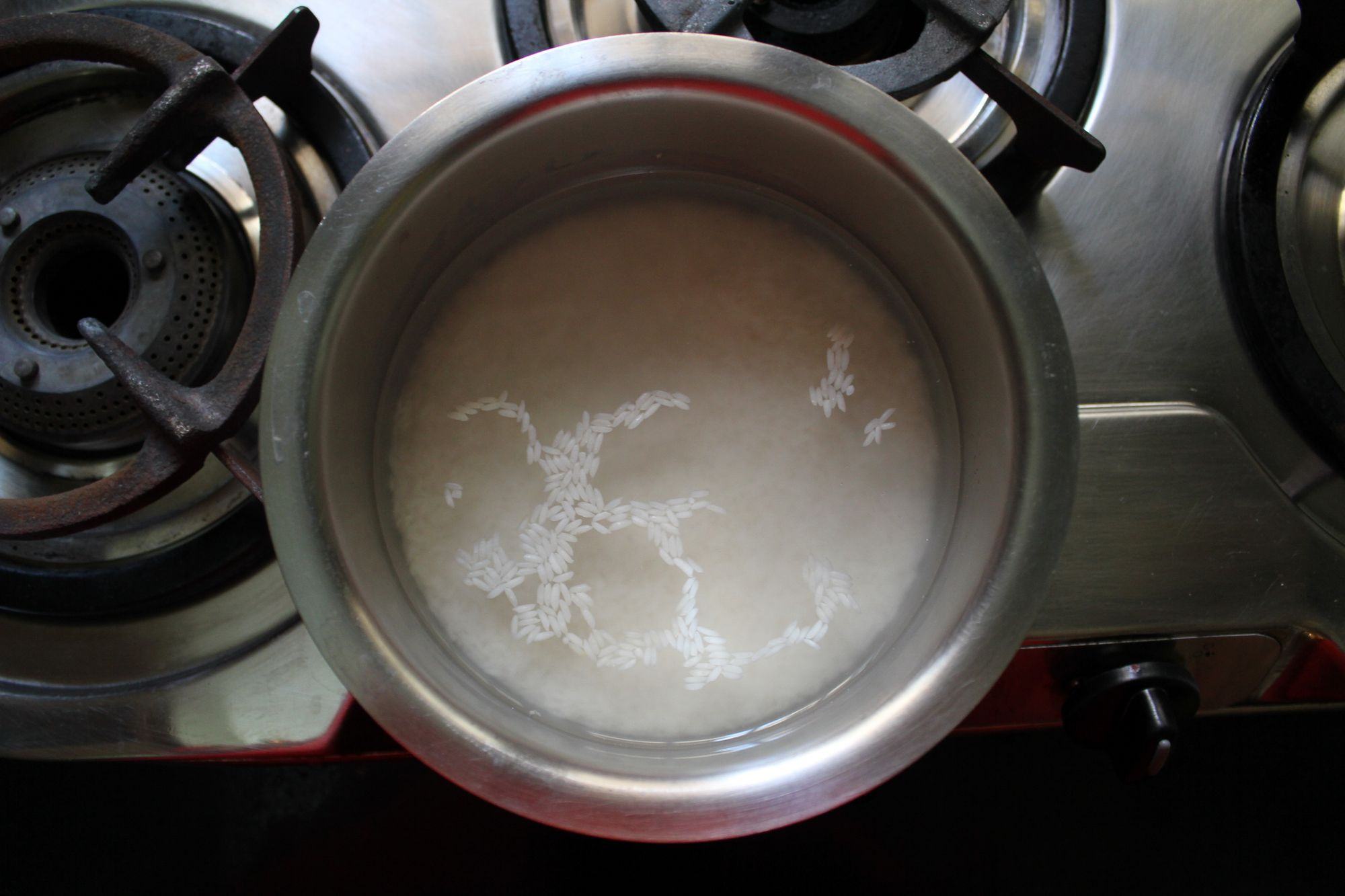 A piece of cotton fabric is soaked in this mixture and placed in the hand. The thumb gently presses the soaked tissue along the middle finger or between the slightly spread fingers to draw two or three parallel lines simultaneously.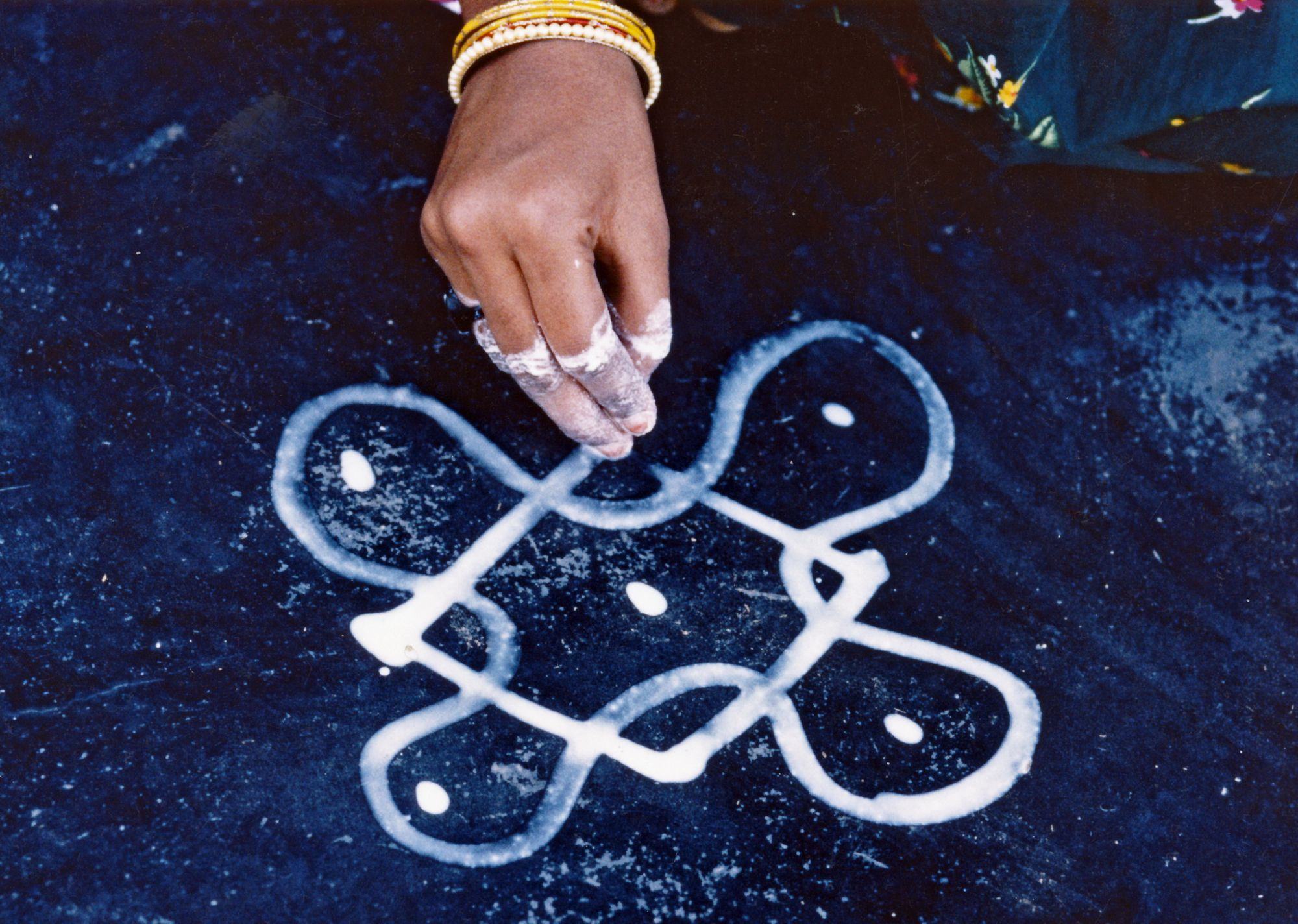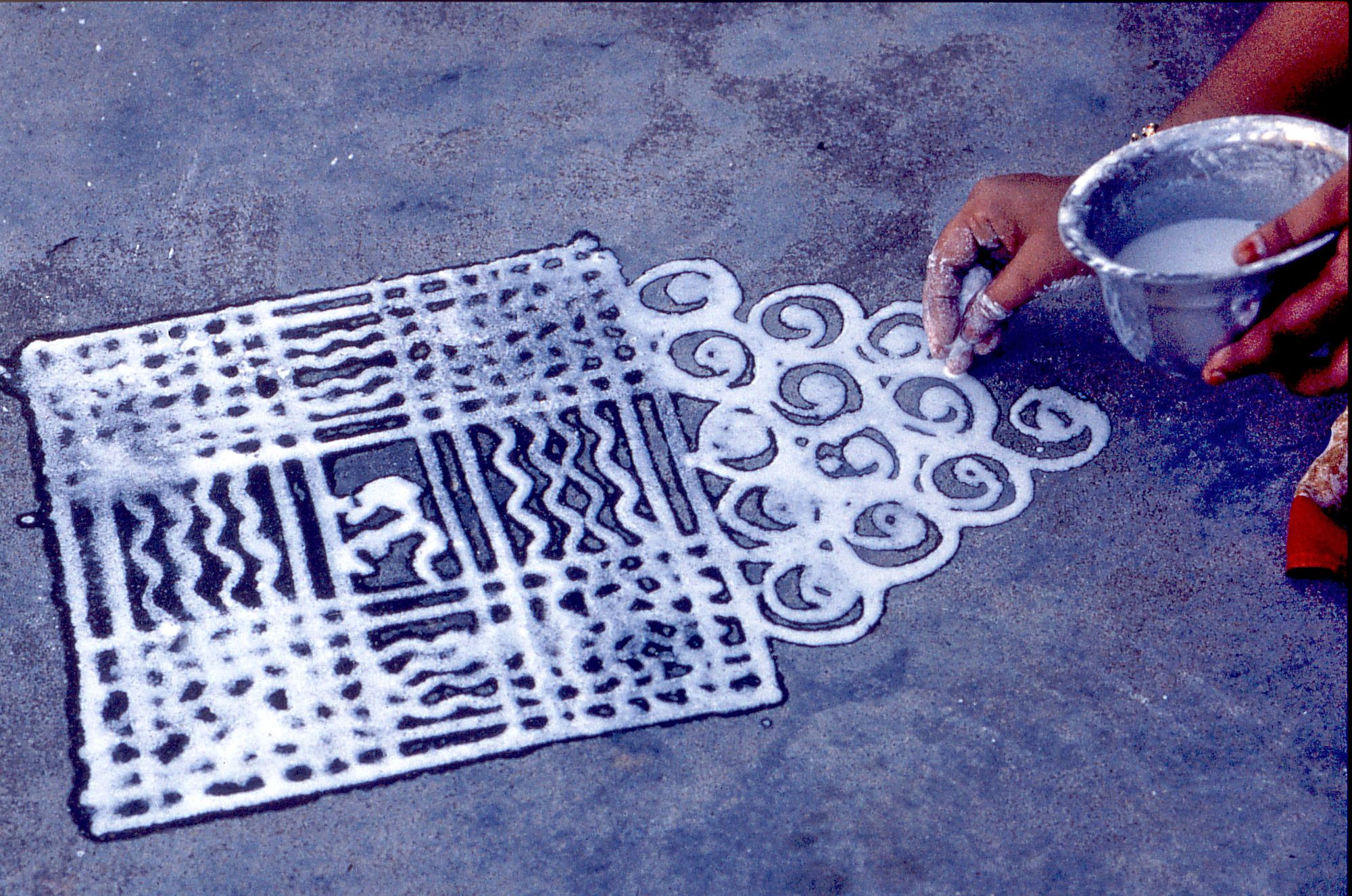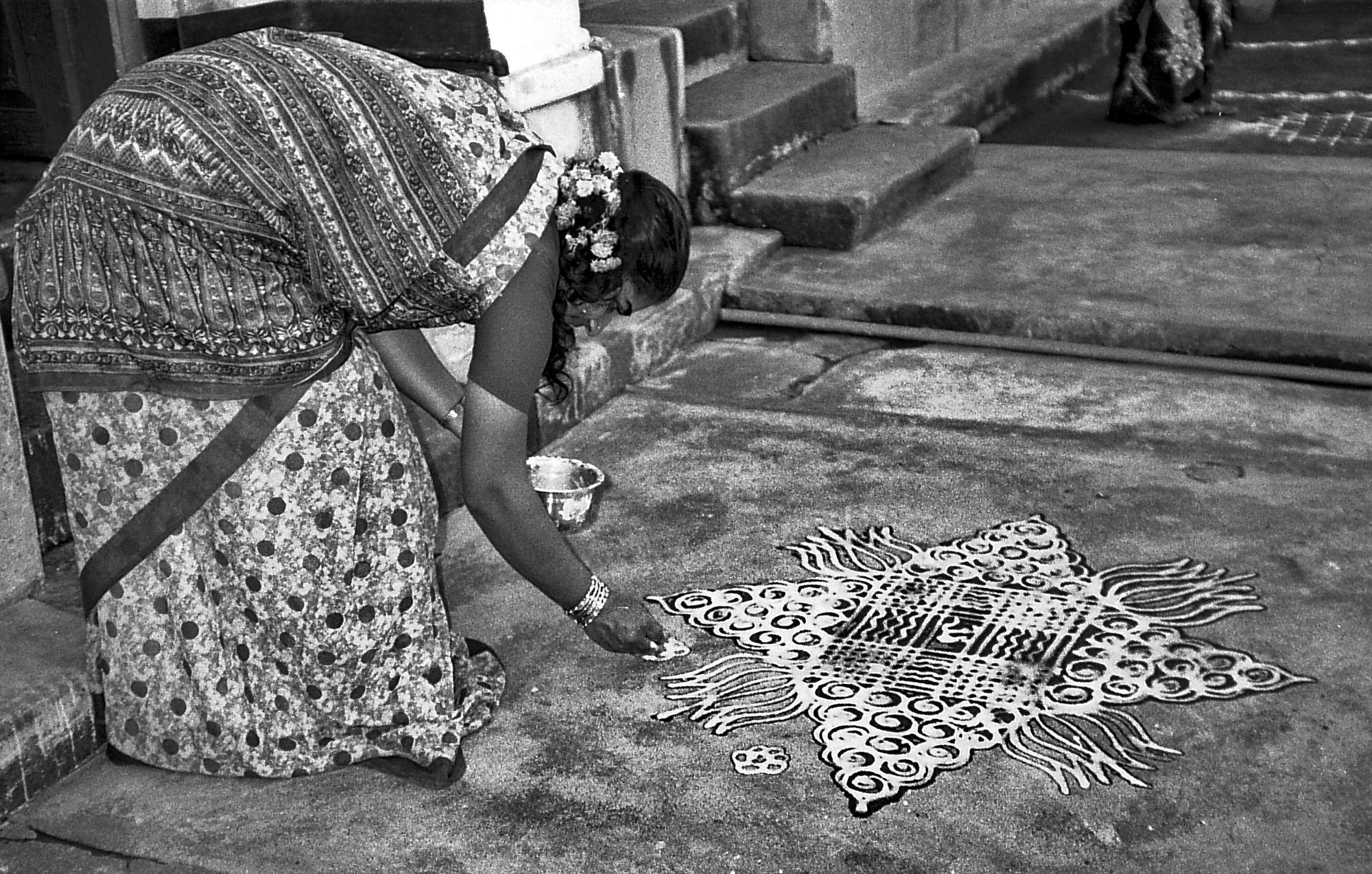 If you have time grind the soaked rice and pour it on a plate or on any flat surface. let it get hard under the sun. Once it is dried, break it into big chunks and keep it in a box. Whenever it is needed; take one or two, soak it in water and it can be used immediately.