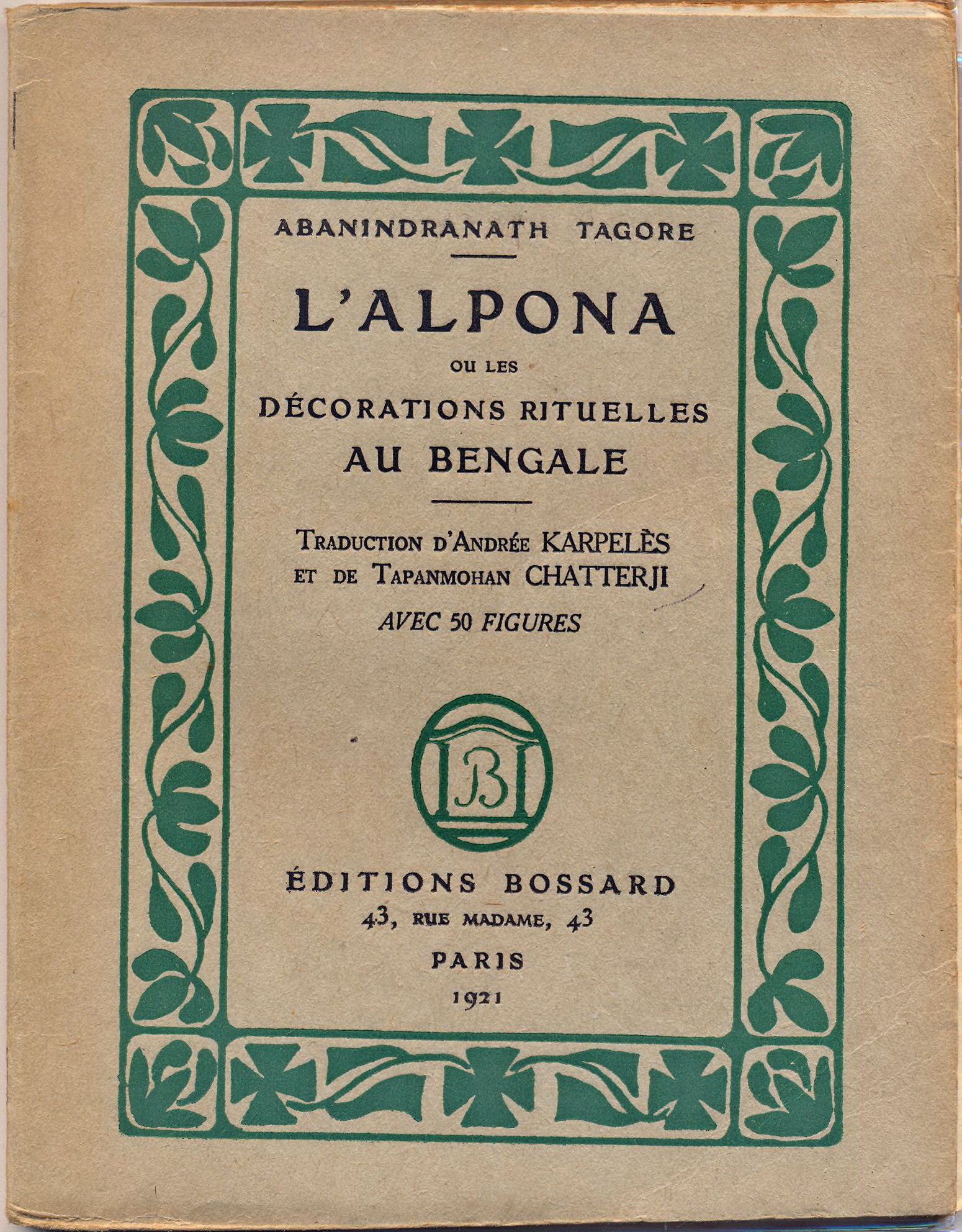 It was my first time in Bengal. For years I had dreamt of learning more about the beautiful ephemeral designs described and illustrated in « L'Alpona ou les décorations rituelles au Bengale » (Alpona, ritual decoration of Bengal) (1); a short but captivating book I had borrowed from the library of the Guimet Museum of Asian Art in Paris. I eventually bought a copy of this precious book and each time I reread it, wondered whether this graphic tradition of East India was still alive and well.
In this region, these ephemeral drawings are called alpona, alpana, or alimpan, and are associated with rituals called brata performed by women during festival times. These rituals occupy a central place in the lives of village women. Brata can be both a form of domestic piety and a celebration of the forces of nature, and are dedicated to celestial bodies and divinities, in particular Lakshmi or Lokkhi, the goddess of abundance, who is invoked in this case. Some brata are very popular, while others are more elaborate. They can be accompanied by song and dance and have several purposes: for the protection of children or a husband, for a good harvest and abundant rain, to restore the fertility of alluvial plains. The texts and fables which accompany the drawings declare the triumph of the sun and the defeat of winter, while others evoke the marriage of the sun and moon in springtime, or celebrate the birth of spring and its union with the earth.
In Pather Panjali by Bengali filmmaker Satyajit Ray (2), a young girl called Durga performs the Punyipukur brata. Kneeling outside her home, she digs a hole in the ground and places a branch inside, before offering flowers and invoking the rain and a divine blessing for a good husband: "Holy pond, flower garland, who prays here at noon? I am the pure maiden, Leelavati, the sister of my brother…Mother Goddess, teach me. I know not how to pray. May I give my husband a son. May I die by the Ganges. Oh Haro of Parvati…May I always be pure". The scenes which follow are of the water of a pond being rippled by the wind, and a prairie of lotuses swaying under a downpour. (4.19 Durga gets ready and dig a tiny pond, The prayer starts at 5.38 until 6.01).
[1] Abindranath Tagore, l'Alpona ou les décorations rituelles au Bengale, Editions Bossard, Paris, 1921.
[2] Pather Panjali», Satyajit Ray's first film in 1955.