The rest of the morning is spent exploring a few neighbouring villages with Rabi in search of rare alpona. Along the way, we have plenty of occasions to marvel at the creativity applied to everyday objects. We see tree trunks covered with cakes of cow dung in the form of a handprint, as well as fence posts also covered with this precious bovine excrement, drying vertically. The fingers have been used to shape the dung around the posts with a variety of different marks. Further along, to a soundtrack of the click-clack of weaving machines, we see saris stretched out on colourful wooden rods, waiting to be folded in a particular way.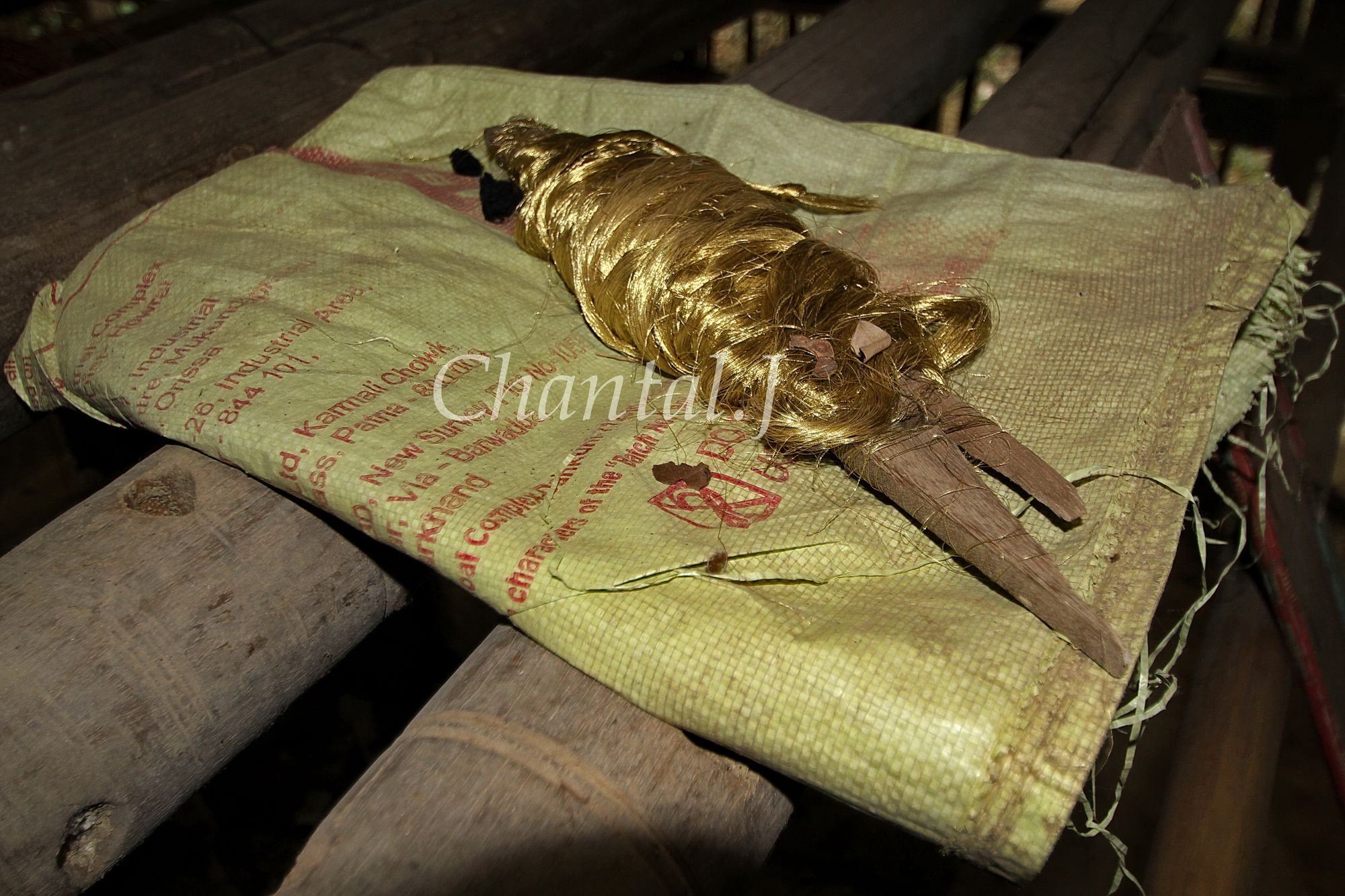 We stop in a village where alpona adorn the courtyards of houses and farms. I see many circular shapes, but I'm intrigued by the squares, which are often topped with triangles. A closer look reveals that these represent houses, stables or kitchens. These are sometimes grouped together along with pictograms of humans or animals inside, and next to these, offerings of chillies, onions, pea pods, different types of seeds meant for the kitchen, and a handful of grass for the stable.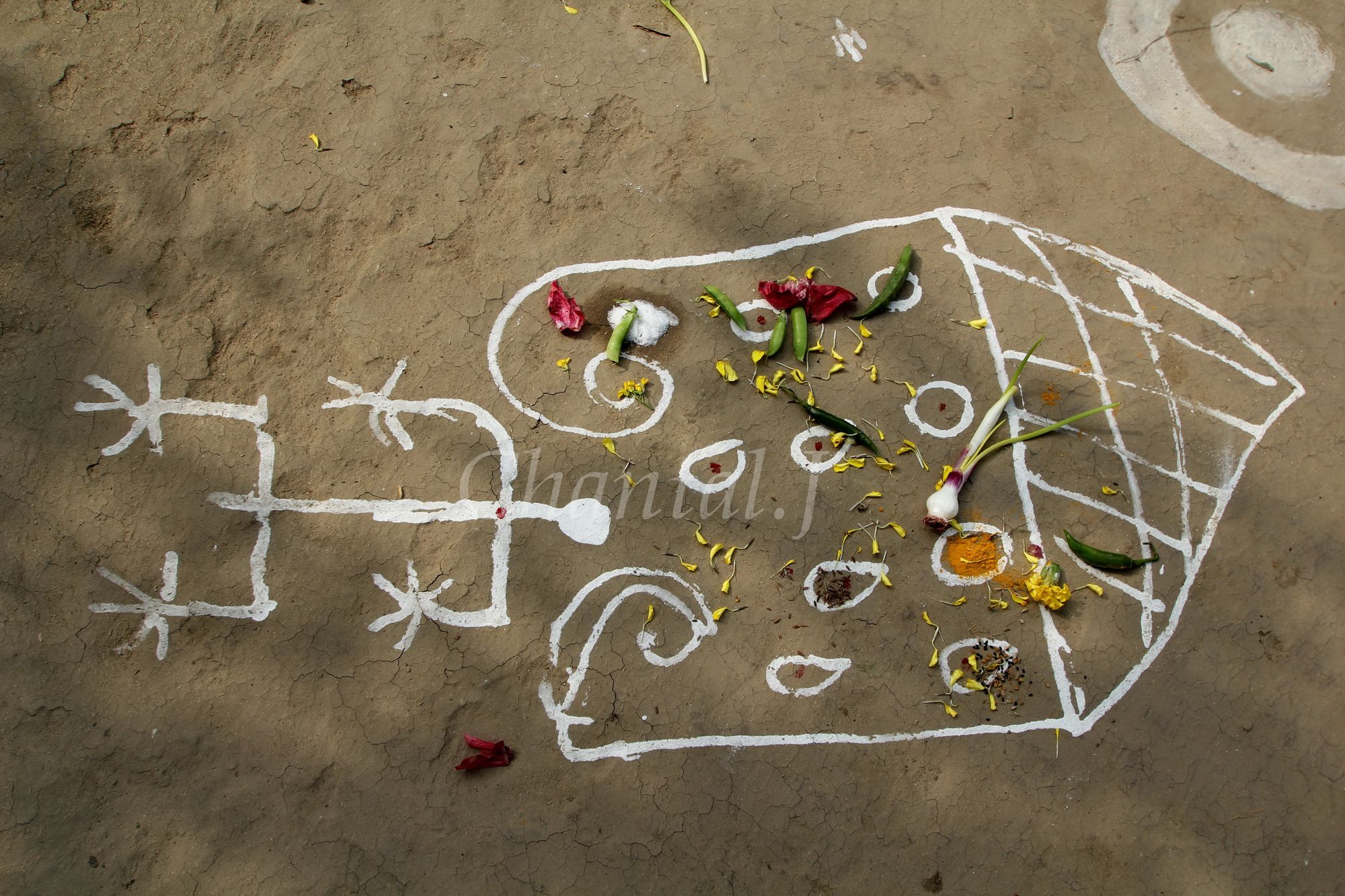 We also see drawings of ladders leaning on concentric circles – depicting a granary or gola, baskets with handles meant for picking flowers, and a chariot that suddenly comes alive when a farmer transporting wood appears before us. There are other fascinating examples: a bunch of new shoots signifying renewal and abundance, flower pots, and a painting of a pair of scissors in front of the tailor's house, because during Makara Sankranti, artisans also pay their respects to their tools.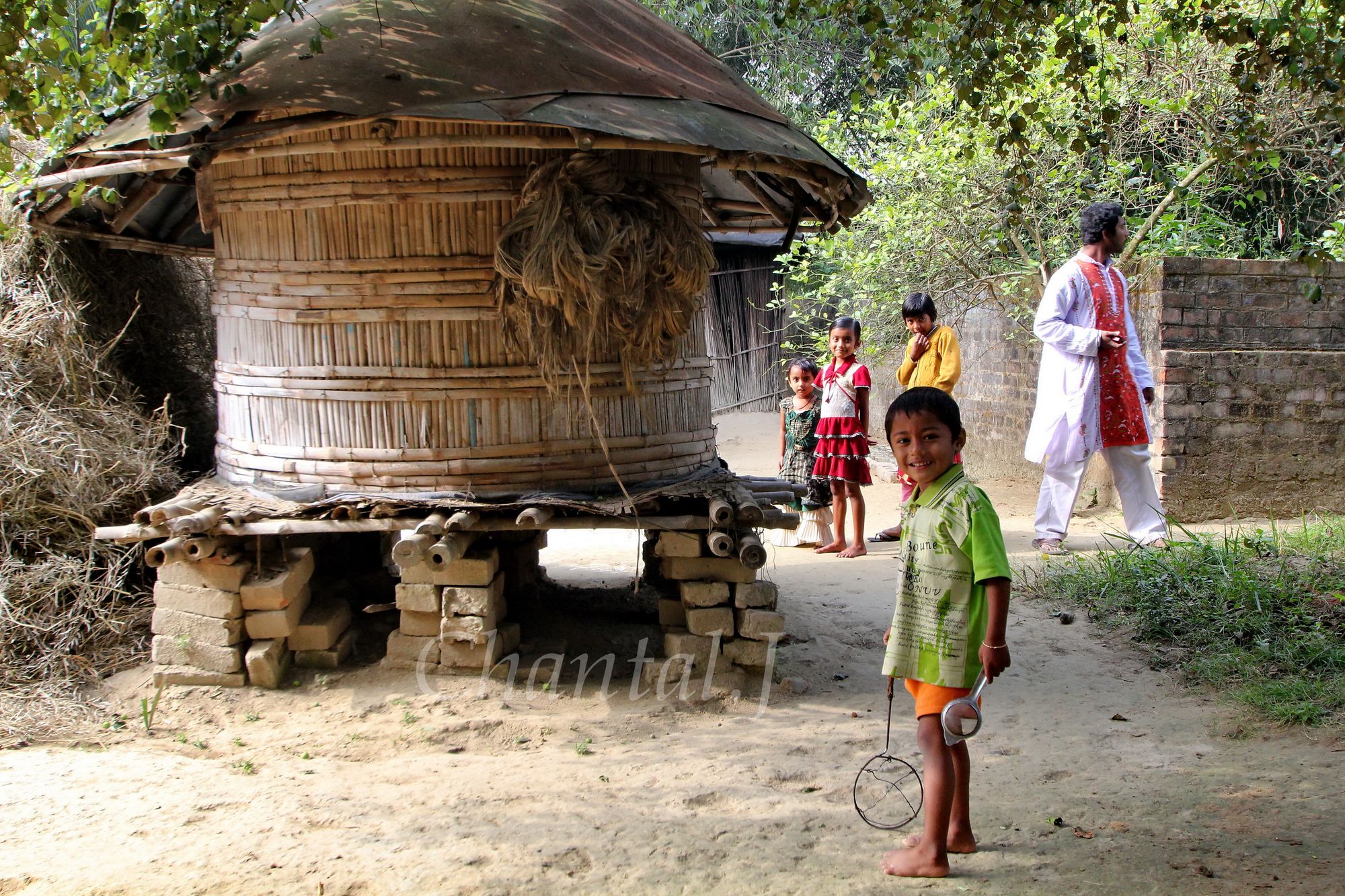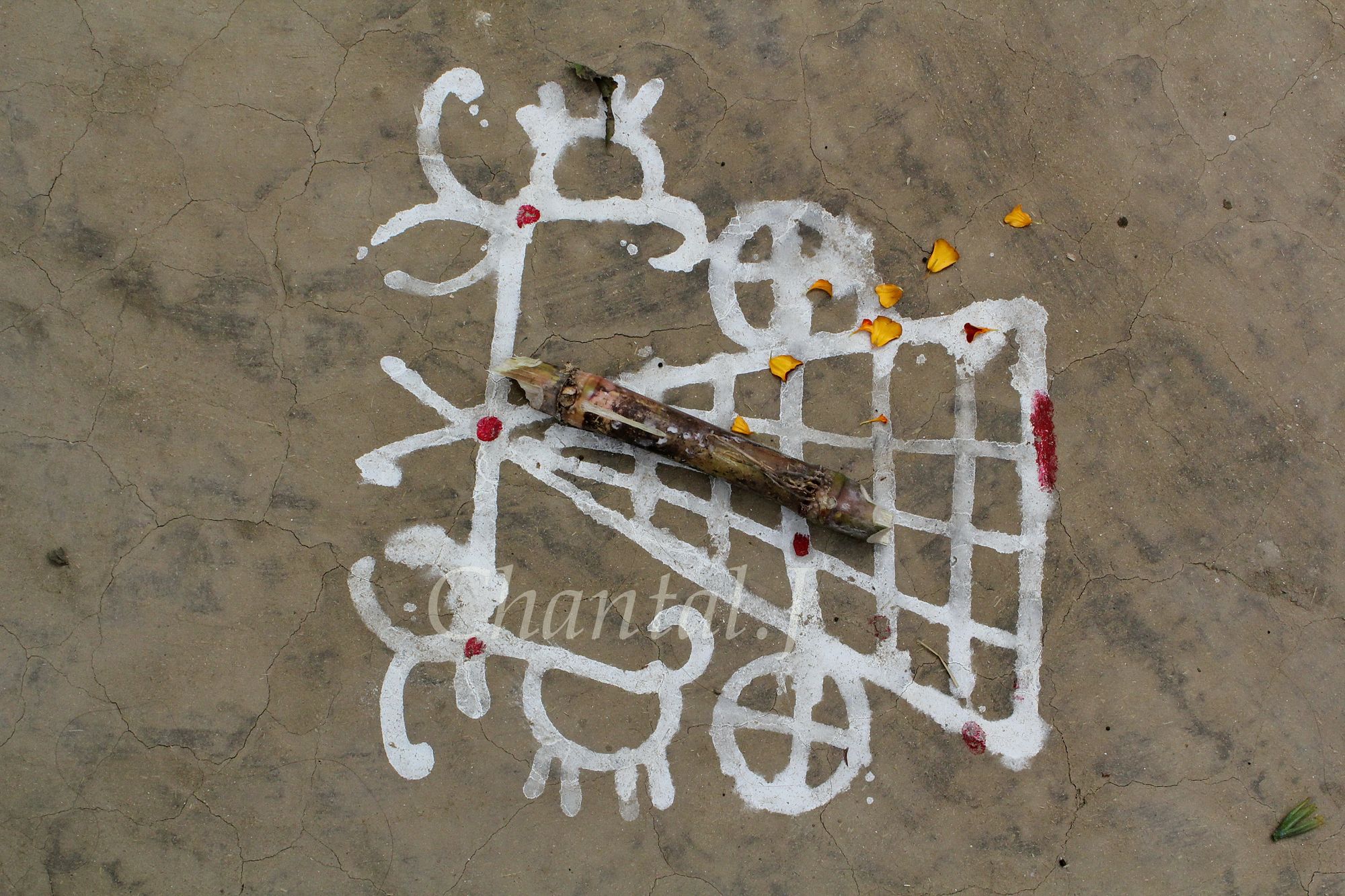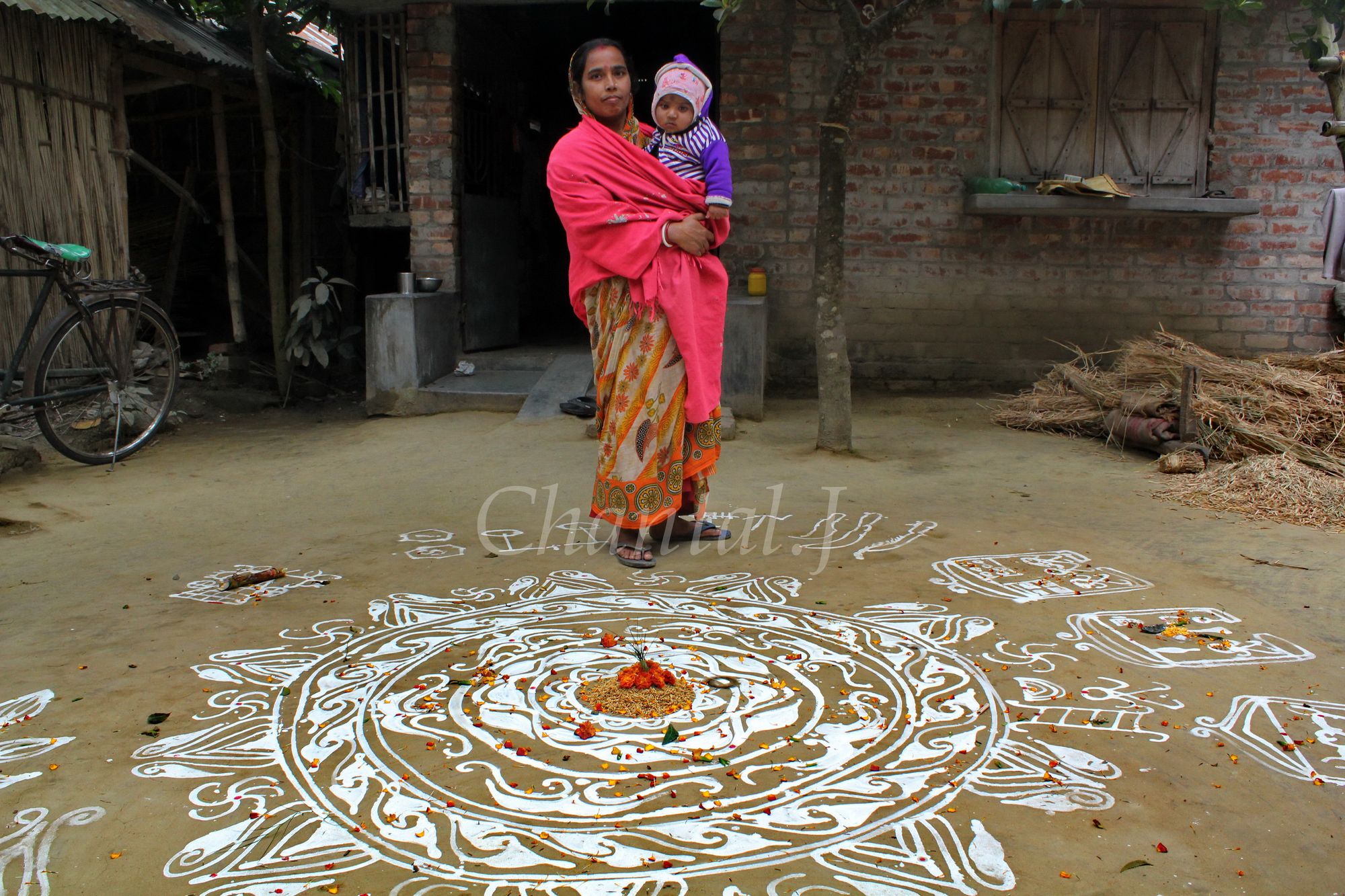 Other offerings include orange or yellow marigolds and unhusked rice. In this region of Bengal, farmers fish from ponds and grow marigolds. Their wives use a needle and thread to string garlands of the colourful blossoms, which will be sold in the temples. The marigold takes the place of the lotus in the central motif of certain alpona, delineating the crenated contours of the petals of the carnation flower.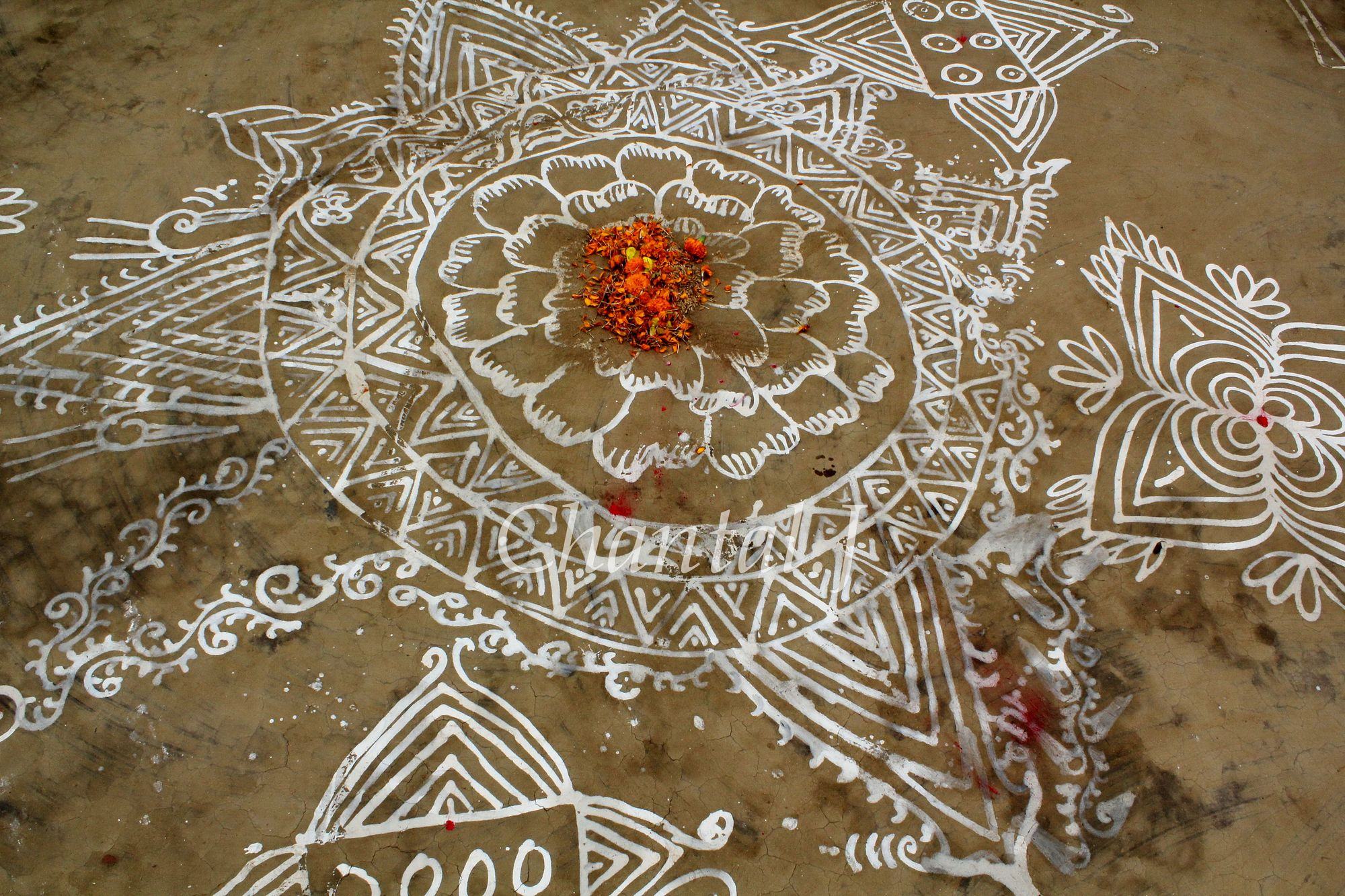 In the next village we visit, other ephemeral ritual decorations captivate me. Like these coloured globes filled with tentacles – which look much like those of sea anemones – and hang off the ends of sticks planted into the ground. I learn that these are shaped out of a type of plant fibre called shola, or 'Indian cork'. A crocodile and tortoise made out of clay seem to be emerging from the ground; but they are not painted like Sumitra's. The two reptiles are adorned with carnations and strips of wood, signifying teeth and claws, and await the rituals and offerings dedicated to the goddesses of the two rivers, to whom they serve as vehicles.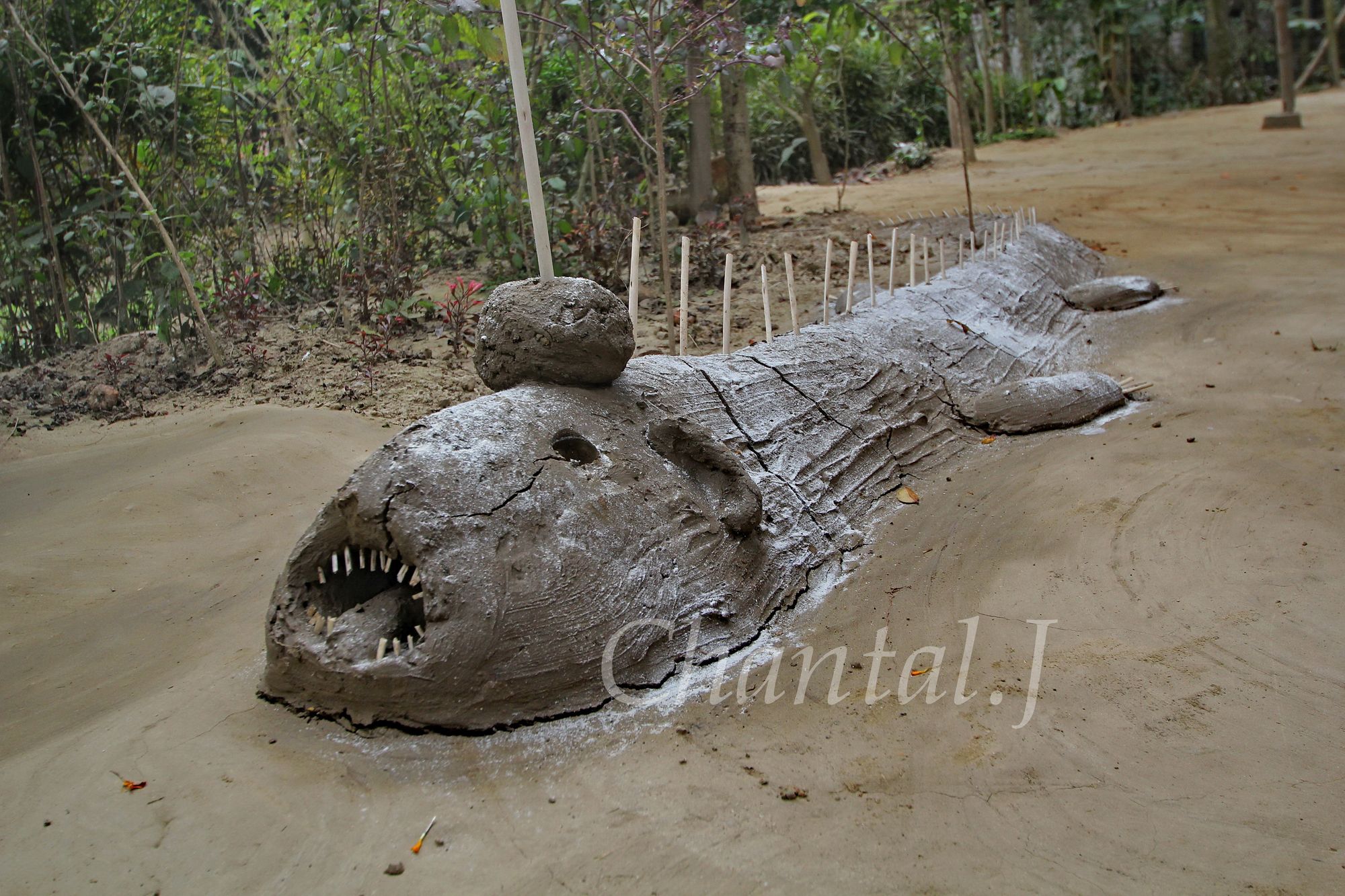 It's time to leave for Shantiniketan, the 'abode of peace', an open-air school north of Kolkata established at the beginning of the 20th century by the poet Rabindranath Tagore. He had believed in the convergence of traditional Indian values with the progressive ideas of the West. It was at this time that 'Kala Bhavan', the visual art section, opened its doors and included the art of alpona in its curriculum and events on campus. Today students still continue the tradition of alpona during national holidays, like Republic Day, Independence Day, Holi, Tagore's death anniversary, and other school events. As for me, the quest has just begun.